Digital innovations are transforming the residential building industry. Apps and software are helping contractors to lower their costs, increase productivity and protect their profit margins. Find out what these specialized technologies offer and how to select the best one for your remodel, renovation or restoration business.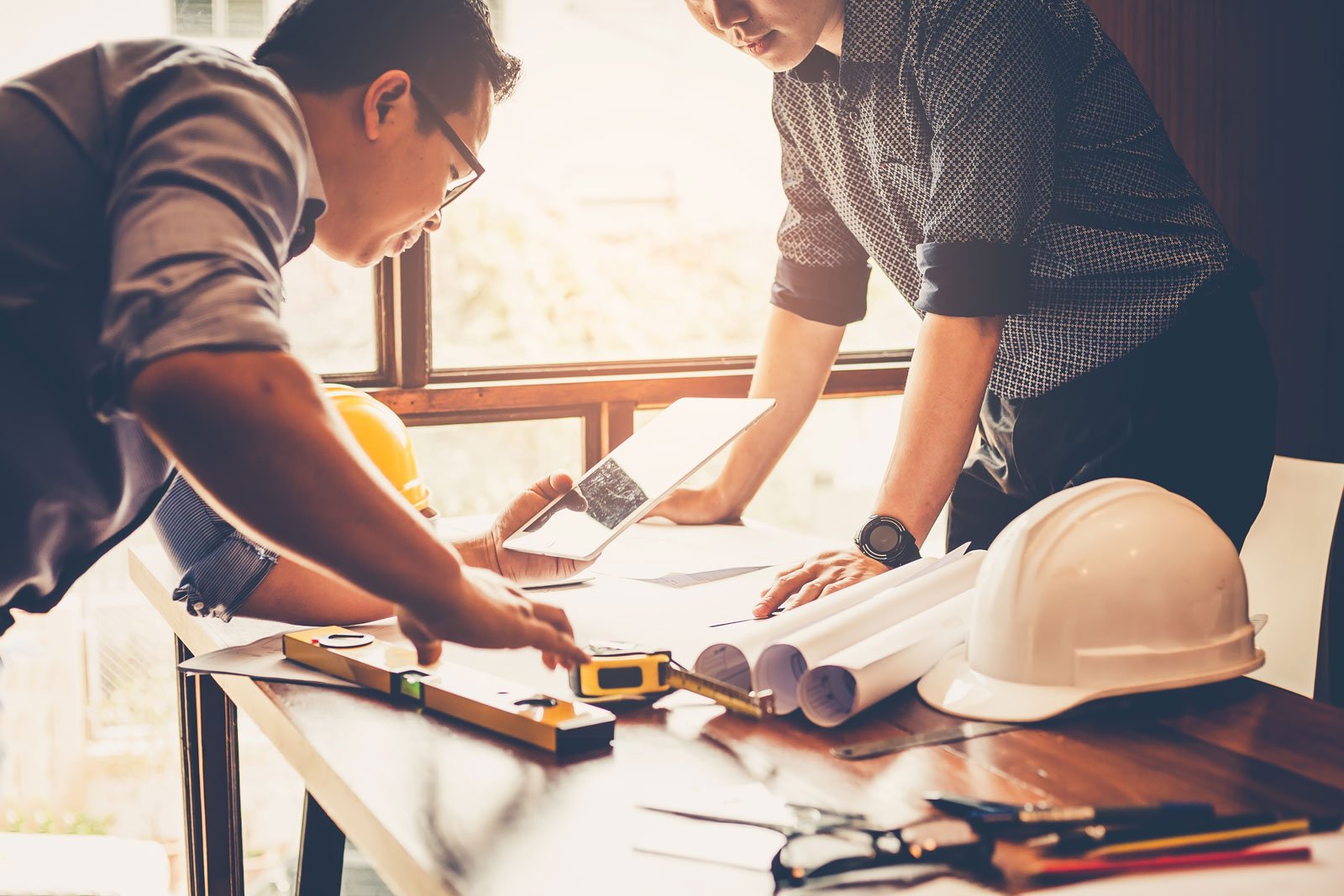 If you're in the residential interior game, you'll know that each job in the field comes with its own unique challenges - may it be a kitchen, bathroom, full house remodel or damage restoration. Yet they all involve planning, estimating and communicating with stakeholders such as homeowners, other tradespeople and the local building authorities. Managing and and keeping track of everything on site is vital, especially in the current climate, as minor planning mistakes or inconsistencies can have a major impact on customer satisfaction, budgets and schedules.
As a successful contractor, your current systems no doubt served you well in the past. But if you're reading this, you're probably thinking about going digital. There are lots of great reasons to incorporate construction technology into your remodel or restoration workflow, although the sheer number of available products can be daunting. We'll walk you through some of the differences, explain why specialized construction apps are particularly useful for your company, and reveal how to pick one that best suits your needs.
Specialized solutions vs. all-in-one construction software packages
Investing in your business drives growth. Paying for an app or fully integrated digital system may feel like a drain on your profits, but if it streamlines your processes, makes it easier to create accurate estimates and speeds up the approval process, then it will be cost-effective in the long-run.
Fully integrated enterprise solutions generally cater to companies involved in commercial or industrial construction. They offer dozens of features and might even be cheaper than buying separate products to cover each of your business needs. Yet they're not without risks. Aligning your operations with standardized software is generally more complicated than funneling individual processes into specialized construction apps. The system might not meet all your specific requirements (leading to additional purchases), or contain features you never actually use (but still pay for).
Buying individual restoration or remodelling apps means adapting to different systems, but it's worth it if they're specialized to your challenges and help you avoid expensive and redundant features. If you work on smaller scale residential projects, the features you're most likely to need include tools for scanning and measuring interiors, generating estimates and inspection reports, and collaborating with project stakeholders. Many apps can be integrated with other vertical software (digital tools, databases), so you can select the functionality you actually need.

Most apps let you store your project information in the cloud and access it no matter where you are - in the office, on site or somewhere in between. Apps make this data mobile-friendly, so it can be easily viewed and edited on an iPhone, iPad or Android phones or tablets. In addition to the twin benefits of accessibility and mobility, apps also load faster, are easier to update and take advantage of native device features like cameras and mobile communication technologies.
The advantages of specialized apps for renovation, restoration and remodeling
Let's drill down into the residential sector and look specifically at the advantages of innovative apps for renovating, restoring and remodeling:
Map interior spaces
Augmented reality technologies let you measure interiors and create 2D floor plans and 3D models quickly. No more manual measurements, no more paper. Add objects, photos, markups, notes, etc.
With Apple's LiDAR Scanner technology, sketching interiors with a phone or tablet is now becoming even more accurate so you can map fully furnished apartments in minutes.
Tip: Digital models are also great for sustainability refurbishments, e.g. for calculating how much glass wool is required to insulate the roof and increase energy efficiency.
Estimate materials and costs
After you've generated digital sketches, defined your materials and added other job specifications, specialized construction apps automatically calculate how much flooring, tiles, paint, etc. you will need, as well as the associated costs. Get a clear overview, make fewer mistakes and never enter the same information twice.
Digital floor plans and 3D models generate clarity for subcontractors and help clients envisage their future homes. Property owners can find renovations overwhelming—clear documentation and communication will help them feel in control (and likely lead to word-of-mouth recommendations).

Tip: Visualization is particularly useful for remodeling work, which typically involves structural changes such as removing walls. Generate different designs for the customer to choose from without picking up a measuring tape.
And if your measurements require additional accuracy, many apps provide seamless integration with laser measuring tools under $200.
Functions tailored to your industry
Standardized software usually doesn't cater to the niche requirements of renovation, restoration and remodeling projects. Good apps let you customize your workflow, making it easier to collect the information you actually need. Make digital inspection notes about the condition of fittings and hardware to easily determine what can be upgraded and what needs to be replaced entirely.
Faster project approvals
Specialized apps allow you to create entire project quotes, so you don't need to chase up individual estimates from subcontractors. This speeds up your overall project turnaround time, so you can serve more clients and increase your revenue.
Centralized documentation, available on-the-go
Project information can be accessed on site using your phone or tablet and on your office computer. Generate interim reports to keep your clients, insurance adjusters or suppliers in the loop and store valuable digital records for any disputes or insurance claims later on.
Simplified communication with multiple stakeholders
Remote construction management apps like magicplan are ideal for managing small teams, and extra subcontractors can be added on the fly. Intuitive app interfaces mean new users will quickly get the hang of your workflows. Everyone can access the same data, so less time is wasted on redundant communication (less time on the phone and fewer emails).

Tip: Replica parts and fittings are vital for restoration projects. Images and other specifications can be digitally shared with specialists when asking for advice (can these floorboards be rescued?) and materials (do you sell these door handles?).

Extra tip: Due to the current climate, it becomes even more crucial for teams to collaborate remotely in order to reduce touch points and protect customers. Specialized construction apps can facilitate virtual collaboration of remote teams to be well prepared for 2021.
Choosing the right construction app for your business
As with any investment, it pays to do your research. Talk to other contractors about their experiences, read reviews and request free trials, so that you can get a feel for the interfaces and functions.
Identify your requirements:
How big are your projects? What are your company goals and how can digital processes help you achieve them? Think about the kind of problems you encounter regularly and which tasks take a lot of time and energy—these are your key areas for improvement.
Work out which features you need most:
Common features include digital sketching and modelling, estimating, document tracking, equipment tracking, material management, team management, communication, scheduling and accounting. It can be tricky to know what you need if you haven't seen all these tools in action, so it's worth contacting the app company for an expert explanation.
Integration with existing software:
If you already use software to manage your accounting and billing, for example, is it compatible with the construction app? Can the app's scheduling feature be synced with your digital calendar? Ideally, you want information to flow freely between your systems, so you don't have to enter the same data multiple times.
Try a demo version:
Is the app intuitive and user-friendly? If not, your employees and subcontractors may struggle to use it and be tempted to do things the old-fashioned way instead. A poorly designed app could even add to your workload and decrease your productivity.
Training and after-sales support:
Does the app company provide training? Will it be easy to get the help you need? Can you contact real people or will you be redirected to an online FAQ page? In the best case scenario, the company will have a building industry background (so they speak your language) and you'll be assigned a dedicated account manager who will show you the ropes and help you set everything up.
Making the final purchase decision:
You've made a shortlist of possible products and now you're weighing up the costs. Higher prices don't necessarily equal greater value, and if you're new to digital workflows, it might make sense to choose a subscription-based solution that gives you the flexibility to opt out at any time. Given the current uncertainty caused by the pandemic, being able to quickly lower your operating costs could be a real advantage.
Experience what magicplan can do for you
To find out more about how a specialized construction app can benefit your renovation, restoration or remodeling business, get in touch with us below or register for our free trial. You'll enjoy access to the full range of features and can use the app to manage your next two projects from start to finish.