As a contractor in the highly competitive remodeling and restoration industry, you always need to be looking out for any way to get an edge. You're juggling multiple jobs and it's simply not practical to haul a ton of gear with you. Lots of traditional tools work well, but they can often be inaccurate and inefficient to use in your daily job. Think about your trusty tape measure or measuring wheel: Not cool when time is money.
What should you replace those old workhorses with? Currently, the biggest bang for your buck is a laser distance meter. Prices are lower than ever, and features of these measuring tools are state-of-the-art. So how do you know which device to choose?
We've consulted hundreds of professionals and found three outstanding laser distance measuring tools that'll revolutionize the way you create floor plans without breaking the bank. All three meters in our guide feature Bluetooth 4.0 technology so you can transfer measurement data to your smart phone or tablet via an integrated app, which is huge as we'll see later.
Leica Disto D2 - laser distance meter

The Leica Disto D2 is intuitive and packed with features. At $140, it's the most expensive one in this guide, but you'll get your money's worth: it's an incredibly accurate laser distance measurer with accuracy up to 1/32"! The laser extends out to 330 feet (100 meters), and Leica has specially designed it for an array of applications. This device offers distance, stakeout, add/subtract area, Pythagoras functions and much more. With its min/max function, you can get the tool all the way into corners. Leica promises up to 10,000 measurements before you need to replace the batteries. The D2 is light, and lets you take precise diagonal measurements with an intelligent end piece that connects directly to the circuit board.
Key features
Highly accurate laser with precision up to 1/32" at 330' range
Intelligent end piece which can be flipped out to 90 degrees
7 measurement modes including Pythagoras and painter functions
Specs
Weight with batteries: 3.5 oz
Compact casing with IP 54 rating
Dimensions: 4.57 x 1.73 x 1.02 in (H x D x W)
Bosch GLM 50C - 165 ft laser measure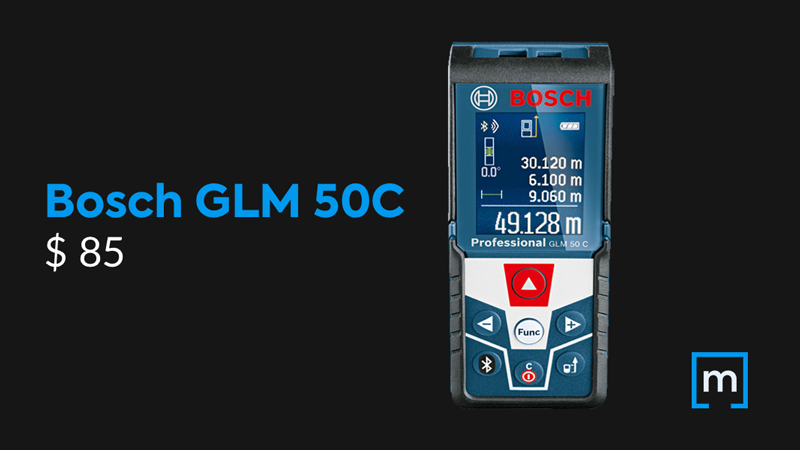 The Bosch GLM 50C is the cheapest of the bunch, but it's no slouch. It comes with an illuminated display that's easy on the eyes. The all-around soft grip protection protects it from taking damage on the worksite. The GLM 50 C is a laser measurer that punches above its weight: It comes with all the basics such as real-time length, area, volume and indirect, and the oh-so-important Bluetooth functionality. Its laser extends out to 165 feet (50 meters) and is accurate up to +/- 1/16 in., offering way more precision than standard tape measurers. A single battery supply can perform up to 10,000 measurements.
Key features
Upgraded backlit color display lets you work in dark areas
Built-in inclinometer with angles, min/max, double indirect and more
Default real-time measurement
Specs
Weight: 3.5 oz
Durable design with IP 54 rating
Dimensions: 4.17 x 1.77 x 0.94 in (H x D x W)
Stabila LD 250 BT - simple measuring, clever documentation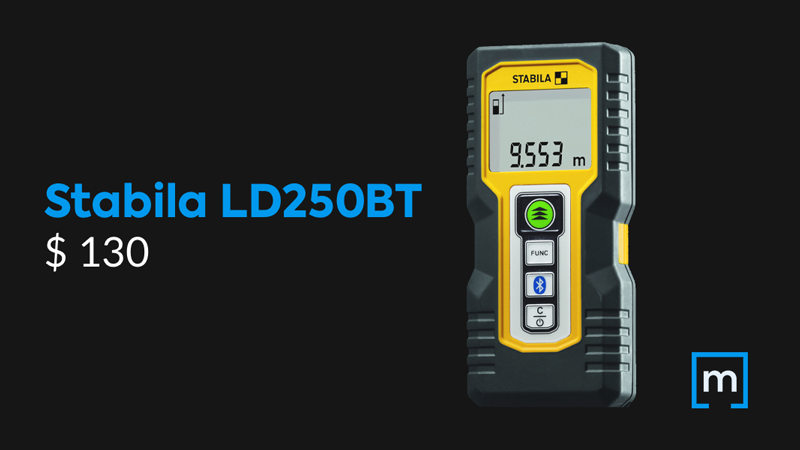 The Stabila LD 250 BT is a laser measuring tool that offers a minimum of features, but it offers them well. The LD 250 BT comes with a 2-year guarantee, and this shows that Stabila stands behind their products. The laser has a range up to 165 feet (50 meters) and accuracy up to +/- 1/13 in. The backlit display features large easy-to-read digits, and the simple interface makes for fast readings. It's also the largest of the three, which could be a plus for some contractors. Despite having a battery life of up to 5,000 measurements, for the price tag of $130, consider for just $10 more you can get better range and accuracy with the Leica Disto D2. All things considered, for fans of Stabila products and larger laser distance measurers it will offer functionality and precision that you just can't get with traditional tools.
Key features
Large digits and display for easy reading
4 basic functions: length, area, volume, and continuous measurement
Compact, easy-to-use laser
Specs
Weight: 3.5 oz
Durable class IP 54 case
Dimensions: 5.9 x 5.9 x 3.93 in (H x D x W)

The value for money of the current generation laser distance meters is outstanding. Bluetooth functionality used to be seen as something of a battery hog, but now it's crucial. Having digital measurements now no longer just means displaying them on photos of the worksite or floor plan drawings.
Integrable apps like magicplan let you transform whichever compatible laser measuring tool with Bluetooth you buy into a complete solution for all restoration and renovation projects. Floor plans can be scanned, mapped, and viewed in augmented reality only using your phone camera with an intuitive drag and drop interface.
magicplan's powerful sketching feature lets you sketch detailed floor plans on the spot during your first site visit! Over 150 furniture objects come standard - and you can even create your own objects for a sleek professional look that makes rooms come to life for your customers. With magicplan, that little laser measurer has become an essential tool which helps you instantly calculate material amounts and costs. You can report on progress before and after your projects. In an industry where time really is money, you'll now be able to deliver estimates at lightning speed. Check the list of supported laser measures.

Transform your laser measuring tool into an indispensable solution for today's renovating, remodeling and restoration professionals. Try it yourself by registering for magicplan for free or getting in touch with us.