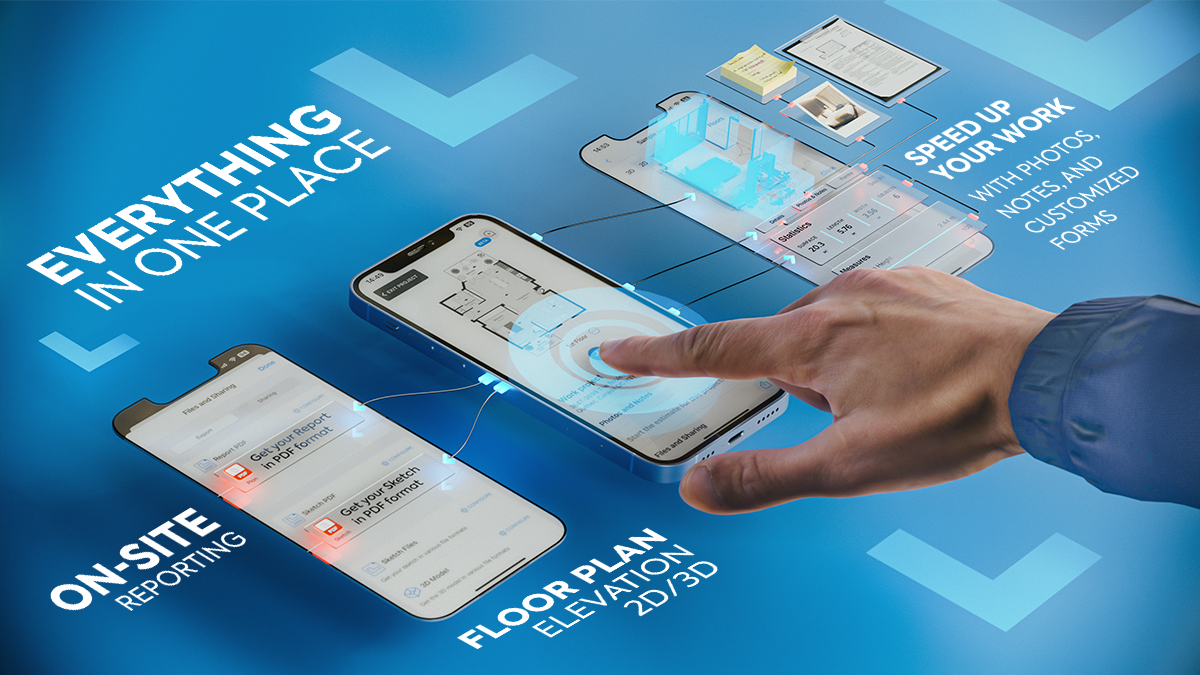 A multifunctional floor plan software app is a fabulous tool for your independent home inspection business. That's because this type of app will help you simplify and improve how you complete three important steps: sketching properties, documenting your findings, and developing reports. Essentially, it maximizes the potential of your mobile device and gives you the power to be more competitive.

Below, we explain three competitive advantages of using a floor plan app – to show how it can help you stand apart from other home inspectors in your area.

1. Appear More Professional
Positive impressions go a long way to building your reputation. Your handshake, body language and demeanor all matter when you're first meeting with a client. So, do the tools you use. If you can demonstrate that you know how to employ a digital tool to perform inspections, this will help build your reputation as a knowledgeable, dependable professional.
2. Speed Up Your Workflow
Good time management is a key requirement in your chosen line of work. As a professional home inspector for hire, you are expected to complete inspections quickly so home buyers can meet their closing dates. The more efficient you are, the more you stand out from your competitors.
But working more efficiently also is beneficial to you: It helps you free up time to work on your business-growth goals – such as enhancing your marketing efforts, or taking on more assignments to increase your income.
Therefore, it stands to reason that any tool that helps you work faster is worth investigating. And that's exactly what a good floor plan app is designed to do. It helps you work faster. How exactly? It does this by digitizing important tasks so you can complete those tasks more quickly:
It helps you measure more rapidly. You can sync a Bluetooth laser distance meter with your app, and it will measure room dimensions automatically.
It sketches way faster than you can. Say goodbye to manual sketching with graph paper. The floor plan app will automatically sketch every room for you in a matter of minutes, not hours.
It speeds up the steps of jobsite documentation and reporting. Easily attach photos and add notations to each sketch to document your inspection observations and record your recommendations. Then use the sketch as the basis for creating a branded inspection report – an impressive document that can be shared as a digital file. (No doubt, paper reports will be viewed as woefully outdated in the future. Use of home inspection software will become the industry standard.)
3. Improve Measurement Accuracy
When you choose to sync a Bluetooth laser distance meter with a good floor plan app, the results are really impressive. Together, these two tools will allow you to capture measurements with near-perfect accuracy. And you can be sure your floor plan sketches are data-driven, as opposed to rough representations (which are prone to including mistakes, due to human error). As a result, you can be more confident about sharing critical square-footage calculations.
Why are Accurate Measurements Important?
Accurate Measurements Are Good for You: Having accurate room measurements is helpful when you have to draft descriptions of interior damage and also figure out your wording for recommended repairs.
Accurate Measurements Are Good for Comparison: If you use digital tools for measuring a property, your measurements are more likely to match the room dimensions listed in the property's appraisal document. This means you'll be able to avoid fielding questions about any discrepancies. (Note: Home appraisers are adopting digital technology as well, to make their own measurements more accurate. In fact, Fannie Mae requires appraisers' floor plan sketches to be computer-generated, not hand drawn.)
Accurate Measurements Are Good for Your Clients: A floor plan based on accurate measurements will help your client (the home buyer) develop a plan for moving in, placing furniture and hanging window treatments. So, sharing floor plans with clients is a great way to delight them, while also distinguishing yourself from the competition. You'll want to publicize this point. So, be sure to emphasize your use of digital floor plans in your marketing materials!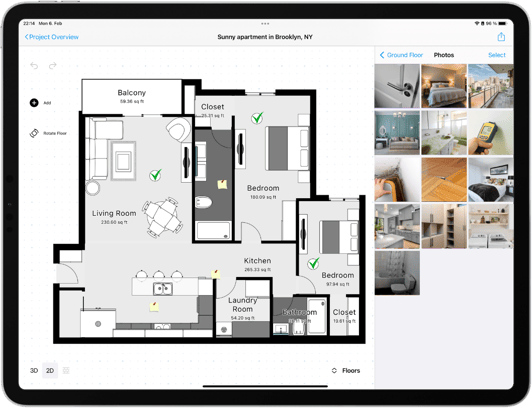 What to Look For in a Floor Plan App
Choosing a high-quality app is essential, so you can achieve the most benefits. Be sure to look for one that:
serves well as a property inspection app
works with your mobile device (no special hardware required)
is available in both Android and iOS versions
has an easy-to-use interface
features augmented reality and artificial intelligence technology for automatic detection and calculation of room measurements
allows you to connect a laser distance meter via Bluetooth, for near-perfect measurement accuracy
will scan a room, using input from your mobile device's camera and gyroscope sensors, to form a floor plan within minutes
permits you to build on that basic plan by adding photos, objects and annotations
includes a handy, built-in library of pre-defined objects from which you can choose
enables you to save your flooring plan design as a branded PDF document – one that you can easily email to your customer and your installation crew
helps you look more professional and capable as a home inspector
comes with an optional cloud service for storing, securing and accessing plans
Wrap-Up
A multifunctional floor plan app gives you the power to be more competitive because it simplifies and improves your inspection process. You'll be able to sketch a property, document your findings, and complete seamless reporting with one convenient digital tool. Plus, you can start using a good floor plan app right away without any formal training. That way, you can immediately boost your ability to win more jobs!
LEARN MORE
Watch this one-minute video: Create Home Inspection Reports in a Matter of Minutes
Order our FREE Ultimate Guide to Creating Seamless Inspection Reports