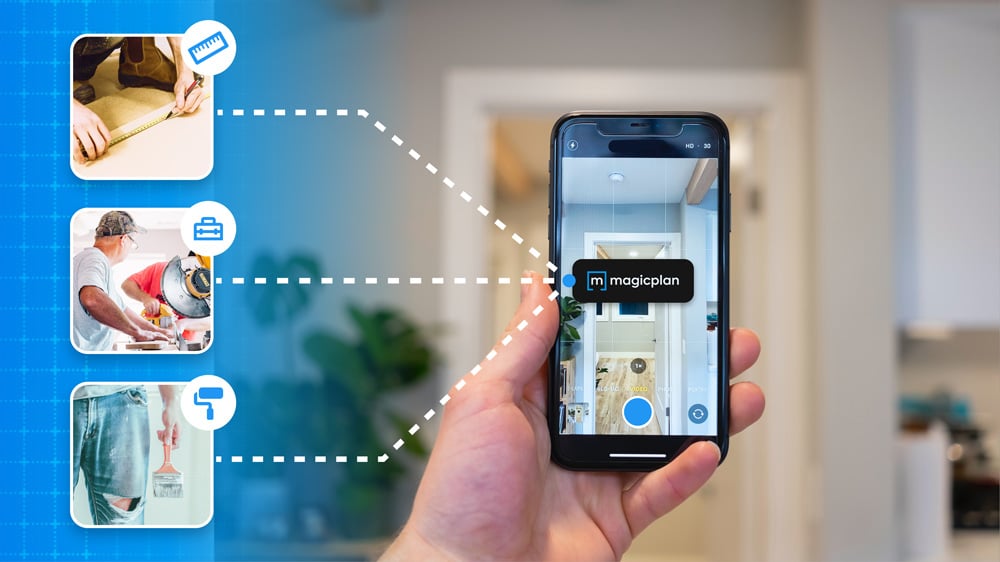 Chances are, you carry a smartphone or tablet wherever your work takes you. And if you're a real estate appraiser, that's a good thing, because your mobile device can serve as a valuable productivity tool when you're on the job. All you have to do is load it with helpful software applications (apps) that help you work smarter! Useful apps can improve how you prep for a home appraisal, and how you conduct one as well.

In fact, the 2020-2021 Appraisal Income Guide by McKissock stated that "appraisers who excel at time management earn approximately $14,000 more per year than appraisers who lack discipline in time management." So, it's crucial to rely on time-saving mobile apps – i.e., crackerjack software for appraiser productivity acceleration.

Let's take a quick look at some of your options.
Communication Apps Help You Connect with People Quickly
You can use one or more apps for texting, messaging or emailing, to minimize the time you spend on phone calls. This can speed up the way you connect with your office and with clients, so you don't get bogged down by lengthy verbal conversations. If you're part of a large team, a more advanced collaboration app, such as Slack or Microsoft Teams, may be more appropriate.
Notetaking and Voice-Memo Apps Help You Capture Ideas on the Fly
When it comes to note-taking apps, two in particular spring to mind: Evernote and OneNote. Both choices are extremely popular, and each has loyal fans. Your device may also come preloaded with a basic "Notes" app that you can use as well, to capture thoughts and ideas that you don't want to forget. Whatever app you choose to use, be sure to store your notes in folders, sections or "stacks" (depending on the app) for easy retrieval later.

Your phone probably also came with a voice-memo app. Have you tried using it? If not, give it a whirl. You'll find you can quickly and easily record short notes and reminders, and then replay those later at your convenience. You may find you actually prefer talking out notes, as opposed to typing.
A File-Sharing App Helps You Access Info On the Go
If you want to be able to access work files while out in the field, consider storing those in a cloud-based, file-storage platform. Google Drive, Microsoft One Drive, iCloud and Dropbox are just some of your available options. Research the apps' different pros and cons to find the one that will work best for you.

A Camera App Helps You Document Details Faster
Photographs are an important part of appraisal documentation. The purpose of photos is to give loan underwriters a better understanding of the visual appearance and condition of a property. And the advanced camera capabilities of today's smartphones and tablets make use of a separate camera unnecessary. Simply point and shoot with your mobile device to gather all necessary pictures. That's a lot faster than downloading images from a DSLR camera.

But wait, a camera app also can serve another purpose: When you pair it with a Bluetooth laser distance meter, you can collect highly accurate measurements quickly as you're walking through an appraisal assessment. This will help you determine the fair market value of a property.
A Floor Plan App Helps You Complete Reports Swiftly and Meet the ANSI Standard
A thorough home appraisal report can take a lot of time to develop. We know anything that speeds up the process is a welcome relief, right? A high-quality floor plan app with a reporting function does exactly that. It allows you to create a floor plan quickly, and then use that as the basis for a home-appraisal report. You can insert objects and notes easily, add photos with captions for clarity, and submit your report before you leave the property. Or, if you're filling out a Uniform Residential Appraisal Report (URAR), you can sketch a floor plan, print or export it, and attach it as an addendum. So, a floor plan app can be a great addition to your appraisal software toolbox.

Oh, and here is another reason to get a good floor plan app: As of April 1, 2022, Fannie Mae now requires appraisers to follow a specific measuring standard that requires all footprint sketches and floor plans to be computer-generated (not hand drawn). Ideally, you'll want a mobile floor plan app that can be paired with a Bluetooth laser distance meter to produce digital sketches with accurate measurements.
Read more: Make Sure Your Home Appraisals Meet Fannie Mae's New Measuring Standard
A Money App Helps You Manage Business Expenses

Check out Expensify for tracking business mileage and scanning receipts. You can even link it to a company credit card. The app offers a free basic plan, as well as a paid version that allows you to scan more than 25 receipts per month.
An Accounting App Helps You Manage Invoices
If you're self-employed, you need a way to create, send and track custom invoices in a streamlined manner. Quickbooks and Freshbooks are two options to consider. Both cater to the invoicing needs of independent contractors, while also offering other accounting-related capabilities.
A To-Do-List App Helps You Plan Your Schedule
Yep, you can ditch your old-school paper planner and use a modern app instead. You have your choice of several options, including Todoist and Trello, with each one offering a unique array of capabilities.
A Reminder App Helps You Remember Important Tasks to Complete
Performing appraisal work means handling an endless onslaught of tasks. But what is the best way to remember those? Well, a calendar app is great for documenting upcoming appointments, but not exactly designed to alert you about random tasks. That's where a reminder app comes in handy. Whenever you think of a particular task you have to complete on a certain day, or finish by a certain time, plug it into your reminder app. That way, you can be assured of getting a memory-jogging notification about it.
Conclusion
Mobile apps make appraisal work much more efficient – which means you can make better use of your time. And isn't that something we all want? So, equip your mobile device with some valuable apps that will boost your productivity. Then put those tools to work to start seeing immediate results. You'll be glad you did!
LEARN HOW MAGICPLAN MAKES APPRAISALS MORE EFFICIENT!


---


Learn how to boost your IAQ business by Marketing Inspections to Multiple Audiences.


Or read our guide on why you should be adding Indoor Air Quality Inspections to your menu of services.