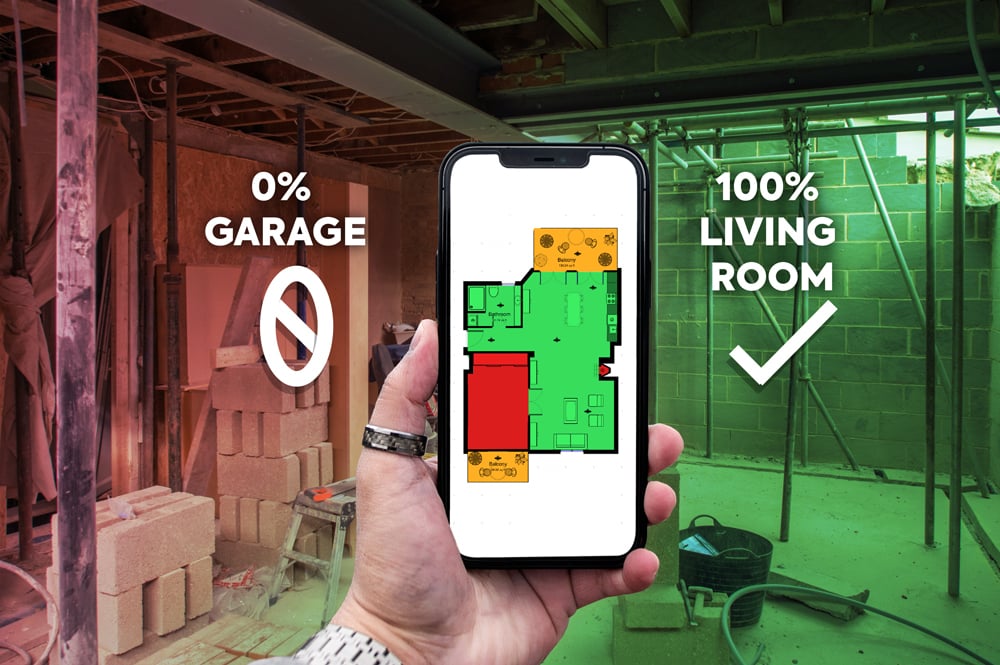 News flash! As of April 1, 2022, The Federal National Mortgage Association (Fannie Mae) now requires that appraisals on certain properties must comply with a specific American National Standards Institute (ANSI) measuring standard. If you are an appraiser – or someone who works with appraisers – you need to understand what this change means and how you can ensure compliance. Below, we provide a question-and-answer overview of the basics you need to know.
Q. What Is the Official Name of Fannie Mae's Newly Adopted Measuring Standard?
A. American National Standard for Information Sciences — Square Footage — Method for Calculating, ANSI, Z765-2021.
Q. What Is The Purpose of the ANSI Z765-2021 Measuring Standard?
A. This standard, which has been in use since April 1996, addresses the need for uniformity in measuring, calculating and reporting square footage (area) measurements of dwellings in the United States. In fact, you may already be familiar with it. Many appraisers have voluntarily adopted the ANSI standard since it was first launched, and some states require appraisers to adhere to it. Also, the ANSI standard is currently used by the National Association of Home Builders.
Q. Did Fannie Mae Previously Require a Different Standard?
A. Historically, Fannie Mae has not required the use of a specific measurement standard. As a result, appraisers would use a variety of measuring methods that produced inconsistent results. Now Fannie Mae's position on measurements has changed, with adoption of the ANSI Z765-2021 measuring standard.
Q. Why Does Fannie Mae Now Require Appraisers to Follow the ANSI Z765-2021 Standard?
A. Valuations of residential properties correlate strongly with square-footage measurements. Therefore, adoption of the ANSI Z765-2021 standard will ensure that all spaces within appraised homes are measured the same way, with little room for interpretation.
Q. What Are the Benefits, Exactly?
A. The newly adopted standard will:
create alignment across market participants
provide a professional and defensible method for residential appraisers
allow transparent and repeatable results for users of GLA appraisal reports
prevent human errors caused by hand-drawn sketches and notations
decrease the need to call back appraisers to remeasure and recalculate square footage
help ensure valuations are based on precise measurements
reduce litigation risks revolving around inaccurate or inconsistent measurements
raise the confidence level of developers, realtors, brokers and bankers who depend on appraisals
Q. What Types of Properties Are Covered by the Newly Adopted Measuring Standard?
A. It applies to residential properties only, as described here:
wherever appraisers are measuring, calculating and reporting GLA (Gross Living Area) and Non-GLA areas of properties in the residential real estate sector, and…
their interior and exterior inspections are necessary in order for buyers to secure financing from Fannie Mae
Q. What Does This Mean for the Real Estate and Banking Industries?
A. It means residential-property appraisers now need to use tools and methods that ensure proper measurements, as outlined in the ANSI Z765-2021 Measuring Standard. For example, the standard specifies that all footprint sketches and floor plans must:
be computer-generated (not hand-drawn)
indicate all the dimensions needed to calculate the GLA of a home, as well as other required areas (such as a garage and a basement)
show the calculations to demonstrate how the estimate for gross living area was derived
Q. What Else Does the Z765-2021 Standard Require?
A. Here are some additional items appraisers must consider when using the standard as a guide:
Measurements should be taken to the nearest inch or tenth of a foot, and the final square footage is reported to the nearest whole square foot.

Staircases should be included in the GLA of the floor from which they descend.

A basement is any space that is partially or completely below grade.

The GLA calculation does not include openings to the floor below, e.g., two-story foyers.
Finished areas must have a ceiling height of at least 7 feet. In a room with a sloping ceiling, at least 50% of the finished square footage of the room must have a ceiling height of at least 7 feet, and no portion of the finished area that has a ceiling height of less than 5 feet can be included in the GLA.
If a house has a finished area that does not have a ceiling height of 7 feet for 50% of the finished area (e.g., some cape cods) in conformance with the ANSI Z765 Standard, the appraiser may put this area on a separate line in the Sales Comparison Grid with the appropriate market adjustment. The report will be ANSI-compliant and also acknowledge the contributing value of the non-GLA square footage.
Q. Will appraisers need to adopt new technology to create computer-generated sketches?
A. The answer is "yes" for any appraisers who still create hand-drawn sketches for their reports. Fortunately, though, mobile software that creates computer-generated floor plans and sketches for appraisal reports is readily available. In fact, Fannie Mae reports that one key factor in its decision to adopt the ANSI standard now "is the recent emergence of new technologies, such as phone apps, which can measure houses, generate floor plans, and calculate GLA."
Q. What Should Appraisers Look For in a Mobile Floor Plan App?
A. Accuracy is key to meeting Fannie Mae's newly adopted standard for measurements. So, if you are an appraiser, here's what you need: a mobile-device floor plan app that can be paired with a Bluetooth laser distance meter to produce sketches with measurements that are 100% accurate.
Q. How Can Developers, Realtors, Brokers and Bankers Ensure Appraisers Are Following the Standard?
A. If you're a professional who works with appraisers, demand nothing less than highly accurate measurements. Make sure your appraisers use a mobile floor plan app that can be paired with a Bluetooth laser distance meter to produces sketches with measurements that are 100% accurate.
Q. Where Can I Find More Details about Fannie Mae's Adoption of the ANSI Z765-2021 Standard?
A. If you want to read more about this important change, you can download the Fannie Mae Guidelines for Measuring Gross Living Area. Also, you can contact Fannie Mae to ask specific questions about appraisal or inspection topics.
Conclusion
Appraisal methods for residential property measurements were inconsistent for a long time. But that's no longer the case. Fannie Mae's recent adoption of a uniform measurement standard for square footage ensures consistency across the board. And that's good news for all parties involved with residential real-estate sales.
DISCOVER WHY MAGICPLAN IS THE IDEAL APP FOR ACCURATE APPRAISAL MEASUREMENTS!
---
If you are interested in learning how to measure and create a floor plan more accurately, read our 10 Reasons Why You Should Be Creating Digital Sketches On-site.


Or if you're looking for additionally accuracy, here is our comparison of the 3 best laser measuring tools for a budget.