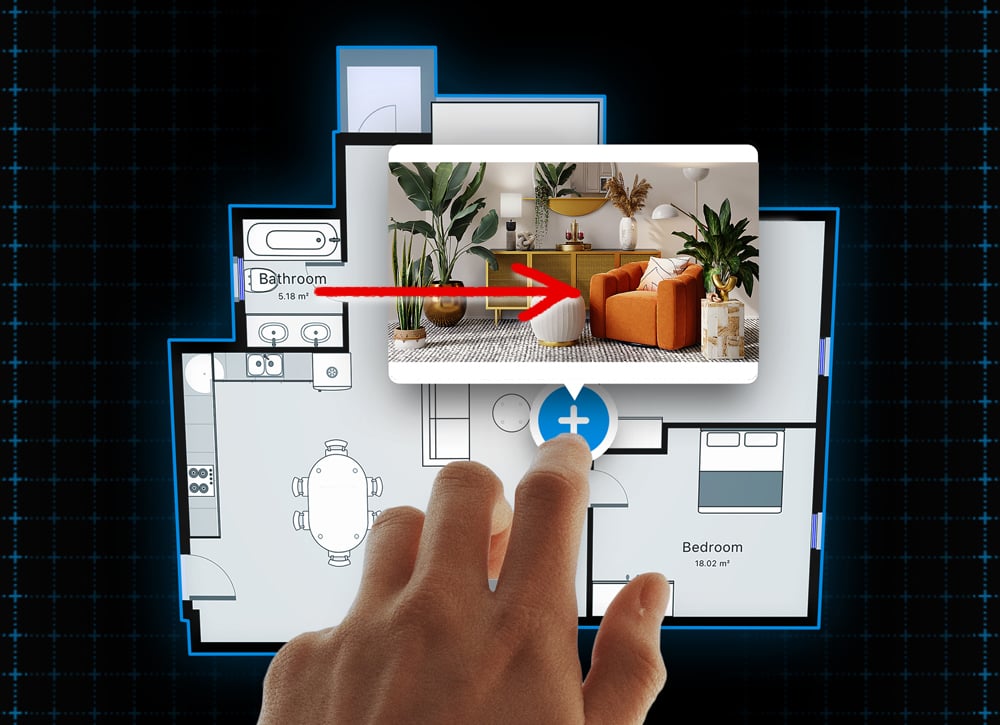 Floor plans are important tools for many types of residential-real-estate professionals. Remodelers, restoration specialists, insurance adjusters, home inspectors and home appraisers all rely on floor plans to convey important information to their clients. If you fall into one of these categories, keep reading to learn why enhanced floor plans are preferred, and how you can create these kinds of plans quickly and easily.
Why Your Floor Plans Should Be More Than Just Basic Sketches
While a basic floor plan sketch can capture the interior dimensions and layout of a room, it is merely a simple starting point. The sketch will be void of any details that show what that space looks like in real life. And that can be a problem if you want to use the sketch to communicate the physical features, traffic flow and contents of the room.

The purpose of adding extra details is to make the sketch come to life, so that anyone viewing it can get a good sense of the space as you see it with your own eyes. A detailed plan also will help eliminate the risk of any confusion as to how the plan will be interpreted by anyone who sees it.
What Types of Extra Details to Include

Architectural Features
These are the fixed, established aspects of a room, including exterior doors, interior doors, windows, closets, stairs, and structural elements such as columns. Adding these to a floor plan helps convey the everyday functionality of the space.
Annotations
An annotated floor plan leaves less to the imagination. By adding descriptive notes and remarks, you can help clarify any of a number of things. Here are a few examples:
Room labels/names

Comments about interior wall and ceiling finishes (plaster, drywall, paneling, brick, etc.)

Locations of electrical, plumbing and HVAC systems

Descriptions of plumbing fixtures

Explanations of floor coverings and other materials used throughout a space

Callouts that further define the details of windows, doors, stairs and structural elements

Lines that indicate each door's swing direction

General information directed at clients, contractors or laborers

References to other drawings or specifications
Objects
Fill out some rooms by inserting storage features and appliances where appropriate. In a kitchen drawing, for example, you can add wall-attached cabinets and shelves, an island, a refrigerator, a range, a dishwasher and a microwave, to show the specific locations of these items. In a laundry area drawing, you can include a washer and dryer. In a bathroom drawing, you can place a toilet, bathtub and vanity. In a utility room drawing, you may want to add a furnace and storage shelves or cabinets.

Similarly, adding some essential furniture to main living areas and bedrooms helps others visualize the actual scale of each space and how it is used. A living room can be filled out with a sofa, chairs and tables. A bedroom can be configured with a bed, a dresser, nightstands and an armoire or chest of drawers. A kitchen can be outfitted with a table and chairs.

However, you'll want to add floor plan objects thoughtfully, and avoid cramming your plan with too many details that overwhelm the eyes.
Photos
Floor plans with pictures provide a more cohesive and comprehensive overview, as opposed to plans without pictures. So, try to include wide shots of single rooms and closeups of special features and objects to make each floor plan more vivid. This will help others truly visualize the space without actually standing in it. The inclusion of photos will also help remind you of your own visit to the site, to jog your memory and help solidify your recommendations for any next steps.
Other Extras a Floor Plan Can Include
All of these will help enrich the clarity of your drawing:
A Scale Bar
This will help others understand the relationship between your representative drawing and the reality of a space.

A Compass
This is especially helpful for a floor plan of an entire home, to help illustrate its orientation to sunlight. The compass should indicate the North direction in an obvious manner, perhaps with the letter 'N' or a prominent arrow.
Your Logo
This clarifies the source of the floor plan, adds an extra air of professionalism, and helps you convey your unique brand.
Consider Adding a 3D Floor Plan to Complement Your 2D Drawing
A typical floor plan is flat, or two-dimensional, and does not show the height or depth of features and objects. That's why it's sometimes helpful to add a three-dimensional drawing. This different perspective can present a more realistic depiction of a space.
How Software Can Help You Enhance Floor Plan Sketches Easier and Faster
Ditch the old way of drawing floor plans by hand. Skip the time-intensive task of creating a plan on a computer. Now there's a better way: Use a floor plan software app on your phone!

A high-quality floor plan app will provide resourceful tools to help you create floor plans quickly while in the field, and then augment those plans with additional visuals and information.
Read more: Professional Floor Plans: Sketching the Hard Way vs. the Easy Way
Be sure to look for an app that:
has an easy-to-use interface

allows you to connect a laser distance meter via Bluetooth, for near-perfect measurement accuracy

will scan a room, using input from your mobile device's camera and gyroscope sensors, to form a floor plan within minutes

permits you to build on that basic plan by adding annotations and photos, and by overlaying design details from a built-in library of objects

lets you turn a 2D plan into a 3D view

enables you to combine everything into a single, attractive, shareable report
Conclusion
A well-designed floor plan is far more detailed and far more useful than a bland, unadorned, basic sketch. When you supplement a plan with features, annotations, objects and photos, you transform it into a valuable communication tool. And that is sure to reflect handsomely on your professional reputation.
SEE HOW TO CREATE A DETAILED FLOOR PLAN DIGITALLY WITH MAGICPLAN!


---


Learn how to boost your IAQ business by Marketing Inspections to Multiple Audiences.


Or read our guide on why you should be adding Indoor Air Quality Inspections to your menu of services.