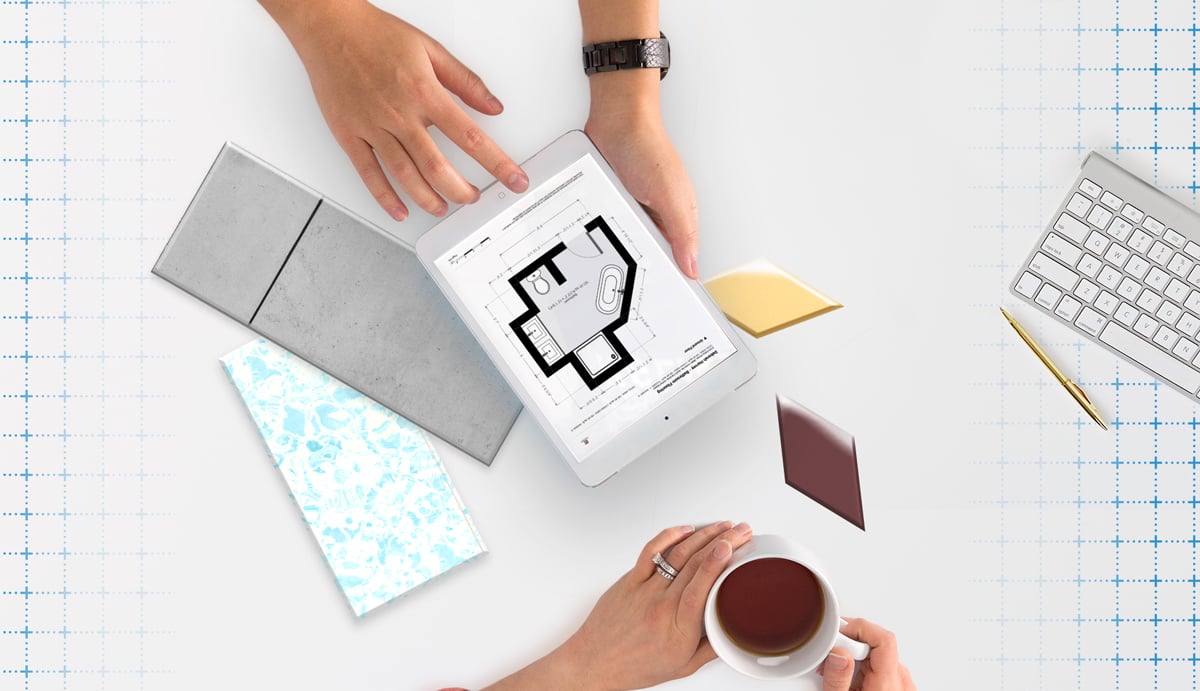 When you're helping your remodeling customers choose wall tile and flooring, many factors must be considered. Budget is one, of course. But other aspects also come into play. Let's take a closer look….

Flooring for Different Budgets
Here are some options to consider:
Most Affordable – If your customer has a limited budget, sheet vinyl is a terrific choice. It's often the most cost-effective option for kitchen/bath flooring remodel jobs. And it can mimic the look of more expensive flooring materials at a fraction of the cost. However, if your customer wants a tile floor, then ceramic tile is usually the most budget-friendly alternative to sheet vinyl.
Most Expensive – Some exotic species of hardwood fall in the higher cost-per-square-foot range, though hardwood holds its value well. In the tile category, handmade, designer tiles and certain natural stone tiles, such as marble or travertine, can be very costly. Those choices are more suitable for customers who want a luxurious look and aren't worried about paying a premium price.
Everything Else – Numerous types of ceramic, porcelain, cork, bamboo and vinyl-plank flooring are popular mid-range options. Worth noting: some porcelain tiles even resemble real wood, yet are completely waterproof and require a lot less maintenance.
Making the best selection for a customer's budget begins with a plan. And the best way to create a plan is to use a digital floor plan app. This will allow you to measure and sketch a kitchen or bath quickly, right at the job site. Plus, a high-quality app will let you add objects and annotations for clarity.
Creating a detailed sketch in this manner is an important step for estimating purposes – especially since kitchens and bathrooms can vary widely in dimensions. According to the National Kitchen + Bath Association (NKBA), kitchen sizes range from 103 square feet (on average) for houses under 1,500 square feet, to an average of 238 square feet for the biggest homes. Bathrooms can range from small powder rooms to large, expansive spaces.
Installation costs must be factored in as well. For example, tile floors are more labor-intensive than sheet- or plank-style floors that are easier to install. A unique layout with difficult corners or angles might require more labor. And, of course, no matter what type of floor is chosen, the subfloor surface will need to be prepped appropriately. Extra home remodel supplies for prepping must be included in the project budget.
Wall Tiles for Different Budgets
Several choices are available for kitchen backsplashes and bathroom tub/shower areas:
Good choices for low to moderate budgets:
Options for higher budgets:
Glass tile – some options run over $100 per square foot

Natural stone – not all stone tiles are super pricy, but many are suitable for high budgets only (some are $100 or more per square foot)
Of course, installation costs must also be considered. Some tile remodel choices are relatively quick to install. Yet, others require more precision and time, especially when positioned in an intricate pattern.
Other Qualities to Consider
Your customer's budget should not be the only factor that influences flooring and wall-tile choices. Often, certain product qualities are important as well. Here are a few examples:
For flooring…
Water Resistance – This is desirable for kitchens, where spills and mopping may be frequent. And it's a must-have property for bathrooms, where people exit showers and tubs while dripping water on the floor.
Durability – Households with kids and pets may require more durable finishes that are difficult to scratch, yet easy to clean. If your customer has a high-traffic kitchen, consider choosing porcelain tiles. Porcelain is denser and, therefore, harder and more durable than ceramic. If your customer really wants a wood floor, you'll want to recommend a satin or matte finish, because a glossy finish will show scratches easily. Think about where the home is located as well. For example, if it's situated near a beach, then the flooring should be able to withstand lots of gritty sand being tracked inside.
Comfort – Tile tends to feel hard and cold underfoot. But resilient flooring, such as vinyl or cork, provides a warmer, springier, more comfortable cushion. This is better for homes with little ones who fall easily or adults who stand for long periods.
Eco-friendliness – Bamboo and cork are natural materials, and either one can provide a more eco-friendly kitchen floor option. When choosing hardwood flooring, look for a Forest Stewardship Council certification, which ensures the product come from responsibly managed forests.
Safety – A nonslip surface is especially important in bathrooms, where water can increase the risk of falling. So, avoid any tiles with glossy, smooth surfaces that could create a serious slipping hazard. Instead, choose tiles with matte or textured finishes. Another option: mosaic tiles with lots of grout lines can add traction to the floor.
Health – Cork is anti-microbial, resistant to mold and mildew, and does not affect indoor air quality. Vinyl, on the other hand, can emit volatile organic compounds (VOCs) that are not ideal for customers who like to live more organically.
Upkeep – Scratches in vinyl flooring and grout between tiles can attract grime that requires more frequent cleaning. Wood floors may need to be refinished every few years. Smooth, polished marble will tend to show scratches and scuffs. Drawbacks like these should be considered thoughtfully if upkeep is a concern.
Climate – Tile is one of the best home flooring options for hot, muggy areas, because it won't expand and contract like other materials, and it feels cool to bare feet.
Room Size – Using large tiles can make a small room appear bigger.
Aesthetics – Flooring materials should complement the overall appearance of the home – whether it's modern, rustic, mid-century, traditional or some other obvious design style.
For wall tiles...
Sheen – Finishes range from matte to glossy to metallic. Each creates a different level of light reflection.
Shape – Variations include square, rectangular and hexagonal.
Pattern – Even the common 3" x 6" subway tile shape can be installed in multiple ways: horizontally, vertically, diagonally.
Compatibility – Styles and colors should complement other materials used throughout a room. Available tile styles vary widely from simple to intricate. Light colors can make a room feel bigger, while dark colors can create a more intimate, cozy impression. A timeless, neutral look is usually preferred over a trendy color or pattern.
Maintenance – Any solid tile will show more fingerprints and smudges than a patterned tile. Also, mosaic choices, such as penny tiles, have way more grout lines that can attract greasy grime, and may not be the best choice directly over a cooktop. A better option might be larger glass tiles, which require less grout, have a smooth, slippery finish that is easy to clean, and are highly stain resistant.
Conclusion
Numerous flooring and wall tile options are available for kitchen and bath remodels. So, it's important to consider several aspects as you help customers make product selections. This will ensure that each customer is happy with the final results!
Continue reading our guide on finding the best tile and flooring suppliers
Or find out how to estimate a kitchen remodel.