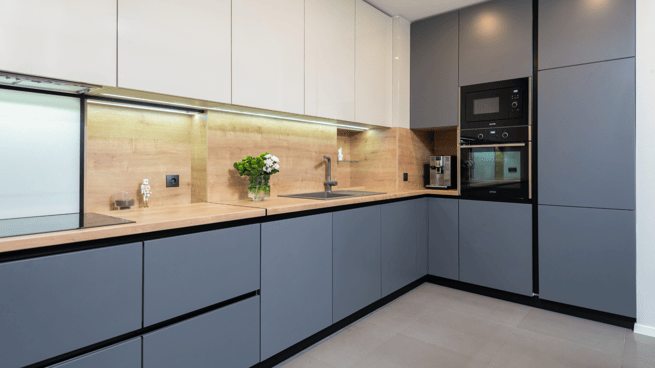 You're a pro, so you know: there is no such thing as an average kitchen remodel cost. Kitchens come in all shapes and sizes, and makeovers can range from minor refreshing to expansive, high-end, magazine-worthy renovations. With every project being one-of-a-kind, accurate estimating is crucial to ensure a profitable outcome. So, we created this brief guide to walk you through the process – beginning with your very first visit inside a customer's home.
Ask for the Customer's Input
The initial consultation is your best opportunity to gather information you need to estimate a kitchen remodel. You'll want to walk in the door with a prepared list of questions. For example:
Do you plan to stay in your home after the remodel, or are you looking to upgrade your kitchen so you can sell your home?

What type of kitchen project are you envisioning: just a facelift involving some cosmetic changes, or a full-scale remodel where we gut the kitchen and start from the ground up?

Do you want us to completely reconfigure or expand the existing layout?

What do you like about your current kitchen? What do you not like?

How would you describe your dream kitchen?

Do you want to keep your current cabinets or get brand new ones?

If you want new cabinets, what style do you have in mind?

Do you want your cabinets to go all the way up to the ceiling?

Are you desiring any special cabinet features, such as an appliance garage, a spice drawer, or a storage shelf for a stand mixer?

For the countertops, do you prefer a lower-cost laminate, a manufactured solid-surface countertop, or a natural material, such as butcher block, granite or marble?

Are you wanting new appliances? New lighting? A new backsplash? A new island?

Would you like a new sink faucet that has a completely different finish or style?

Do you want knobs or pulls for cabinet hardware, and do you prefer a certain type of finish?

Are you envisioning vinyl, laminate, wood or ceramic-tile flooring?

Is your current pantry space working for you, or do you want to upgrade it?

Do you want to include a special stand-alone feature, such as a built-in desk, a cookbook-storage area, or a hutch for displaying decorative items?

Will we be painting the walls a different color? If so, do you have a particular color in mind?

What is your overall budget?
Answers to questions like these will help you determine the project's scope and size, which are critical for creating an accurate estimate.
Explain the Difference Between an Estimate and a Contract
This will help your customer understand the terminology you are using. Clarify that your estimate for the project is your best assessment or guess as to how much you believe the job will cost. Explain that you will use the estimate as the basis for an actual contract or quote for kitchen remodel services – a document that finalizes the remodel design, scope of work, and overall cost.

Start with a Floor Plan
After you gather input from the homeowner and survey the existing kitchen, take measurements and sketch a floor plan that illustrates how you will design the space. The sketch should demonstrate that you are creating a practical traffic flow in and out of kitchen doorways, along with an efficient work triangle that connects the cooktop, sink and refrigerator. You'll also want to mark locations of windows, outlets and other key features to make your sketch complete. Then use your finished sketch as a springboard for estimating.

Read more: 10 Reasons Why You Should Be Creating Digital Sketches On-site
Calculate Costs of Purchases
You want to make sure your estimate covers all materials and supplies that you anticipate purchasing. Kitchen remodels require a wide range of items, including cabinets, countertops, backsplash tile, appliances, paint, flooring, doors, windows, wood trim, crown molding, hardware, a sink, a faucet, lighting, electrical outlets, and air vent covers. Plus, you will have to factor in all supplies needed to complete the demolition, installation and cleanup phases.
Determine Labor Costs
Consider every aspect that will require labor hours. How much demo work is required? Do you need to complete any structural changes, such as moving ductwork, removing a soffit, or relocating doors or windows? Are you responsible for installing new flooring, or will you have a flooring retailer handle that step? Will you reface existing cabinets or install new ones? Does your design require framing, performing electrical work or reconfiguring the plumbing? Once you have a good grasp of the labor needed for each phase of the project, you can use your established price list to calculate labor costs.
Insert Your Gross Profit Margin
Gross profit margin (GPM) is the amount you add to an estimate to cover your overhead and profit. It is calculated as a percentage of project costs. According to Remodeling magazine, GPMs need to be 35% to 38% on average. However, some years are tougher than others, causing contractor margins to fluctuate. The National Association of Home Builders' 2020 Remodelers' Cost of Doing Business Study reported an average GPM of 30.1% in 2018. You'll want to work with your accountant to determine the best percentage for your business
Follow These Time-Saving Tips to Streamline the Process
Use Reference Materials for Better, Faster Estimate Creation
Here are two ideas to try:

Review

past estimates

that you developed for other kitchen-remodel projects. Take what you learned from those previous experiences, and apply that knowledge to new projects.

Create your own internal price list

for materials, supplies and labor. Then refer to that list, along with your floor plan sketch, when you calculate costs. (Note: Be sure to update your price list regularly by adjusting it to reflect current prices for materials. This is especially important when supply-chain problems are pushing prices higher.)
Use a Mobile App to Save Time, Too
The right app will help you create estimates faster and produce more accurate results. That's a win-win scenario! For example, Magicplan is an easy-to-use kitchen remodel estimate tool that allows you to create a floor-plan sketch right on your smartphone or tablet. Then the app automatically estimates needed materials, compiles material and labor costs from your integrated price list, and produces a professional-looking, accurate estimate.
Conclusion
You are an expert at breathing new life into outdated, inefficient kitchens. So, why not become an expert at estimating as well? Follow the advice above to sharpen your estimating skills, so you can make every kitchen remodel more rewarding and more profitable!
Discover how magicplan reduces costs of your estimating jobs in our free guide:
Slashing the Cost of Free Estimates during first customer meetings.


Or you can continue reading our other guide about how to accurately estimate a bathroom remodel as a professional.