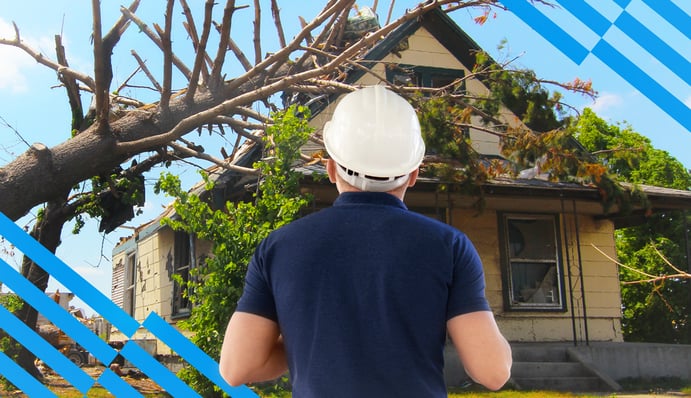 If you are a trained catastrophe claims adjuster or restoration contractor, you may be summoned to respond to areas affected by natural disasters. These types of unpredictable, dangerous and often catastrophic natural events come in many different forms:

• Severe thunderstorms with torrential rain, wind, or hail
• Tornadoes
• Lightning strikes
• Hurricanes and tropical storms
• Floods
• Wildfires
• Earthquakes
• Landslides

Any of these events can hit an area fast and hard, triggering an immediate, massive increase in the demand for your expertise. Here are ten ways you can prepare to respond quickly and work efficiently – even when facing extremely challenging conditions and working in unfamiliar places.


1. Complete These Basic Steps
Adjusters: Make Sure Your Licenses Are Up to Date
When you receive an assignment, you may be asked "Which states are you licensed in?" That's why you'll want to make sure you have an active license in your home state (or Designated Home State), as well as surrounding states or other states where you may be sent to investigate damage claims.
Contractors: Build Up Your Knowledge Base
Learn what's involved with disaster mitigation and restoration. Read articles about this specialized type of work. Talk to contacts in your network to get real-world advice, and ask how to go about getting contract jobs at natural-disaster sites. [You may also want to register ahead of time with disaster-focused government entities, such as the Federal Emergency Management Agency (FEMA).]

2. Keep Your Vehicle Well-Maintained
Don't let a vehicle problem sneak up on you and cause a delay. It's better to be proactive and do things now to prevent problems later. Check your oil, inspect your tires, refill your windshield washer fluid, examine your wiper blades, address worrisome issues (weird sounds, warning lights or other concerns), and schedule any periodic service recommended in your vehicle user manual.
3. Be Ready with the Right Equipment and Tools
When responding to natural-disaster events, you generally want to have plenty of gear to ensure you can handle all types of catastrophe claim situations or disaster restoration work (depending on your specialty). Prepare ahead of time by taking an inventory of your equipment and tools to see what's working properly and what may need to be repaired or replaced. Stock up on fresh batteries for flashlights and other devices. Purchase a spare storage container or truck-bed toolbox that you can use to corral your tools safely and securely – preferably one with adjustable compartments for different tool sizes. (This will help prevent tools from shifting around while you're driving.)
4. Learn How to Use New Gadgets Now, While You Have the Time
If you buy a new digital gadget – such as a laser distance meter or a portable GPS device – get familiar with it and practice using it before a disaster strikes. This is a far better method compared to 'learning it as you go' in the midst of stressful, chaotic conditions.
5. Keep Your Technology Tools Up to Date
Technology is essential for addressing natural disaster claims and restoration work. Download the latest operating-system updates to your laptop, and make sure the battery has a full charge. Keep your phone and tablet updated and charged as well. Back up any files or photos that you don't want to risk losing. Update important contact information on your devices. Bookmark websites and download apps that you'll have to use for the field-work process. And make a list of all power cords, chargers, headphones, earbuds and other accessories that you may need. That list will come in handy when you have to pack quickly.
6. Download and Practice Using Practical Software
Successful adjusters and contractors are open to adopting and using helpful software applications. Have you explored any new options lately? Maybe you'll find an app that helps you complete inspections at a faster pace. For example, you may discover that a floor plan app is an ideal tool for documenting disaster damages quickly and developing and sharing structured reports with sketches, photos and notes.
7. Pack a Natural Disaster Response Bag
Decide what items you will need if an assignment takes you out of town. Then pack those in a bag that you can grab at a moment's notice. Bottled water, prescription medications, dietary supplements, prepackaged snack items, a first-aid kit, an eyeglass repair kit, face masks, a waterproof jacket, extra gloves – whatever is necessary for your personal well-being while you're on the road.
8. Set Up an Organization System
Staying organized is a big advantage when you are working feverishly in the field. You'll find it's helpful to have a system in place for organizing inspection appointments, claim information, forms, photos, etc. This structured approach will help you work more productively while also minimizing mistakes.
9. Optimize Your Communication Channels
Figure out the best ways to communicate with a variety of individuals:
people who can hire you for disaster response assignment
people who coordinate your assignments
any coworkers or office employees who can assist you
other disaster responders who must coordinate work with you
people who own the residential properties you are inspecting/addressing
You'll want to keep everyone informed and updated while you are working in the field. Definitely consider arranging both online and offline communication channels.
10. Be Prepared to Hire Support Staff on Short Notice
When you swing into disaster-response mode, you can't afford to invest time in your traditional hiring process. Running ads and interviewing prospects yourself will be too impractical. So what can you do? Get acquainted with the folks at a local temporary staffing agency, and let them know what types of temp workers you may be needing on short notice. This sets the stage for a quick response when you suddenly need extra help in the office or at a disaster-affected jobsite.
Conclusion
Natural disasters often happen with no warning. And when one does occur, you may suddenly be bombarded with a bevy of work assignments. So, it pays to be prepared. Following the tips above will help you make sure you can respond to any natural disaster in a fast, professional and successful manner.
DISCOVER HOW YOU CAN BENEFIT FROM USING A FLOOR PLAN APP

Or continue with our 7 Tips for Producing High-Quality Home Inspection Reports