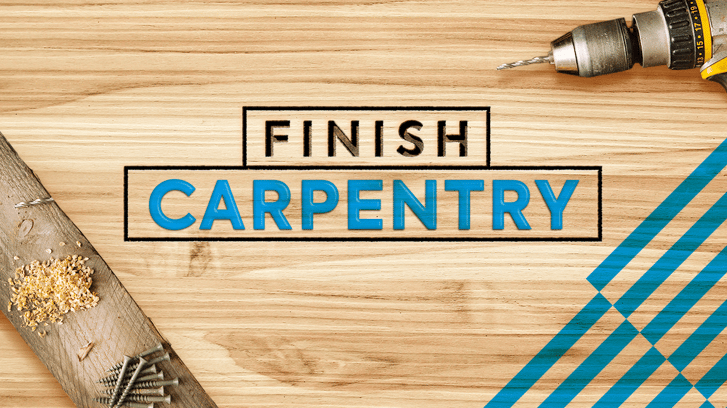 Finish carpentry is one of the final and most satisfying steps of a kitchen or bath remodel. After the framing, wiring, plumbing, drywall work and painting have ended, finish carpentry adds the extra touches that make a project look more complete. It transforms a remodeling project from a work in progress to "Wow, this looks fantastic!"
Why Use Finish Carpentry
When you're working on a remodel, finish carpentry might seem like a small job compared to the heavy work that comes ahead of it. But well-executed carpentry details can be the difference between a beautiful space and a so-so-looking interior. Finish carpentry can add style and functionality, and even evoke luxury, as well as tie together the different elements of a space to achieve a more cohesive look.
Plus, finish carpentry can also increase a home's resale value. Your customers are sure to appreciate this added benefit.
How to Get Equipped with the Right Tools for Finish Carpentry
Doing finish carpentry well requires skill and craftsmanship… and, of course, myriad woodworking tools. A number of things are needed for properly measuring, cutting and installing wood details. Measurement tools can include a tape measure, a speed square, a protractor, mechanical carpenter's pencils, and a laser measure. Electric tool options include portable table saws, miter saws, jig saws, coping saws, planers, routers, belt sanders, drills and nail guns. Smaller hand tools may include a short handsaw for trimming moldings by hand, as well as chisels, gouges, planes, squares, hammers, hand-sanding blocks, wood putty and other items.
You'll need to own a lot of these tools if you intend to perform finish carpentry work yourself. Or you may choose to assign that task to a carpentry-skilled employee or a trusted, subcontracted finish carpenter.
But way before the actual work begins, you'll want to measure and plan the space to be remodeled. That's when another type of tool comes in handy: a floor plan app preloaded on your mobile phone or tablet. A good app will allow you to create a floor-plan sketch in a matter of minutes, instead of drawing one slowly by hand. And it will let you add specific notes about the finish carpentry you envision.
What to Look For: Select a professional-grade app that is popular with residential contractors, accessible across different devices, multi-functional, and easy to learn and use.
How to Use It: Simply turn on the app and start moving your device around the room that you want to diagram. The app will work in tandem with your device's camera to sense the dimensions of the room. Then it will use augmented reality technology to assemble a representative floor plan.
Make Sure You Can Connect a Bluetooth Laser Measure to Your Floor Plan App: That way, you can achieve measurements that are close to 100% accurate. That's important, because finish carpentry must be measured, cut and installed to exacting standards, with very little margin of error.
Use Your Finished Sketch as a Valuable Guide: Once your sketch is completed, you can save it as your go-to guide for carpentry enhancements. So, even if you plan to farm out finish carpentry to someone else, your sketch will serve as a valuable way of communicating your master plan.
Read more: Professional Floor Plans: Sketching the Hard Way vs. the Easy Way
Now that we've covered the "why" and "how" of finish carpentry, let's look at five ways you can use it to enhance kitchen and bath remodels.
1. Center Attention on the Ceiling
Attract eyes upward with special effects, such as:
A beautifully coffered ceiling treatment
Attractive, non-load-bearing beams
Painted or stained beadboard-paneling
A rustic wood-plank effect
Magnificent, intricate moldings
2. Be Creative with Built-ins
In the kitchen, you could feature:
Breakfast-nook benches and a matching pedestal table
A mini office alcove, complete with a desk, handy shelves and a charging station
Bookcases for cookbooks and seasonal home-décor items
A pantry to organize food staples and small appliances


In the bathroom, you might install:
Pretty little niches for displaying bath products
A decorative wood-panel facing for a deep tub
3. Wow 'em with Wall Treatments
You can choose to cover an entire wall with wood. Or you can apply it more sparingly to create accents around a room. Consider multiple ideas until you land on the perfect look:
Stock or custom cabinets/vanity
Chair-rail molding
Picture molding
Lintel molding embellishments over doors and windows
Outside-corner moldings where two walls meet
A board-and-batten design in a modern or traditional pattern
Vertical beadboard paneling
Horizontal shiplap-style paneling
Wood flooring used as a wall treatment
Wainscoting, which can be done in any of a number of styles
Reclaimed-wood hook board for towels
4. Add Architectural Interest
Use a combination of ready-made millwork and your own custom creations to create a one-of-a-kind look.
Crown molding where walls meet the ceiling
Picture-frame molding
Elegant, built-up baseboards
Smooth or fluted columns
Case wrappings around doorways, windows and archways (perhaps with extra design flourishes)
A built-to-fit range hood
A custom-crafted island
A decorative alcove in the kitchen for displaying dishware
A lovely, appealing alcove in the bathroom
5. Incorporate Innovative Storage
Although a lot of finish carpentry is all about aesthetics, some of it is purely practical. Homeowners have stuff they need to store, and you can help make that possible.
Kitchen Ideas:
A comfortable banquette or window seat that disguises handy hidden storage
A classy yet compact wine rack
A customized cubby bench
Floating shelves… perhaps with each one featuring an eye-catching live edge
Bathroom ideas:
A pretty yet practical linen closet
Open shelving or a handsome hutch to provide additional storage
Wrap-Up
Finish carpentry can do wonders to bring luxury, charm and eye appeal into a kitchen or bath remodel. So, explore what all you can do to enhance your future projects!
Continue reading our guide on mistakes to avoid when remodeling customers' kitchens
Or find out how to estimate a kitchen remodel.