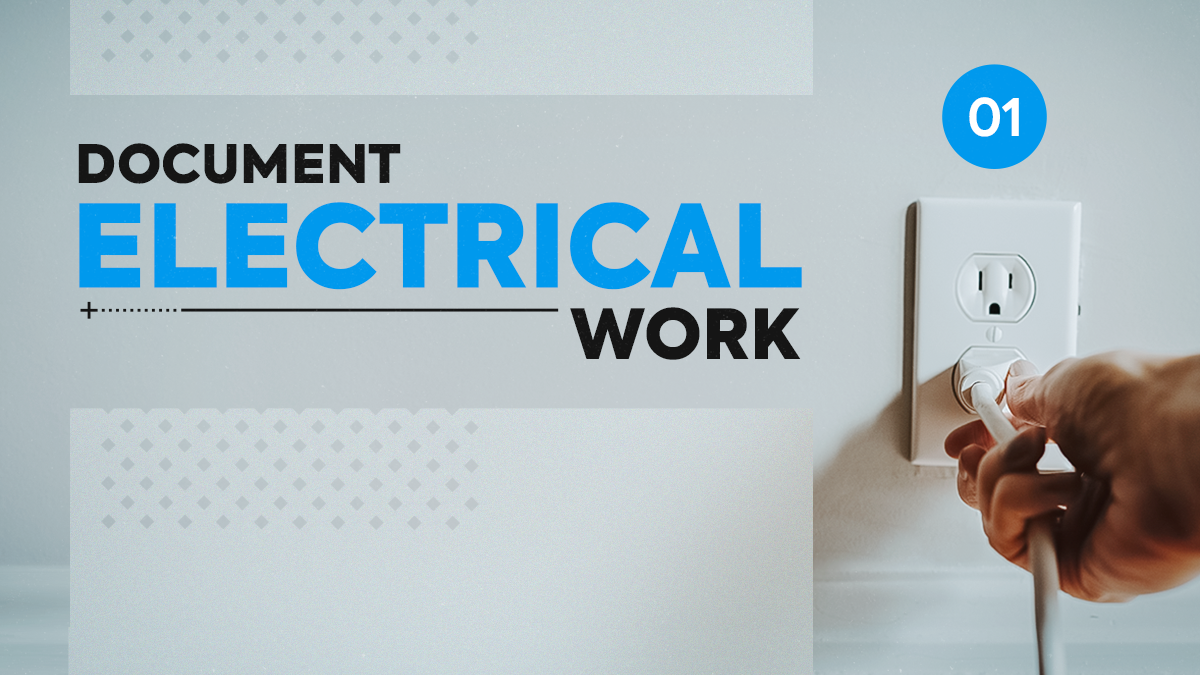 Whenever you are hired to complete a new project, it's important to give thoughtful consideration to any needed electrical work. Of course, you already do this, right? But do you also visually document that electrical work before the project begins?
If not, you'll find this brief guide to be helpful. Read on to learn the definition of 'visual electrical documentation' and discover six reasons why you should create it for every new project.

What Is Electrical Visual Documentation?
It is a floor plan drawn to scale, with all electrical details defined through the use of symbols and annotations. So, essentially, it is a visual representation – or blueprint – of the entire electrical system for a room that will be renovated. (This is different from a more expansive, whole house electrical plan, which is used for new construction.)


However, before you create this type of documentation, you will first want to complete a few other important steps:
develop a master plan for the overall project

assess the existing electrical system

check local codes
This orderly approach will help you prepare for any electrical work that must be completed.

Reasons for Creating Visual Electrical Documentation
1. Visual Documentation Can Be Helpful for Planning Electrical Work
This is especially true any time you prepare to remodel a kitchen or bathroom, where electrical needs tend to be more specialized.
If you are redoing a kitchen, factor in all major electrical appliances (e.g., refrigerator, range, ventilation hood, dishwasher, microwave, toaster oven), plus any small countertop appliances the homeowner typically uses. Then mark your electrical plan with hard-wiring connections and socket outlets required for all of those. Do the same for any ground fault circuit interrupters (GFCI's) that are required. You'll also need to mark your plan with outlets and switches for other electrical features. So, consider your overall master plan for the kitchen: Will you be installing a ceiling fan? Or adding ceiling lighting or under-cabinet lighting? Or creating a desk area with a charging station? Does your project require repositioning or adding any outlets or switches? Do you need to add any new circuits to prevent an overload on existing circuits? After you determine the answers to questions like these, you can finalize your electrical plan before any construction work begins.
If you are redoing a bathroom, your electrical plan will not be as complex as a plan for a kitchen renovation. But it's still helpful to diagram the electrical layout. You'll want to indicate proper positions for essential outlets, GFCIs and switches, as well as the bathroom's exhaust fan and lighting fixtures. A refurbished bathroom will need plenty of general illumination, yet also can benefit from enhanced lighting around mirrors, above the shower/tub area, and inside the linen closet.
2. It Aids the Estimating Process
Visual documentation of planned electrical work is useful for a couple of reasons: It helps you determine which electrical components and materials you must purchase. And it helps you determine the labor hours that will be required to complete all necessary electrical work.
3. It Can Be Used to Explain Planned Changes and Upgrades to Homeowners
Every customer deserves to know exactly what electrical work you are going to complete before you begin a remodeling or restoration project. You have the option of explaining your electrical plan verbally. But, truly, 'a picture is worth a thousand words.' Reviewing a visual layout of an electrical plan is much easier and more helpful from the homeowner's perspective. And it will help them appreciate how you are focused on electrical safety and functionality.
So, just think of your plan as an important visual aid for enhancing the customer experience.

4. It Helps Convince the Homeowner to Approve Your Recommendations
A well-developed electrical plan will help the homeowner avoid having to make any electrical changes later, after the renovation is completed. That's beneficial, because the cost to add a receptacle, switch or lighting fixture will be more expensive later, compared to the cost of doing it during the renovation. Be sure to point out this advantage when you talk with the homeowner.
5. It Guides the Licensed Electrician Who Will Do the Work
Whether you are renovating a kitchen, a bathroom or some other room, having a diagrammed electrical plan can be a useful reference once work gets underway. It also can help prevent any miscommunication if you are delegating the work to someone else instead of doing it yourself.
6. It Helps You Protect Your Business
Visual documentation serves as detailed record-keeping of all electrical work that is performed. This can help shield your business from liability issues that may arise after that work is completed.
The Easiest, Fastest Way to Visually Document an Electrical Plan
Simply do what many other remodeling and restoration experts do: use a digital floor plan app loaded onto a mobile device! A powerful and handy app will allow you to:
quickly measure and sketch a room

manipulate and refine the sketch to create the master plan you envision for the project

create a copy of that plan, and then add objects and notations to specify your proposed electrical layout
Be sure to look for a floor plan app that has an "electrical object library" – i.e., a built-in menu of predefined electrical symbols. These tools will simplify and speed up your creation of new visual documentation.
After your electrical plan is completed, study it as you walk through the space you will be renovating to make sure you didn't overlook anything. Imagine you are flipping switches, turning on a fan, using appliances – doing anything that will require electricity. Also, ask yourself some questions: Did I place switches in convenient locations? Will the fan be positioned correctly? Will the homeowner be able to use all major and small appliances? Did I calculate the electrical load correctly, so that I'm not overloading the circuits? Does my plan meet all electrical codes?
If you identify any concerns, you can alter your digital sketch quickly, on the spot, to update it.

Conclusion
Creating visual documentation of an electrical plan benefits both you and your customer. Plus, it's easy and fast to do with a digital floor plan app. So, vow right now to make it a part of every new project.
Continue reading our guide on mistakes to avoid when remodeling customers' kitchens
Or find out how to estimate a kitchen remodel.