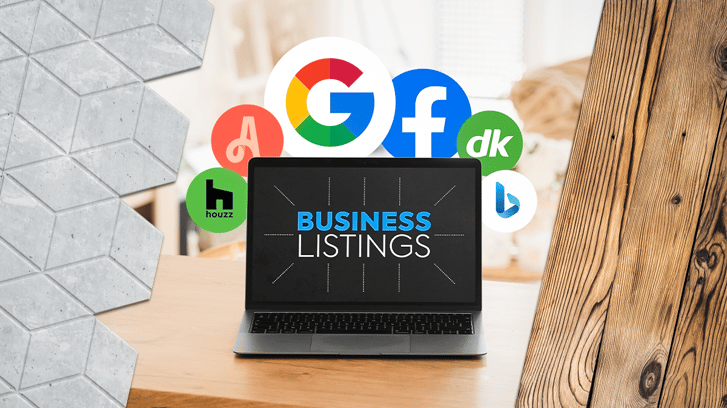 If you're a kitchen or bath remodeler who is looking to acquire more leads, you should definitely take advantage of online listing opportunities. These can be incredibly beneficial for growing your customer base. So, read on to learn why and how you should list your business on multiple websites.
What Is a Business Listing
It's an online summary of your business information. Most important, you'll want to include your business name and contact information, so prospects know how to reach you.
But if an online directory lets you insert additional content, go for it! Add your hours of operation, list of services, directions, experience, expertise and other information to make your listing even stronger. You can often create a more detailed listing like this in just a matter of minutes.
TIP: Mention things that will help set you apart from your competitors. For example, let's say you use a digital floor plan app to produce 3D project sketches during customer consultations. That's cool! And it's something worth mentioning, because competitors may not offer that.
Why Use Online Listings
A lot of carpenters, tile experts and flooring business professionals already list their companies online. You should, too! Here are five key benefits of using online listing services:
1. You Can Market Your Business More Effectively for Zero Dollars
Many listing directories let you create a profile for FREE. So, developing your own contractor listing is doable even if you have a minimal marketing budget.
2. You Can Increase Your Visibility Online
Homeowners are increasingly reliant on Internet searches to find local contractors. And those searches contain the power to help you build brand awareness to attract and engage with new customers.
3. You Can Elevate Your Online Ranking
The more places you're found online, the more authority you build with Google and other search engines. It's a great strategy for boosting your search engine optimization (SEO). That means you may rank higher in search results when homeowners in your area are hunting for the types of services you provide.
4. You Can Direct More People to Your Website
Many prospects may first learn about your business by reading an online listing. But then they are extremely likely to click through to your website to get more information.
5. You Can Reap Positive Reviews
Some business listing directories allow your customers to review your company's performance. You may even choose to remind each customer to leave a review of your business on these websites. Just be sure to thank each online reviewer to show you're a company that listens and cares.
What You Should Do BEFORE You Create Business Listings
Your first step should be to update or build your own website. That's important, because you'll want to include a link to your site in every business listing you create. This makes it easy for people to get better acquainted with your company.
Adding your website to directory listings also helps your website get more "hits" – which may help it rank higher in search results.
Read more: Kitchen and Bath Remodelers: How to Create a Website that Wows
Examples of General Business Directories
Here are some popular ones to consider (listed alphabetically). All of these offer FREE business listings for contractors. But, be aware that some also offer fee-driven services.
TIP: Search your competitors' company names online to see what online directories they use.
Directories That Target Homeowners Specifically
Angi

(formerly Angie's List)
A website where homeowners can go to find, research and rate local companies and contractors. Yes, you can sign up for a free listing. But expect to spend some money if you want to leverage the platform's full functionality. (Angi offers varied tools to help you manage your online presence, submit quotes, etc. So it's much more than just a business directory.)
Houzz

("powered by Angi")
The Houzz platform is dedicated to listing home improvement professionals. With your free listing, you have the opportunity to connect with homeowners based on location and pricing. This site encourages use of photos, so be prepared to upload some high-quality images that showcase your team and/or services.
HomeAdvisor

(also "powered by Angi")
This site also focuses on matching homeowners with local professional contractors. You can create a free listing.

How to Manage Your Listings
Follow these four steps:
Standardize your contact information – Make sure your business name, address and phone number are identical in every single listing for your business. Otherwise, you may get negative marks from Google for a lack of consistency.
Check all of your listings periodically – It's important to make sure that your business information is complete and correct, to protect your online reputation.
Keep your contact information current – If anything changes, be sure to update all of your online listings right away.
Add any other new information – For example, if you expand your offerings or you want to promote a new type of technology (perhaps digital project sketches?), you'll want to mention that newsworthy info across all of your listings.
Ready, Set, Go
If you're looking for a way to attract more leads, embrace the benefits of online directories. Begin by exploring some of the directory options we mentioned above. Then register with a few of those and create well-crafted listings to increase your online presence. Investing some time to do this definitely will be worthwhile!
Continue reading our guide on mistakes to avoid when remodeling customers' kitchens
Or find out how to estimate a kitchen remodel.