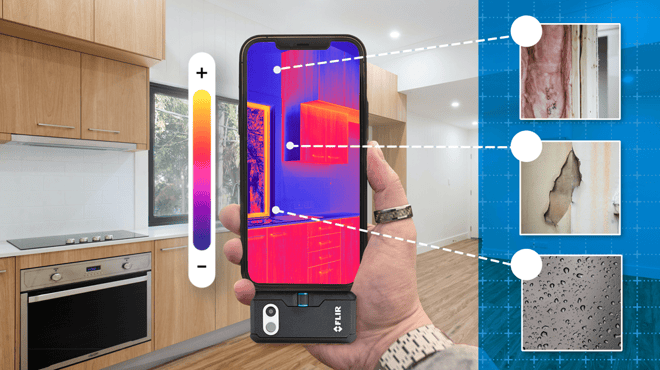 Thermal imaging cameras have become a much-appreciated tool in the restoration and home inspection business. These handheld devices, operating with infrared technology, are an all-round solution for restoration contractors and home inspectors to detect water leaks, faults in electrical systems, air leaks in the building envelope as well as general heating, ventilation and air conditioning issues. Professionals increasingly rely on them to save time in determining the location of problems and eliminating a lot of the guesswork.
In times of increasing customer demands and tight budgets, they add significant value to restoration contractors' and home inspectors' businesses, delivering efficiency and better service.

Let's take a look at how they work and why they should matter for your business.
How do thermal imaging cameras work?
Thermal imaging cameras do not actually "see" through a wall or other surface, which is a common misconception. They detect the infrared radiation emitted by objects, with a sensor taking the thermal energy, i.e., heat, to create a visual image called thermogram that allows for the identification of areas of interest. Basically, they establish differences in temperature to locate problems, e.g., wet building components that are cooler than dry ones, and display the respective temperature in different colors. They do so with high sensitivity and can detect minimal surface temperature differences.
Thermal imaging camera features
Thermal imaging cameras are high-tech devices that process the images they take and display them on a screen. Apart from using the visuals for immediate analysis, specific software supports further evaluation and results reporting. A number of key features are important for the infrared camera's value, including
Display size

Detector resolution

Different ways of saving images

Color palette range, i.e., the gradients of color being displayed

Temperature range

General sensitivity to temperature differences

Voice recording functionality
Detector resolution, thermal sensitivity and temperature range are standout features to look out for. The resolution stands for the number of pixels, with the most common resolutions being 160 x 120, 320 x 240 and 640 x 480 pixels. Each pixel has a temperature associated with it so that higher resolutions produce images with clearer visibility. Thermal sensitivity indicates the smallest temperature difference the camera can detect. This means, the lower this number, the better. A sensitivity of 0.05° would mean that a thermal imaging camera with this spec can even detect a temperature difference of a five-hundredths of a degree. The temperature range stands for the minimum and maximum temperature an infrared camera is capable of measuring which would typically be between -4°F to 2200°F.
Thermal imaging camera use cases and benefits
Apart from their actual functionalities, thermal imaging cameras are very good value for money as they have not just one or two but a whole range of uses and benefits in home inspection and restoration. Detection of moisture in buildings and walls and finding the sources of water leakage, such as leaky water pipes, might be the most common uses. But there's much more scope to maximize the tools utility, including thermal imaging for electrical inspections, detection of unwanted heat gain and loss to tackle energy consumption, improving home insulation by detecting air leakages, testing and detecting mold in home inspections, diagnosing HVAC air flow issues or using infrared cameras for mechanical inspections to identify malfunctioning parts in machinery and equipment that is used in residential buildings. Particularly given the increasing importance of sustainability, thermal imaging cameras can provide restoration contractors with a competitive edge and valuable benefits as they support mitigating issues that impact negatively on the environmental efficiency of buildings.
Thermal imaging camera brands and types
When researching different types of thermal imaging cameras, you will primarily come across the brands FLIR and FLUKE as dominating providers. The former, named after the technology used, "forward looking infrared", has been manufacturing thermal imaging cameras for over 65 years and established a reputed position for its range of products.
In general, there are three basic types of infrared cameras, i.e., short-wavelength, mid-wavelength and long-wavelength. Cameras in the mid-wavelength group (spectral range of 2-5 microns) are used for extreme high-temperature readings, such as scanning boiler applications and ballasted, single-ply roofing systems. Long-wavelength cameras (7-12 microns) are the most popular type and provide a lot of detail. Both long- and mid-wavelength cameras offer accurate temperature measurements and detailed differences across small or large temperature ranges. The good news is that while thermographic technology used to come with a hefty price tag of in excess of $10,000, these handheld devices are now available from a few hundred dollars upwards. The more advanced FLIR models are still in the four-digit or even five-digit figure range, however, there are a lot of options out there with a multitude of functionalities catering for different requirements which stay well below the $1000 mark.

Thermal imaging camera vs. moisture meter
There is a common misconception that thermal imaging cameras and moisture meters are separate tools and used in an either-or scenario. However, it is actually best practice to use both of them together. Let's take the example of a home inspection for moisture to see how these two tools complement each other to improve efficiency and validate the results: While one (infrared camera) helps to quickly identify where the problems really lies, the other (moisture meter) will validate the findings and provide a detailed measurement. This means that after first deploying a thermal imaging camera to show surface temperature differences in real-time and locate areas of concern, a moisture meter is then used to for further investigation to determine if moisture is behind the cooler spots and measure it.
Thermal imaging camera software and apps
As important as the actual thermal inspection is the reporting and ability to share the data with the relevant partners, be it clients, your team or insurance companies. This is where thermal imaging analysis and reporting software comes in which can be used on mobile devices or PC to quickly create easy to use and understand reports. It also enhances images for better representation and allows for your annotations to detail the issue and providing guidance for the restoration work.
There are also thermal imaging camera apps that work with small infrared cameras that can be attached to your phone's USB. The camera then uses the phone screen for displaying thermal images. magicplan, for instance, enhances its reporting features with its new FLIR One integration which supports FLIR ONE Pro thermal cameras for smartphones. The cameras can be plugged into iOS and Android devices for efficient capture of thermal images that can then either be added immediately into projects on-site or later to completed projects in magicplan.
Read more: magicplan app now integrates with FLIR ONE Pro
Conclusion: Thermal imaging cameras as key technology in contractors' toolkits
Infrared cameras – when used by trained professionals – have become highly valued instruments for speeding up work processes and offering precise visual guidance to restoration contractors and home inspectors. Their wide-ranging uses and benefits turn them into real value-for-money tools: They enable contractors to not only improve workflows and reporting but also add to their client services with future-oriented technology that is key for mitigation building issues around energy efficiency and insulation.


Schedule a demo below to learn how magicplan's smart app easily integrates with thermal imaging cameras like FLIR for your restoration or home inspection business:



Or read about other helpful tech tools that can make your life easier as a restoration contractor.