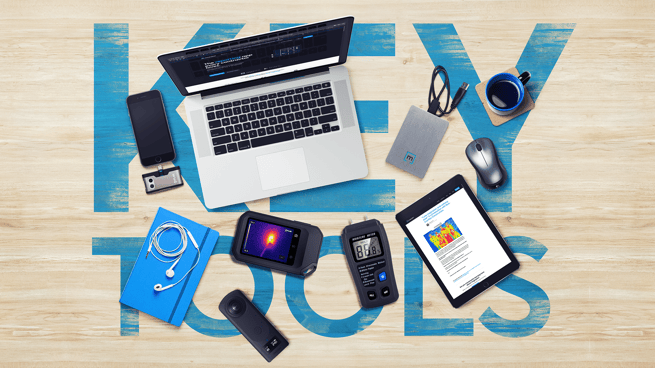 Let's start with the obvious: Technology will continue to transform the restoration industry. In our digital age, accelerated by the pandemic, smart tech tools drive efficiency and alleviate common pain points. Adopting the right kind of contractor technology for your business is now at the core of securing a profitable future. Next to standard equipment like air movers, cavity dryers, dehumidifiers or vehicles for water, mold or fire damage restoration work, there is a range of tech available to not just make your life easier as a contractor but, crucially, meet increased customer standards. This article provides information on the key technologies for restoration business owners to help them make the right choice and avoid over-purchasing.
Moisture meters for damage assessment
Moisture meters are an essential water restoration equipment to repair water damage caused by pipe breaks, roof leaks or flooding. They are used to first determine the extent of water damage, then check the drying process and finally validate that all excess water has been removed.

In determining the water damage, it is key to establish how deep moisture has seeped into drywall, floors or furniture. You want to make sure that you get a reliable reading to ensure replacing the damaged materials with a high moisture content only and avoid replacing materials unnecessarily. Essentially, there are two types of moisture meters – with and without pins – that do the job.
The former has two pins that enter the material while the latter works contactless with a sensor. They have the advantage of not leaving small holes in the tested material, however, are also more expensive and have limitations regarding the measuring depths. While moisture meters are easy to use, a multitude of readings is necessary which can be tedious and time consuming. Also, the accuracy very much depends on the user and their ability to find and measure every damaged spot.
The thermal imaging camera for more accuracy
This is where thermal imaging cameras come in. Combining them with a moisture meter improves accuracy and ultimately efficiency. By now, many restoration contractors appreciate them as a time saving tool and important added value offering for clients. Basically, a thermal imaging camera for home inspection enables the quick tracking of the leak source, which can then be verified with a moisture meter. It deploys FLIR (Forward Looking Infrared) and crucially, doesn't detect moisture but the difference in temperature. This means that it can "see" wet building components that are cooler than dry ones as telltale signs of moisture, indicating the respective temperature by different colors.
No doubt, one key advantage of this technology is its ability to speed up the process and offer a visual guide to contractors. Thermal imaging cameras can also be used with your iPhone. Even a basic option will provide more accuracy in locating moisture damage than a conventional moisture meter because it allows for checking everything in "one sweep". However, education is needed to use the equipment properly. Not every cold area means moisture and it is recommended to get some training. By the way, apart from water damage, thermal imagers can also be used for air flow issues and fire damage jobs to trace the damage left by sprinklers or fire hoses.
3D cameras for a 360-degree walkthrough
A 360-degree camera for 3D mapping is very much a heaven sent for any restoration contractor – because nowadays, it's all about comprehensive documentation and the ability to quickly prepare estimates and provide a better client service. With a 3D camera, you can capture every aspect of a property in one go, which is key for creating a swift and accurate restoration plan after water, fire or mold damage has occurred.
You can work much faster and more reliably in comparison to 2D photos and manual measurements. Essentially, a 3D scan means you can turn a space into a 360-degree, walk-through, interactive online image. Not only does that make cost estimates more accurate, it also safeguards you from later client complaints and, when working on insurance claims, offers improved flow of information and transparency with the insurance company. Capturing everything in 3D on the first site visit subsequently saves a lot of time as follow-up measurements and verification can be done off-site with the device's software.
LiDAR for fast room mapping
In March 2020, Apple introduced LiDAR technology on the new iPhone 12 Pro and the latest iPad Pro. LiDAR room scanning uses the pulse from a laser to collect measurements to be turned into 3D models of objects and environments and makes scanning rooms extremely easy and fast. The LiDAR sensor is optimized for room scanning measuring distance to surrounding objects up to 5 meters away. Used with corresponding software that combines the power of AR (Augmented Reality) with artificial intelligence for automatic object detection and realistic classification, LiDAR is more precise in detecting depth or object collision and increases accuracy, all of which matter for water, mold or fire damage restoration work. Going beyond recognizing basic features such as a floor or wall, the whole geometry of a scene can be realistically captured. Room scans become vessels of data with a long-term value as information can always be accessed and used.

Software for productivity, planning and reporting
If it was just the restoration work… but it's just as much about managing communication and workflows with clients, sub-contractors, insurance companies and other stakeholders. Business management software is the glue that holds your operations together and specific restoration management software offers functionalities to streamline communication with clients, supervise construction restoration projects, generate schedules, and manage budgets and resources.
Keeping calendars, lists and timelines in one central place that is accessible from anywhere and offers real-time information, can prevent a multitude of mistakes and delays, all of which can be detrimental for client relations. So, if you want to safeguard your bottom line, software tools are a vital component, be it for simple job costing functionalities or a more comprehensive CRM software. Particularly for residential restoration contractors just starting out or running smaller operations, applications such as magicplan which cover the key functionalities of measuring, reporting and estimating, are a smart option that saves time and cost, with potential for valued adding integrations.
Be clever and use smart technology for better quality work
There's a multitude of tech tools out there and ongoing technological advancements add ever more features and options. It's therefore important not to get carried away by "cool gadgetry" but really focus on your specific business purposes, and most importantly, what benefits the delivery of a quality job and customer satisfaction. Smart technology provides exciting opportunities to enable better workflows. Using them with the needs of property owners in mind can support profitability and future proof your business.


Schedule a demo below to get a better understanding of magicplan's smart app tech capabilities to transform your restoration business: