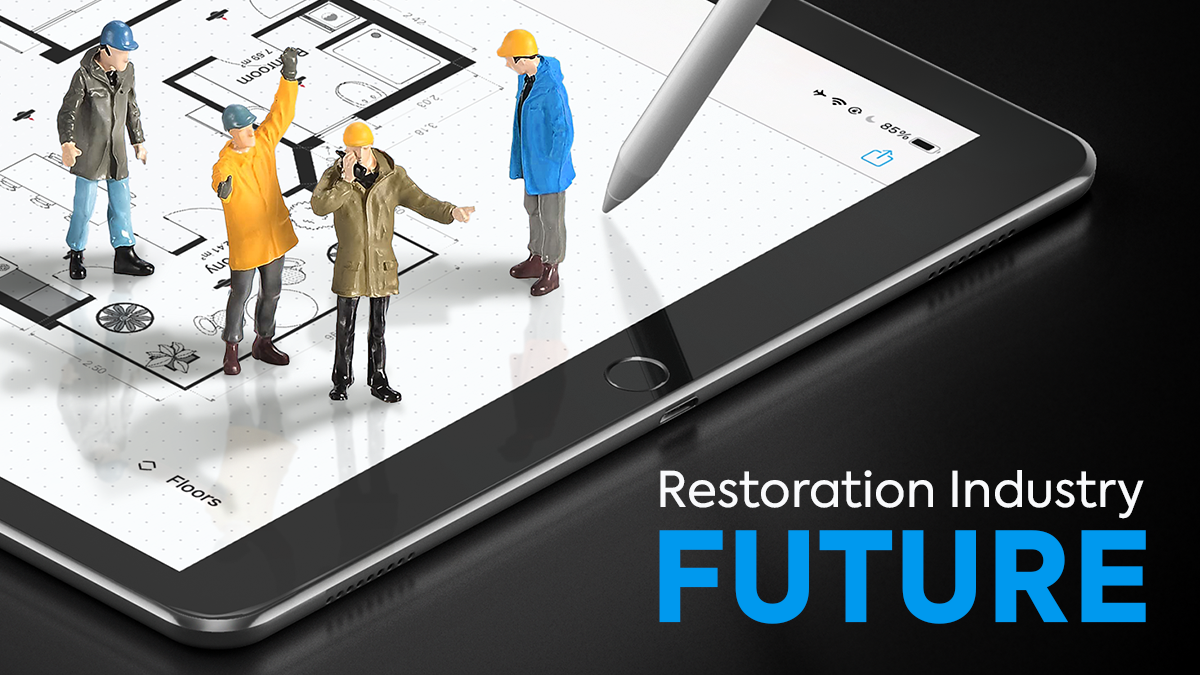 We've already made headway into the year 2023 – is your restoration business ready to keep up?

As with every new year, we know we'll see a wide range of new restoration industry standards and trends that each business must adapt to quickly. Otherwise, they might get left in the dust.

So this year, make sure your business plays a prominent role in the future of the restoration industry. In this post, we'll cover restoration industry trends you should follow and how to grow your restoration business in 2023 and beyond.

The Current State of the Restoration Industry
As consumers become more aware of major global issues, the restoration industry experiences increasingly higher demand. According to industry experts, the restoration industry was worth $210 billion last year – a value that should steadily increase as we move into the future. With factors like climate change, natural disasters, the importance of indoor air quality, and the advancing age of the global population, you can be confident that you'll attract more customers.
However, the industry itself remains on somewhat shaky ground. According to recent restoration industry statistics, most methods of measurement point to a flat line in new providers. That means businesses consistently meet the demand for services without difficulty, which pushes them into more direct conflict with their competitors. In other words, clever marketing is more important than ever.
Restoration Industry Trends in 2023: Economic & Environmental Pressures
2022 saw a surge in complex economic situations across every major industry. Inflation was rampant, driving costs for materials, labor, and wages higher than ever. This made the cost of doing business increase, pushing those costs onto increasingly wary consumers.
At the same time, people became more cognizant of the need for more advanced, inspired approaches to restoration practices. COVID-19 made the world care about indoor air quality, and more companies began offering "green restoration" services that put a primary focus on environmental conservation.
As always, the unstoppable march of technological progress continued with gusto. Through new digitization methods, restoration businesses have streamlined their operational efficiency from top to bottom. Products like smartphones, tablets, and wearable tech have enabled professionals to communicate more flexibly, while digital solutions like magicplan made an impact on the restoration industry like never before.
Responding to New Industry Standards with Education
Investing in education is crucial for restoration contractors – especially when it comes to working together with different entities on major restoration projects. Some of the new courses restoration contractors can take to improve their business and ensure they're adhering to industry standards include:
Keeping your industry knowledge up-to-date is incredibly important for restoration contractors as industry standards constantly evolve.
Growing Your Business in 2023 and Beyond
Focus on New Restoration Business Ideas
In 2023, your goal should be to "future proof" your company by investing in employee training, new software systems to streamline operations, and determining what the next generation of workers and customers will expect from you. Make sure you study what your target audience needs most out of their restoration services and strive to provide them at competitive rates. The restoration industry is all about using modern technological advances to create solutions for our clients – don't let your business get left behind by failing to change with the times.
Then, consider the types of services you currently provide and what you could potentially offer your customers. For example, if you can offer your clients a wide range of services rather than limit yourself to one specific niche, you'll stand out from the competition. Try to offer a series of add-on services to clients after every project, including Indoor Air Quality tests, biohazard cleanup services, fire damage restoration services, and more. Additionally, you should put your focus more on non-TPA jobs and try to expand your marketing in that area.
Take advantage of social media platforms like Facebook, Instagram, YouTube, TikTok, Twitter, and LinkedIn. Interact in your community groups and establish yourself as a local expert. Share informative, insightful, and entertaining posts on each of these platforms whenever you can. Digital marketing is incredibly effective and produces a powerful ROI for businesses in the restoration industry, so be sure you never overlook its importance in 2023.
Set Aside Time to Evaluate Your Operation
From your finances to your team members, hiring methods, and how you delegate workflow – all of these can be subtly tweaked to improve performance in coming years. Restoration industry leaders have switched to a more data-centric approach, performing monthly and quarterly analyses of their processes and finances.
But data isn't always easy to understand – and it's even harder to collect without the right tools. Many major businesses in restoration now work with third-party software and analytics companies to gather crucial information and insights into their own operations.
Utilize New Technologies & Techniques
Software solutions and apps like Xactimate® have enabled restorers and claims adjusters to create damage inspection reports in a shorter time with floor plans, pictures, and detailed notes. They can help you conduct site measurements, create sketches, and gain a better understanding of their projects than they could in the past. However, Xactimate® and other older software solutions like it can be unwieldy in even the most experienced restorer's hands. Fortunately, apps like magicplan have begun to offer more efficiency and user-friendliness that any restoration contractor can appreciate and use with very little training.
Many restorers are also incorporating exciting new technologies into their projects. Some of these high-tech solutions include remote sensors and other upgrades to existing equipment that promote workplace connectivity. These new smart-tech devices are part of the movement toward automation and the Internet of Things (IoT) that's rapidly changing the way businesses in every industry operate.
By using these latest tools, you'll position your business at the forefront of the industry, establish greater credibility, and create more value for your customers. This year, it's time to ditch the old notepad for good.
Leading the Way in the Restoration Business
As you can see, 2023 presents both challenges and opportunities for the restoration industry as demand continues to increase with a growing focus on environmental conservation and technological advancements. If you'd like to learn more about growing your business while keeping up with the latest industry trends, explore the magicplan blog or reach out to a member of our team to book a demo today.