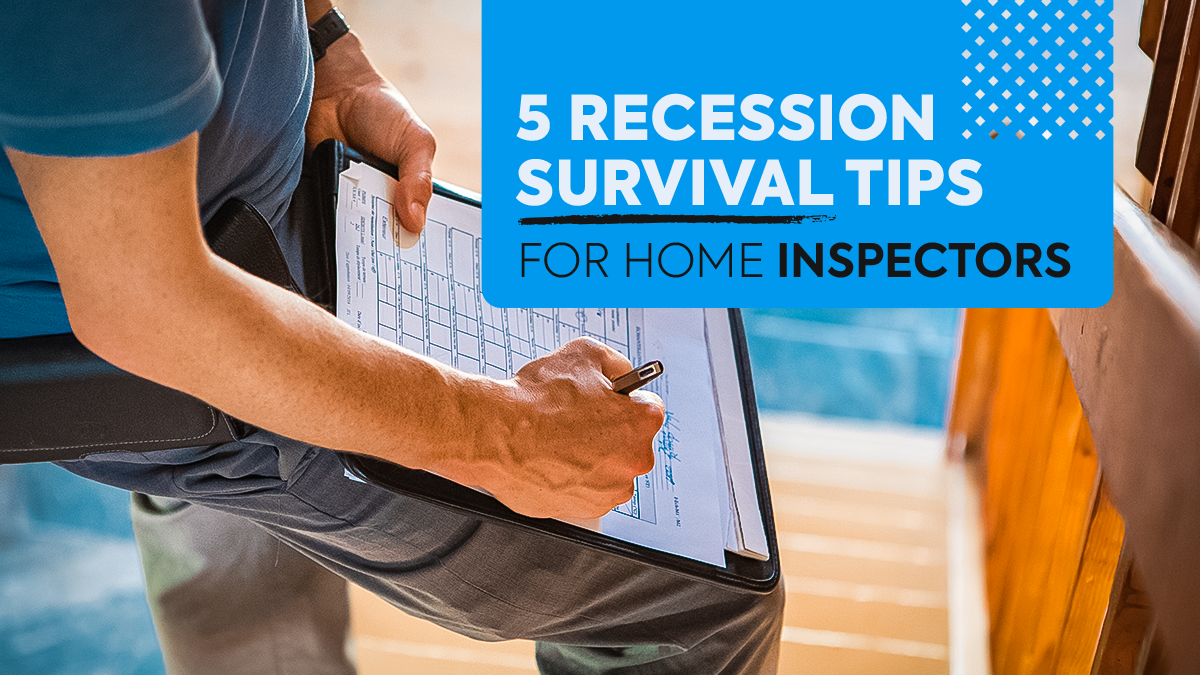 While the experts continue to argue over when the recession will hit the US economy, and how long it will last, you've still got a home inspection business to run. And between inflation driving up your operating costs, and high interest rates slowing the real estate market, chances are that surviving the recession is your number one priority.
To help you not only survive, but thrive during the impending economic downturn, we've assembled 5 recession survival tips for home inspectors, just like you. So, if you're ready to recession-proof your home inspection business, let's get started!
Home Inspector Survival Tip #1: Build on What You Already Have
The first survival tip starts with improving your online presence. Whether you rely on a website or social media platform to connect with prospects, when was the last time you posted an update?
Regular and consistent blogging is an easy way to improve your page rank and tap into the free organic traffic looking for your home inspection services.
When you're busy, simple things like updating your contact info, business location, or renewing your privacy policy can easily fall through the cracks. Take time to review your digital presence to make sure everything is correct and current.
Whatever your hours of operation, be sure to be available via phone, text, and email for your prospects and customers during that time. Providing a timely reply demonstrates a solid commitment to your customer's needs and separates you from those with a standard 24–48-hour response time.
Capitalize on customer experience and satisfaction by asking for reviews and testimonials you can post at your website or landing page.
Platforms like LinkedIn, Alignable, and NextDoor allow you to create a free business profile to connect with potential prospects such as local real estate agents, loan officers, and escrow agents.

Home Inspector Survival Tip #2: Diversify Your Home Inspection Services
While home inspection services for real estate transactions will remain your bread and butter, there are several complimentary services that are relatively easy to add to an existing home inspection business:
Code Inspections – becoming ICC, BOCA, or IRA certified could open the gate to a new stream of clients not only for construction dispute inspections, but also arbitration and mediation services as well.

Energy Audits – as more property owners look to lower utility costs for long-term savings, the demand for energy audits and surveys will continue to increase as a factor in the homebuying process for individuals and lenders.

Environmental Inspections – for substances such as mold, lead, asbestos, and radon.

Home Safety inspections - for new parents, grandparents, and foster parents.

Mobility Inspections – ensure seasonal mobility for family members and business customers alike.

As you can see, there are numerous "non-traditional" inspection service opportunities for home inspectors with construction experience and a bit of creativity.
Home Inspector Survival Tip #3: Streamline Your Business
There are several steps that home inspectors can take to streamline their business operations and reduce potential penalties and late fees.
Since most of the world has gone digital, there's no need to print out forms, sign checks, or go to the post office. In most areas of the country, you can pay the following expenses online.
Sales tax

Unemployment insurance premiums

Workers compensation insurance

State income tax

Federal business tax

Liability insurance premiums

Vehicle insurance premiums

Business license renewals
Inspection apps are another way to save you valuable time and energy. When comparing inspection apps, don't get distracted by all the bells and whistles available. As a home inspector, you'll want a inspection project app that can
Centralize all your home inspection files for quick and easy access.

Create a comprehensive and structured report from your checklist and inspection notes.

Easily share your report with individuals and business professionals.

Work with your images, including markups and annotations. Bonus points for a sketching option that allows you to create complete drawings/plans with your mobile device in a matter of minutes.
The best construction apps typically include a free trial, so you can test out the features yourself before committing to a membership or purchase.

Read more: 7 Tips for Producing High-Quality Home Inspection Reports
Home Inspector Survival Tip #4: Continue to Educate Yourself
Chances are that you outsource several business services such as your accounting, marketing/advertising, and probably your website maintenance, too. And while we don't suggest becoming a CPA to save on your tax prep fees, a little education can go a long way when running a business.
A basic SEO course can help your website rank better through simple changes you can make to your page content or website structure.
A copywriting course can help you write blog posts that people want to read and share.
A social media management class can help you understand the best practices for getting likes and shares for your posts and updates.
A UX (user experience) class can make your website intuitive and easy-to-navigate, reducing bounce rate and increasing the length of each visitor's stay on your page.
Platforms like Youtube, MasterClass, Udemy, and Skillshare have thousands of courses and instructors ready 24 hours a day. Many are free or low-cost to attend and some offer a credential or badge upon completion.
Home Inspector Survival Tip #5: Persistence Does Pay Off!
None of us expected to face a recession so quickly after the pandemic, but here we are. The effects of the recession will vary greatly, depending on your location and local economy, so exercise some additional patience and persistence over the next few months.
In the meantime, choose one of the survival tips and get started recession proofing your home inspection business, today.
LEARN HOW MAGICPLAN MAKES HOME INSPECTIONS EASY, AFFORDABLE AND EFFECTIVE! JOIN 8,000+ HIGHLY PRODUCTIVE HOME INSPECTORS


---


Learn how to boost your IAQ business by Marketing Inspections to Multiple Audiences.


Or read our guide on why you should be adding Indoor Air Quality Inspections to your menu of services.