If you're responsible for visiting customers' homes to sell installation of doors and windows – or you manage field reps who do that job – you know how important it is to sell efficiently. A faster, more impactful sales process means you can fit more sales appointments into a weekly schedule. So, anything that can be done to save time AND impress customers is a big plus! And that's exactly why you should use a handy floor plan app.
As digital technology continues to transform the remodeling industry, more and more window and door contractors are embracing the use of mobile apps. Read on to find out what a digital floor plan app can do, and you'll discover that it's a small investment with a big impact!
What Is a Floor Plan App?
A good floor plan app is a fantastic tool to use when working in the field. Basically, it's a mobile application that uses augmented reality and artificial intelligence technology to draw a floor plan for you. It does this quickly and accurately, without requiring a tape measure.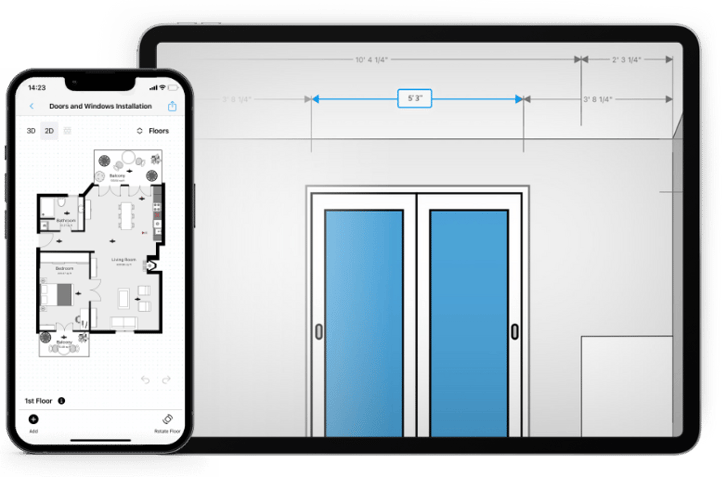 How Will I Use It?
A high-quality floor plan app will let you do all of the following:
Sketch any Room Instantly
It's easy: Simply walk around a room with your mobile device to let the app capture the corners and calculate the dimensions. Then the app will do its "magic" by diagramming a floor plan.
Easily Add Doors and Windows
Having a built-in library of objects, including doors and windows, makes the sketching process even easier.
Enhance Your Sketch with Annotations
An annotated floor plan leaves less to the imagination. By adding descriptive notes and remarks, you can help clarify any of a number of things – including any preparation work that needs to be cone, and details about new windows and/or doors that are to be installed.
Attach Photos for Visual Reference
Floor plans with pictures provide a more cohesive and comprehensive overview, as opposed to plans without pictures. So, you'll want to include wide shots of single rooms and closeups of door and window locations to make each floor plan more vivid.
Make Changes on the Fly
What if your customer wants you to tweak your plan before you leave the appointment? How fast can you move a door or change window specs? These types of edits are hard to do with a paper document. But a good floor plan app will let you complete a design iteration instantly.

Why Is a Floor Plan App Beneficial?
Good question! Let's drill down and look at all the advantages…
Achieve Tremendous Time Savings
One of the biggest benefits of using a digital floor plan app is the speed at which measuring and sketching can be completed. The right app will make these steps go faster, and also will produce more accurate results. That's because it will allow you to map a room within just a few minutes. For example, magicplan is an easy-to-use app that allows you to create a floor plan of any room on your smartphone or tablet. By harnessing the power of this advanced technology, you can boost your productivity significantly.
Visualize the Work That Needs to Be Done
Visualization is helpful for multiple reasons: It helps you think through the specifics of a new project. It helps you discuss your installation plan with your customer by providing a compelling portrayal of the end result. And it helps you explain the project to your installer.
Document the Exact Doors and Windows That Are to Be Installed
You can annotate any sketch with specific product information, to show exactly which product goes in which spot. And because you're doing that digitally, the information will be legible, revisable and shareable.
Customize Your Sketch with Your Company's Brand
A high-quality floor plan app will allow you to add your company logo to any sketch. This communicates professionalism and helps you convey your unique brand.
Use Your Completed Sketch as a Sales Tool
So, present your sketch immediately, while still onsite, to share your recommendations, make a positive impression, build excitement and clinch the customer's approval.
Create an Estimate on the Spot
If your floor plan app has an estimating feature, it will estimate materials and costs automatically, based on your captured floor plan data and your integrated price list. This allows you to produce and share an accurate estimate while you're still at the customer's home.
Have Your Window and Door Installer Study the Sketch Before Completing the Installation
This is a smart way to ensure that the correct products are installed in a proper manner, per your instructions. The installer can also reference your sketch during a final walk-through with the homeowner, to prove that the job was completed as planned.
What Should You Look for in a Floor Plan App?
Here's a helpful checklist. Be sure to look for an app that:
is a proven, commercial-focused contractor app
works with any modern mobile device (both Android and iOS platforms)
has an easy-to-use interface
features augmented reality and artificial intelligence technology for automatic detection and calculation of room measurements
allows you to connect a Bluetooth laser distance meter for near-perfect measurement accuracy
will scan a room, using input from your mobile device's camera and gyroscope sensors, to form a floor plan within minutes
permits you to build on that basic plan by adding annotations, objects and photos
includes a handy, built-in library of objects from which you can choose
lets you integrate your own price list for estimating purposes
generate estimates quickly from your completed sketches
comes with an optional cloud service for storing, securing and accessing plans
Conclusion
If you work in door and window sales, you know the importance of optimizing every in-person appointment. One great way to do that is by using digital technology in the form of a floor plan app. This type of app can be an ideal tool for measuring, sketching, estimating, communicating and closing!


Discover how magicplan can help you with documenting a job site faster and quicker by using our new photo report feature


Or read how our customers Discreet Restoration and Crown Restoration save significant time with magicplan.