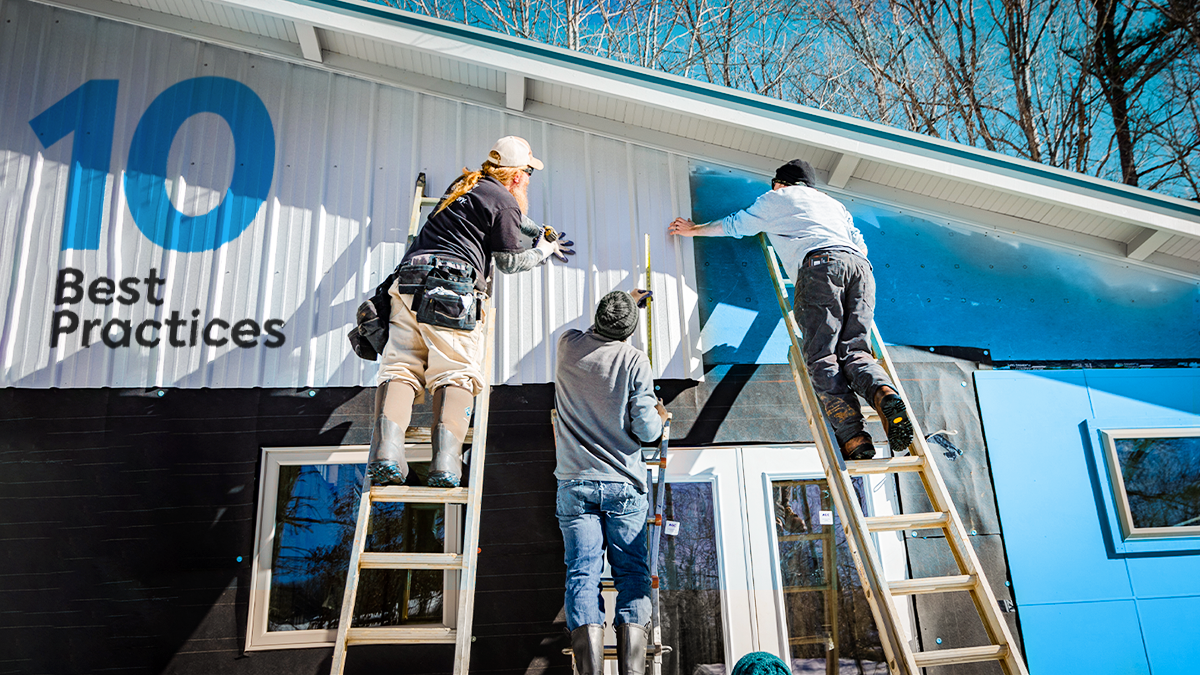 Knowing how to successfully manage home remodeling is hugely rewarding. It helps you avoid problems, ensure high-quality results, and run a more profitable business. In this guide, we review ways you can optimize remodeling project management from start to finish.

1. Visualize Each Project with a Digital Floor Plan App
Producing a digital floor plan for a new project can be beneficial for a number of reasons. Before you begin remodeling, you can use the plan to:
document room dimensions and other measurements

experiment with different design alternatives

visualize how people will move through a remodeled space

serve as a home remodeling project plan template

work through any potential challenges

note what exactly needs to be done (e.g., you could create a 'kitchen remodeling project management checklist,' using your floor plan as a guide)

develop an estimate

order the correct amounts of materials and supplies

plan a work schedule

determine what permits you need to obtain

double-check your next steps before starting any demo work

communicate your plan to any subcontractors you hire

2. Establish a Timeline with a Set Start Date and Clear Milestones
This will help all stakeholders understand the project's progression and the targeted dates that must be met (for material/product deliveries and for completing specific tasks). This helps each individual plan accordingly. Once work is underway, you can check the timeline frequently to make sure everything is going smoothly.

Oh, and be sure to build a few extra days into your timeline to accommodate unexpected issues.

3. Allow for Flexibility
When planning a remodeling project, allowing for flexibility is key to dealing with issues on the fly. Let's say your crew discovers an unexpected problem during the demo stage of a project. Or the cabinets you ordered are suddenly delayed by a couple days. Or maybe your customer requests a design change after construction is underway. Yikes! Unfortunately, issues such as these are likely to crop up from time to time. That's why it's important to have a process for handling any problems that arise. This means you'll be prepared to deal with those on the spot to prevent any major setbacks.
4. Communicate with Homeowners
First and foremost, make it clear that you will serve as a dedicated point of contact throughout each project. This will help you create a customer relationship based on respect and trust.
Schedule a kickoff meeting. Be prepared with questions and suggestions. And document the owner's expectations.
Take time to address the customer's questions or concerns. Are you going to demolish an entire kitchen? Remove walls? Perform extensive electrical wiring? Reposition any plumbing? Major actions such as these can make customers uneasy. So, be sure to talk through your plan to alleviate any worries.
Ask for the customer's preferred method of communication. It could be phone calls, emails or text messages.
Be clear about your payment schedule and amounts. This will help ensure that your business is paid correctly and in a timely fashion. Plus, your customer will appreciate knowing the payment details upfront.

5. Communicate with Employees and Subcontractors
Share your proposed floor plan and photos. Explain the project in detail. Answer questions. Review normal procedures, including property protection and safety protocols. Discuss upcoming workloads and scheduling logistics. Ask for input. And make sure everyone is on the same page and knows how to reach you.

Whew! That's a lot of information to cover, but it's critically important in order to set up your project for success.
TIP: Be proactive with communication, consider implementing a tool that allows you to add comments on each project and collaborate with other team members in comment threads. And always try to stay three steps ahead of everyone else on the team. (Regularly ask yourself: "What's next on the work schedule? What can I do to make it go smoothly?").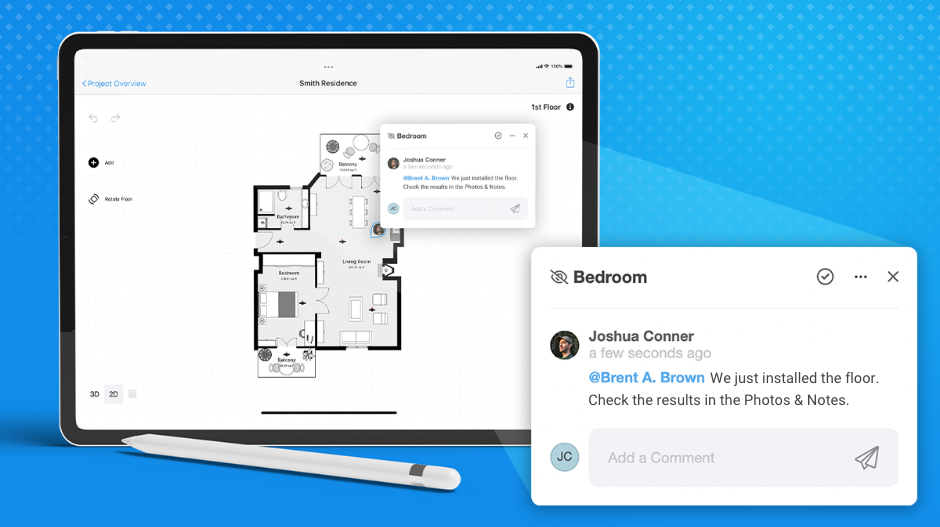 6. Use Daily Logs to Monitor Progress
Requiring a daily work log is a way of making employees accountable for their specific assignments. It also allows you to see if a project is still on schedule or falling behind.

7. Perform Quality-Control Inspections
This should be done methodically, during each defined stage of a remodeling project. That way, you can catch and quickly resolve any quality issues that you find. This is much better than waiting to check quality at the end of a project.
Project stages include:
Demo work – Did this stage go exactly as planned?

Product delivery – Did you receive the exact items you ordered?

Structural changes – Was each change completed accurately?

Electrical/plumbing work – Does it meet all codes and operate correctly?

Doors/windows – Do these look good and maneuver well?

Surface preparation – Are ceilings, walls, floors and trimwork appropriately prepped and finished?

Product installations – Does everything look perfect and function flawlessly?

8. Speed Up Processes
Automating certain processes can help you save valuable time. And a multi-purpose digital tool can be the key to making that happen. For example, the magicplan app not only automates floor plan sketching, it enables you to complete other tasks faster as well. You can create a project-management checklist quickly and easily. You can accelerate collaboration by simply clicking on any sketch to begin a comment thread (which is great for gathering feedback and discussing project changes). You can also create and share estimates and photo reports rapidly.

Watch how you can start improving the collaboration between people who work on the same project:


9. Make Sure Each Job Site Stays Clean and Safe
Having a set procedure in place is crucial for both cleanliness and safety. You'll want to:
Create protective paths for workers to move about the home. Lay down tarps that lead from the front door to the workspace to prevent feet from tracking dirt and dust around the home.
Isolate the workspace by placing plastic sheeting over doorways. This will prevent dust from spreading into other parts of the home.
Frequently check for safety issues. And quickly address any that you find.
Perform daily cleanups. Make sure the workspace is tidied up at the end of each day, so it does not appear disorganized and littered with debris.

10. Maximize Worker Productivity
Supporting productivity is an important aspect of home renovation project management. This can be accomplished in a number of ways:
Keep an eye on scheduling: Closely manage and review the schedule of each employee and subcontractor involved with a project. Build in contingencies and be prepared to make changes as necessary to adjust when something goes wrong – because not all projects go exactly as planned.
Plan travel routes to and from job sites: Planning ahead of time can minimize employees' time on the road.
Stay on top of inventory and supplies: This prevents time- and money-wasting problems, such as running out of items or duplicating inventory you didn't know you had.

Conclusion
Poorly managed remodeling projects are notorious for going over budget and off schedule. But you have the power to prevent those complications from happening. By basing your home improvement project management on best practices, you can help ensure successful outcomes and happy customers!
Additional Resources
10 Reasons Why You Should Be Creating Digital Sketches On-site
How to Make Initial Consultations More Time-Efficient
How to Comment on Projects in magicplan

---


Learn how to recruit young talent for your remodeling business.


Or read our guide on mistakes to avoid when remodeling kitchens.