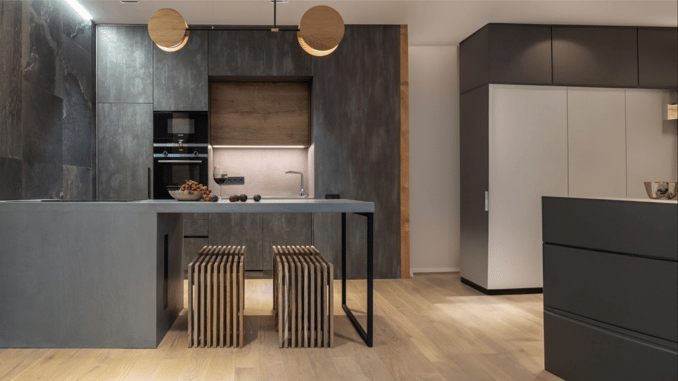 Exhibiting at a home show is a great way to gain visibility and attract leads for your kitchen or bath remodeling business. However, doing so requires a strategic approach to get good results. This list of home show tips covers what to do before, during and after the event, so you can make the most of your home show experience.
Before the Show
Have a Positive Mindset
View spring home shows as opportunities, not inconveniences. Participation in just one of these contractor marketing events offers three important advantages:
Boost brand awareness by introducing your services to a receptive audience.
Enhance lead generation by capturing contact information for qualified prospects.
Land more work by locking in commitments for in-home consultations.
Set Measurable Goals

You will be investing valuable time and money in your exhibit, so figure out what you want to achieve. Here are a few questions to consider: How many new leads do you hope to gather? How many in-home consultations do you want to book? How much new business do you need to generate to make the show worthwhile? Knowing the answers to questions such as these will help you establish quantifiable metrics, so you can measure the success of your home show participation.
Plan for Success
Weeks before the home show opens, you will want to:
Determine the best booth size for your business.
Register as an exhibitor and reserve your booth space.
Start developing the design of your exhibit.
By allowing plenty of time to plan and get ready, you will avoid the stress of last-minute scrambling right before the show opens.
Design Your Home Show Booth to Stand Out
You want to do everything you can to attract the attention of people passing down the aisle. So, make sure the back wall is an eye-catching focal point. Emphasize your unique contractor branding. Keep graphics simple and bold. Use visuals that convey the type of remodeling you do. Highlight awards, professional affiliations and other credentials to assure homeowners that your business is highly reputable.
Also, add touches that make your booth warm and inviting. Include lighting to brighten the space. Install cushy carpeting underfoot. Allow space to position a friendly employee out front.
Ensure Consistent Branding
Think through everything else that will represent your company at the home show, such as business cards, literature and employee apparel. Every item should feature your brand to create continuity across the board.
Build Excitement
Your pre-event trade show marketing can greatly impact traffic to your booth. Definitely promote your event participation in multiple ways:
On Your Website – Place an announcement on your home page.

In Your Blog – Tease readers with reasons to find you at the show.

Via Social Media – Blast out reminders that you'll be exhibiting.

With Advertising – Spread the word widely through print and/or digital ads.
In every instance, include your booth number so people know how to find you.
At the Show
Impress Homeowners by Using Mobile Devices
A visual aid can be a fantastic conversation starter – and mobile devices make great visual aids. For example, if you use a mobile app to create floor-plan sketches, you can demonstrate how the app works and how it benefits the homeowner. This approach will help distinguish your business from competitors, and it is sure to make a lasting impression.
You also can use a tablet to show photos of your past work, a 360-degree tour of your showroom, or a one-minute video explaining your installation process.
Use Social Media to Create Awareness
Keep your social-media game going, even while you're working the show. Take pictures and shoot videos of booth activity, and post those along with the event hashtag. Run a contest that entices your social-media followers to like and share one of your posts. Encourage each visitor to enter a prize drawing by taking a fun selfie in your booth, sharing it and tagging your company.
Be a Featured Speaker
You have a lot of knowledge about remodeling, and homeowners are eager to hear about it! If you feel comfortable speaking in front of a crowd, arrange to get on an event stage and share your expertise. You'll have to spend some time preparing and practicing your presentation, but the extra exposure you gain will be well worth it.
Give Out Goodies
Hand out informative literature, as well as a useful promotional item that is imprinted with your logo and is a good reflection of your brand. These items will help keep your business top of mind with potential customers.

Collect Contact Info
The most valuable outcome of your home show experience will be the qualified leads you capture. So, consider using some sort of game or prize drawing to collect contact information from booth visitors. Just be sure to prequalify leads with a brief questionnaire on the entry form. Find out which homeowners are genuinely interested in a kitchen or bath remodel, and how soon they want it to happen.

Set Up Appointments with Hot Prospects
Schedule free in-home consultations on the spot, to get the ball rolling on new projects.
After the Show
Measure Your Results
Now it's time to figure out how well you met your specific goals for the overall home show experience. Hopefully, you can determine that all of your efforts were hugely successful!
Follow Up Promptly
Contact homeowners directly after the show to thank them for visiting your booth, and to get appropriate materials in their hands. You'll want to do this while that home show encounter is still fresh in their minds. Plus, the faster you send out emails and direct mail, the more your company will stand out from competing businesses that wait days or weeks to reach out.
Nurture Leads That You Collected
Continue to remain in direct contact with home show attendees to sustain awareness of your business. Include a specific call to action in each email or mailer (something like "download our tip sheet" or "check out our photo gallery" or "watch our latest video" or "schedule your free consultation").
Also, don't forget to maintain a strong online presence: announce the winner of any prize drawings, stay active on social media, and regularly update your website with new content.
Conclusion
When the spring home show season is in full swing, you will want to be a part of it. We hope this list of tips comes in handy and helps you benefit from your show investment.

If you're further interested in how to effectively brand your remodeling business, you can also read about our tips on how to build a Recognizable Identity.


Or learn how magicplan's new photo report feature let's you visualize the work to be done for homeowners.