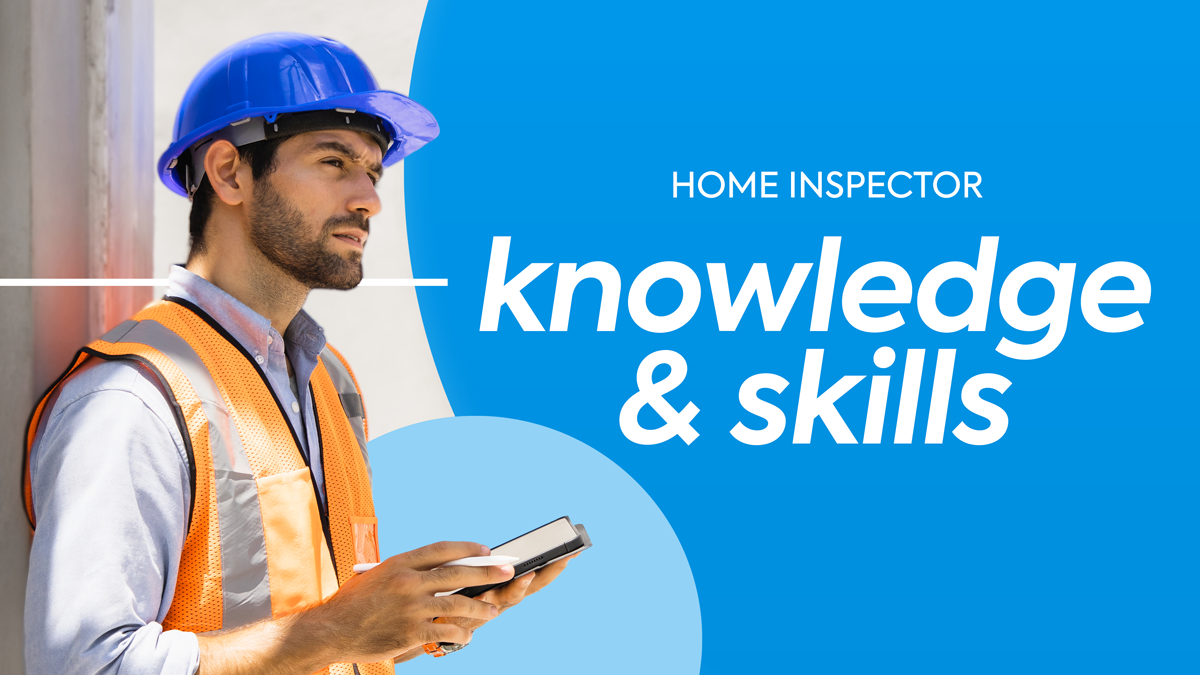 If you are seeking a new position that allows you to work independently without being stuck in an office, you might consider becoming a home inspector. Read on to learn more about this important role, and what's required to pursue a career in the home-inspection field.
What Does a Home Inspector Do?
A home inspector conducts complete examinations of residential properties to determine their condition and safety, and to identify any structural or mechanical problems. Each inspection will involve examining the entire structure of a home; the exterior and interior finishes; the plumbing, electrical and heating/cooling systems; and outside drainage systems and landscaping.

An inspector is also responsible for determining if various aspects of the property meet current local codes.


If you enjoy work that keeps you active, then the home-inspection field may be a good fit for you.
Working as a home inspector requires a lot of physical activity including:
Walking around the exterior of homes

Carrying and using ladders and hand tools

Walking on roofs

Walking, standing, crouching, climbing stairs inside homes

Moving around cramped areas such as attics and crawl spaces

Working overhead (such as testing light fixtures)
What Happens After an Inspection?
Once an inspection is finished, the inspector completes and submits a report – a way of properly documenting what was found and divulging any issues of concern. That report will help the inspector's client determine the current condition and value of the home.
What Type of Report Is Required After Each Inspection?
Report contents can vary, depending on each situation. However, a typical report may include a short executive summary, a description of the property, a summary of conditions found, locations and causes of unsatisfactory conditions, implications of those conditions, life expectancy of various materials, where and when maintenance is required, priorities to be addressed, and other recommended actions, if needed. Visuals also help convey information, so many inspectors will also include photos and a floor plan in each report.

These types of reports are invaluable to clients who plan to purchase, sell or help finance a property.
Benefits of Becoming a Home inspector
This line of work has a lot going for it:
You're providing a valuable service to home buyers and sellers, realtors and bankers – Your reports give them the information they require to make well-informed financial decisions.

Home inspections are always in demand, as part of the buying/selling process – This includes inspections of foreclosed and repossessed homes. Plus, in many areas, professional inspections are legally required for property transactions.

You can work independently – That's a plus if you prefer to be self-employed.

This profession offers high income potential – Cha-ching. That aspect alone may be enough to make a career move worthwhile.

So, How Much Do Home Inspectors Make?
The median pay is $61,640 per year, according to the U.S. Bureau of Labor Statistics. Yet, you could possibly earn more than that. In fact, Salary.com reports that the typical home inspector salary range falls between $65,849 and $86,377. (Be aware that salary ranges can vary widely, though, depending on some important factors, including your education, qualifications, experience and location.)

You may have more control over your earnings if you choose to be self-employed, as opposed to working for a home-inspection company.
Can You Tell Me How to Become a Home Inspector?
Here's the good news: you do not need a college degree or an extensive construction background to perform home inspections.

However, your state may require that you have a certain license in order to perform home inspections. If that's the case, then you'll need to look into pre-licensing requirements. Those requirements may include completing specific coursework, passing a licensing exam, and applying for your license. Some states also require a specific number of training hours to qualify.

If your state does not have strict licensing requirements, home-inspection coursework can still be invaluable for gaining the knowledge you need to be a professional inspector.

Do I Need to Be Certified?
A certification, while not necessary, adds extra assurance that your services are first-rate.

If you want to promote yourself as a certified home inspector, check out the certification program offered by the International Association of Certified Home Inspectors (NACHI).
What Other Skills Are Helpful?
Communication Skills – The ability to explain your findings to a customer, both verbally and in written form

Problem-solving Skills – Understanding how to recommend solutions for any problems you find

Organizational Skills – Being in charge of your own scheduling, marketing, invoicing, etc.

Customer-service Skills – Knowing how to schedule and conduct appointments, and answer questions

Indoor Air Quality (IAQ) Inspection Skills – Knowing how to identify and test for potential IAQ issues
What Tools Will I Need?
You may find it helpful to have:
A camera for documentation

An LED flashlight and a backup battery

A telescoping mirror for examining tight spaces

Different types of ladders

A toolbelt or a vest with multiple pockets

Safety glasses or goggles to protect your eyes

Sturdy shoes or boots with good traction

One other tool that can come in handy is a floor plan app. A high-quality app will allow you to create floor-plan sketches quickly and easily with your mobile device. And if the app has a reporting function, that's even better. That means you can create a floor plan as the basis for your report, then insert information, add photos for clarity, and submit your report before you walk out the door. Providing a report on the spot can really impress your customers!
Are There Other Requirements or Costs I Should Know About?
Yes, you will need:
Reliable transportation

A trustworthy smartphone with a data plan

Any beneficial mobile apps

A computer or tablet with helpful software for administrative work

Appropriate insurance

Marketing materials


Ongoing costs will include:
License renewals required by your state

Insurance premiums

Marketing expenses

Gasoline

Auto maintenance

Continuing education, if desired or required
Wrap-Up
Becoming a qualified home inspector may seem somewhat challenging. However, the career path that follows can be very rewarding. You may be well-suited for pursuing this profession if you are keen on acquiring in-depth knowledge of residential construction, you have the ability and patience to observe details and recognize costly or dangerous conditions, and you can communicate your findings along with specific recommendations.
SEE HOW YOU CAN CREATE INSPECTION REPORTS EASILY WITH MAGICPLAN!


---


Learn how to boost your IAQ business by Marketing Inspections to Multiple Audiences.


Or read our guide on why you should be adding Indoor Air Quality Inspections to your menu of services.