Everyone in the building industry understands the importance of an efficient, accurate estimating process. By providing a realistic prediction of the time and material needed for a project, you won't just be able to offer a competitive price to your customer. A reliable project estimate will also enable you to plan your resources more efficiently and essentially give you a better overview of the project.
Not to mention that it provides an important basis in order to get paid on time as a contractor.
While developing the new Estimator, we worked alongside major contractors in the US and Europe. It is our goal to deliver a fantastic estimating software for you, that:
automatically calculates materials based on your sketches
prevents repetitive actions
makes browsing and searching a price list fast and easy
enables personalization & customization options
As a result, the new magicplan Estimator was born – an easy-to-use tool that uses dimensions from your sketches and automatically compiles pricing from your price list. Estimates can be exported as a fully branded PDF or detailed XLS file to send to your customer.
Check our Help Center to learn everything about the new Estimator and how to set up a custom price list.
You can also check out our new On-demand webinar on how to master estimating with magicplan. You can watch it on your own time.


What's new:
Complete visual redesign
We gave the Estimator a complete makeover! The new design is clean and structured. The new interactive sketch is an easy way to navigate through the estimate and helps you keep a complete overview of the project.
Choose the room view to work on a room-by-room basis. It allows you to select walls or objects to quickly apply items. You can always come back to the floor plan view in case you need it – it's just a tap away.
Adding items is easier than ever
You can add, delete, or change the order of items and modules anytime you want. The multi-selection feature allows you to either add one item to multiple rooms or multiple items to one or several rooms.
We improved the search feature to ensure that you find items as quickly as possible. Additionally, an algorithm will suggest the most suitable items for your project. Last but not least, the items on your price list can be marked as favorites to give you easy access.
Create items and modules on the fly
If you ever need to create a new item or module quickly, or add a new one with some minor changes, we've got you covered. Use one of your existing items as a base, and you'll be done in no time.
Define partial application areas
The new Estimator lets you define partial application areas using a visual editor. To give you an example, you can define a specific area where an item (e.g. a strip of tiles above the kitchen counter) will be applied.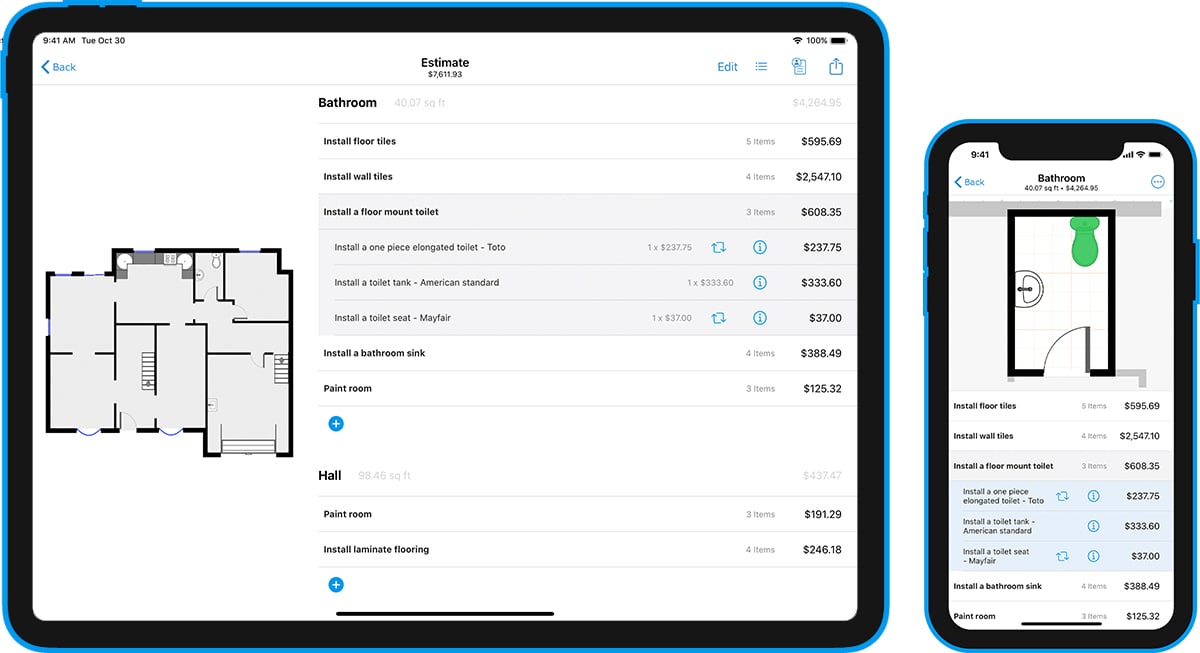 What's coming
The new Estimator is the foundation for a fully integrated sketching and estimating process. In the next releases, you can expect the following improvements:
Seamless integration between the Estimator and Sketch editor
Granular control of taxes & surcharges
If you want to learn more about estimating with magicplan or have questions around this update, reach out to our sales team.
---
Try the new Estimator now