Ian Elmer is the Project Manager of Warren Restoration in Arden, North Carolina. During a recent conversation with me, he shared his thoughts on why magicplan is the best estimating software for his company's restoration projects.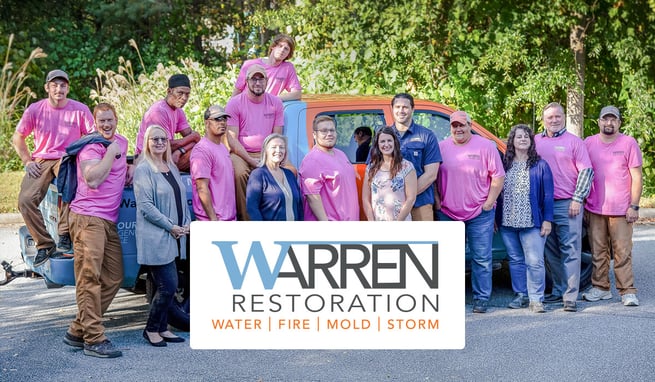 Tell us about Warren Restoration and how you serve your customers.
Our mitigation team has six people right now, and our repair team consists of two people. So, we don't have the biggest team. But we definitely hold very high standards in comparison with a lot of other restoration companies. And we invest a lot of time, energy and money into training our team. Our main goal is to help out people in a time of crisis – for example, if they have water damage in their house, such as a leaking toilet or an overflowing sink. We also specialize in fire damage, smoke damage and storm damage, as well as mold remediation.
What was the challenge before? How does magicplan make your life easier?
Well, like a lot of other restoration companies, we started out using what they call 'the industry standard software' – which is a far cry from the truth. But it is definitely a widely used program because the insurance companies that own it have done a very good job of selling it and monopolizing the market.
However, we broke away from that software because it had major drawbacks. Any time we went out to somebody's house or business, we would have to sketch out their structure by hand on graph paper. We also would have to add handwritten notes and measurements to the sketch. Then we would have to come back to the office and input all of that information into the software program, which was a lengthy process. Plus, that program has more than 27,000 line items for creation of estimates. You would have to memorize those line items if you wanted to be efficient while using it. So, replacing that program with magicplan was a very easy switch for us to make.
How did you hear about magicplan initially?
I first learned about magicplan through Klark Brown, who is a co-founder of the Alliance of Independent Restorers (AIR). He put the platform up on a big screen and walked us through it, and we really enjoyed what we saw from that.
What do you like best about using magicplan?
The main reason why I love magicplan so much is that I'm able to sketch a structure on site quickly. For example, let's say your average house size is 2,000 square feet. It would probably take me about 20 minutes to sketch that out with magicplan, and then maybe another ten minutes to get an estimate together. That's a fraction of the amount of time that we would spend using the other software. So, within about 30 minutes, I can provide a customer with everything that they need to know – versus the two or three hours I used to spend having to sketch it all on graph paper, come back to the office, put the information into the program, and then go through all of the line items on top of that. That's why we use magicplan exclusively now.

Another big hit for me is being able to create my own custom price list. For example, I can choose whether I want something to be measured by square footage or by length in feet. I can throw in a line item for demolishing the drywall in a room. Or I can add a line item for doing a drywall flood cut four feet up a wall, by using the partial-height functionality in magicplan. It's just wonderful being able to customize my pricelist from top to bottom. So now instead of having 27,000-plus line items that I have to memorize and type in, I have about 220 line items that I was able to create and customize.
Is there another feature that you especially enjoy using?
Yes, magicplan enables me to transmit a sketch and estimate to our office while I'm out in the field. It's a seamless transition and there's no wait time. So, our administrative staff can instantly begin working the information through our pipeline.
Would you recommend magicplan to other businesses?
I definitely would, hands down. If they are not on a vendor program that requires use of the standard type of software, I would certainly recommend switching over to magicplan right away.
We appreciate your recommendation. Finally, how would you finish this sentence: magicplan is…
…fantabulous!


We like that description! Thank you so much for your insights, Ian.


You can also check out how magicplan revolutionized Discreet Restoration's workflow.
---
Interested in learning more about magicplan?
Request a free demo and learn how magicplan can support your business.
Or learn in our free On-demand Webinar how to benefit from magicplan as a restoration business. You can watch it on your own time.
---