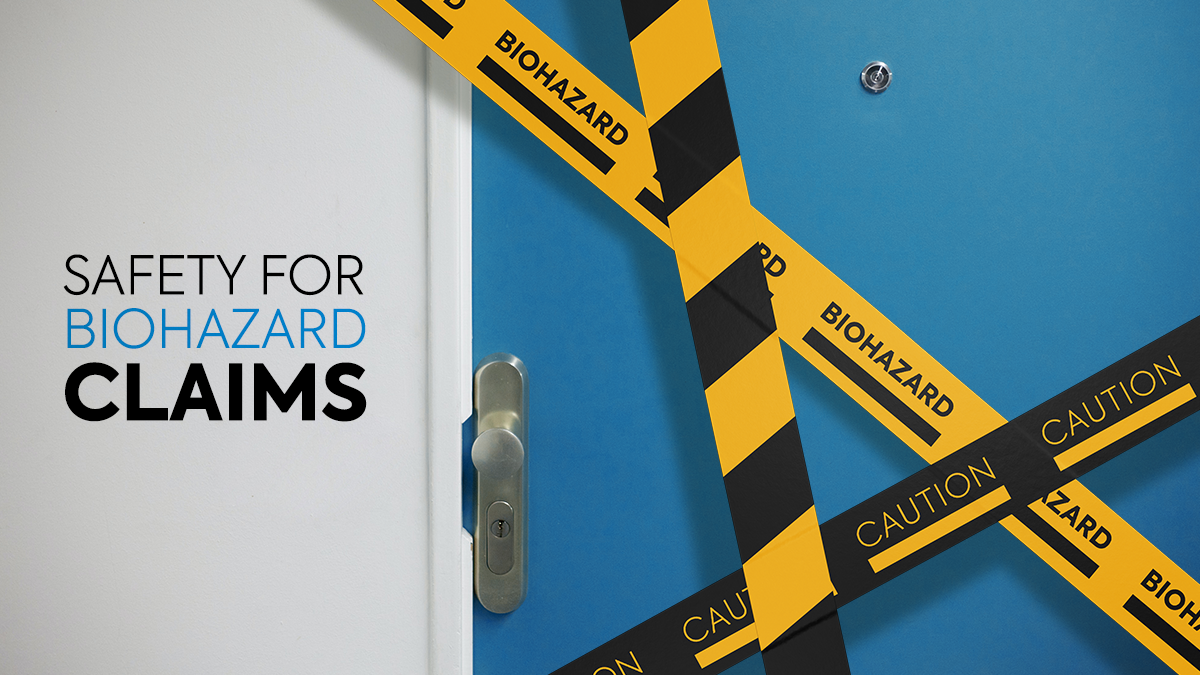 If you are an insurance claims adjuster who is called upon to inspect biohazard scenes, remember this: Personal safety should be your primary concern. So, how do you know if you are protecting yourself sufficiently? In this article, we cover the types of situations you may encounter, and some common-sense safety tips to follow.
Let's all agree: Biohazard insurance claim inspections are not for the faint of heart. Anyone investigating a biohazard scene is likely to encounter multiple perils. These can include bodily fluids, mold, greywater, animal feces, ammonia levels from urine, and needles. Dealing with these kinds of dangers requires tremendous emotional and mental fortitude.
If you are willing to perform biohazard claim inspections, we respect you and applaud you. This manner of work is vital for insurance companies and their claimants.
Types of Biohazard Settings
These are examples of what you might encounter:
Mold or Fungus Infestations
Animal Infestation
Hoarding
Crime/Vandalism Scenes
Accident/Trauma Scenes
Murder or Suicide Scenes
Unattended Death Scenes
So, follow the general tips below to help guard your own safety.
Get Appropriate Information and Training
The Occupational Safety and Health Administration (OSHA) exists to ensure safe and healthful working conditions in the United States. More specifically, it sets standards and also enforces those standards by providing training, outreach, education and assistance. That's why OSHA is the go-to source for anyone seeking safety information and training related to working with biohazards.
To be clear, OSHA does not provide "certification" for inspecting or cleaning biohazard sites. However, it does offer resources and courses to help individuals become better knowledgeable about dealing with biohazard situations. (For example, OSHA's blood borne pathogen standard lays out specific requirements.) OSHA's educational materials and training are beneficial for anyone who wants to understand biohazard risks and know how to handle those risks.
The American Red Cross and the Federal Emergency Management Agency (FEMA) also provide excellent resources about emergency preparedness and self-protection. This fact sheet is one example.
Also, talk with your physician about any vaccinations you may need for added protection (e.g., a tetanus shot or hepatitis B vaccination).

Pop-Quiz Question:
Is dried blood safe to touch? Keep reading to find the answer below.

Always Check in With Local Authorities
This is an important step before you even set foot on a possibly hazardous property. You'll want to communicate with any local authorities who have already addressed the scene (e.g., police department, fire department, coroner's office, health department) to understand the potential hazards prior to completing your insurance adjuster inspection.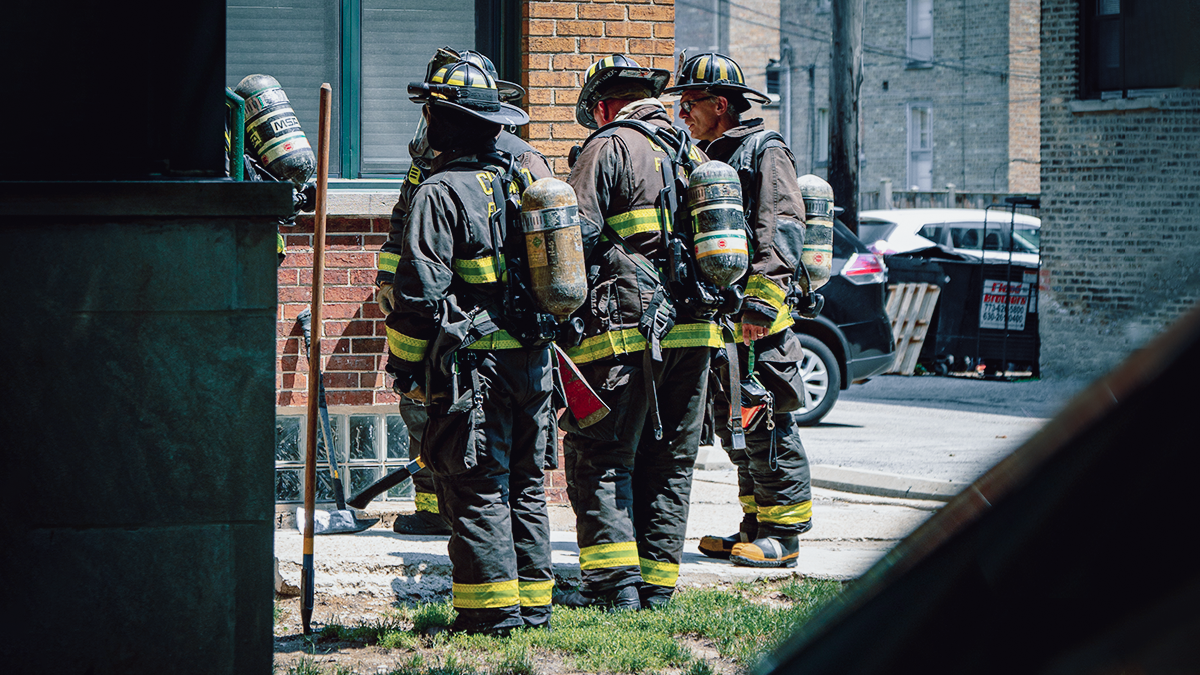 Plan to Use a Digital Tool to Speed Up Your Inspection Process
A floor plan app is an ideal tool for documenting biohazard scenes quickly. The best kind of floor plan app will let you do all of the following:
1. Prepare a Systematic Workflow Checklist Ahead of Time
Claims processing is a complex process that requires multiple steps. Using a standard checklist for every new claim you are assigned is a systemized way to keep track of the critical tasks you must complete. It will help you work faster, as opposed to wasting time trying to remember each step as you go. That way you can minimize your time at a biohazard scene. Your checklist will also help you avoid missing any steps, so that you don't have to return to that risky environment.
2. Accurately Document the Scene
A good floor plan app will allow you to quickly sketch each room you inspect – within just a few minutes – and then add annotations and photos for additional clarification.
3. Develop a Structured, Shareable Report
A proper floor plan app will have a reporting function. You can use this to create reports rapidly based on your detailed sketches and photos.
Of course, for safety reasons, be sure to properly clean and disinfect your mobile device after inspecting a hazardous setting.
Put on Necessary Protective Gear Before You Begin an Inspection
Your objective is to avoid exposure to anything that may be harmful. So, you will need to wear appropriate personal protective equipment (PPE) throughout your entire inspection. The basic elements of PPE include protection of your eyes, airway, skin and hands.
Eye protection often means a face shield and/or safety goggles to guard against gases and liquids
Respiratory protection options include surgical masks and respirators
Skin protection comes in various forms, but the most coverage is provided by a full-body biohazard suit
Hand protection may consist of disposable latex (natural rubber) or nitrile (synthetic rubber) gloves

A helmet and special footwear may be recommended as well, depending on the environment.
Here is a good rule of thumb: PPE should provide enough chemical and biological protection to address the risk level and specific threats of the job. But it should also be comfortable enough to prevent overheating or restriction of movement.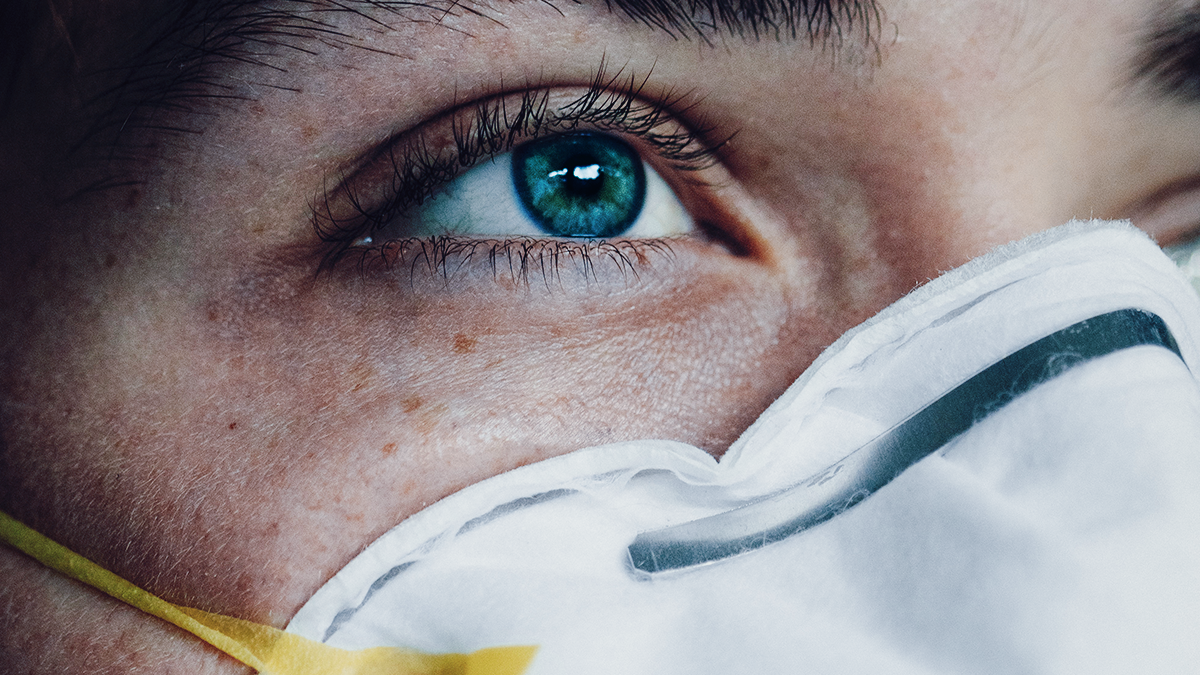 Monitor Your Condition While You Work
Even when you are wearing proper PPE, the stress of being in a biohazard setting can take a toll. Pace yourself. Be vigilant of your surroundings. Take a break, if necessary. Drink plenty of water to stay hydrated. And seek medical attention if you experience dizziness or nausea or have other health concerns.
Pop-Quiz Answer:
According to the Centers for Disease Control and Prevention (CDC), the hepatitis B virus can survive outside the body for at least seven days. During that time, the virus is still capable of causing infection. So, do not come into contact with any blood, even if it appears to be dry.
Conclusion
The insurance adjuster claims business is not always easy – especially when you're dealing with difficult circumstances, such as biohazards. Conducting an inspection at any biohazard site presents serious risks to your health. Therefore, you're wise to use cautionary and strategic practices to protect yourself from exposure to dangerous substances. The insurance adjuster tips above outline some practical things you can do when dealing with hazardous situations.


Read more:
5 Ways to Optimize Your Productivity as an Independent Claims Adjuster
7 Characteristics of Top-Performing Independent Adjusters