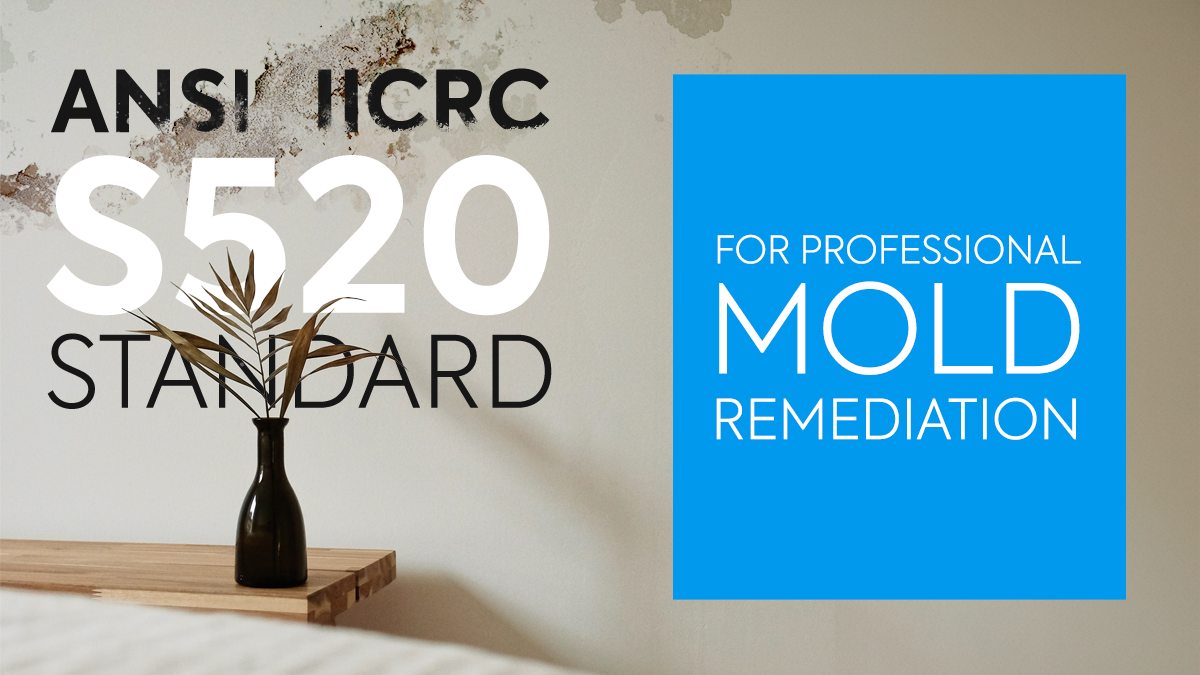 The ANSI/IICRC S520 Standard for Professional Mold Remediation is a crucial document in the field of restoration and remediation. This guide is designed to help you learn what it is, why it's important, and how you can ensure compliance.
A Brief Overview
The ANSI/IICRC S520 Standard for Professional Mold Remediation outlines the best practices and guidelines for the safe and effective removal of mold contamination from indoor environments. Developed by the Institute of Inspection, Cleaning, and Restoration Certification (IICRC) in collaboration with industry experts, this standard serves as an authoritative resource for restoration professionals who are involved in mold remediation.
Why It Exists
The S520 Standard is designed to establish a consistent, science-based framework for mold remediation projects. Its primary objectives include:
Ensuring safety: The standard prioritizes the safety of both workers and building occupants during mold remediation processes.

Minimizing health risks: It provides guidelines for the identification and mitigation of health hazards associated with mold exposure.

Preventing property damage: The standard helps professionals preserve the structural integrity and value of properties affected by mold.
What It's Based On
The standard is based on reliable remediation principles, research and practical experience.
Where It Applies
The standard pertains to remediation in residential, commercial and institutional buildings, and the systems and personal property contents of those structures. It is for any technician facing real-life mold remediation challenges.
How It Can Be Purchased
Anyone can purchase the standard online here. Volume pricing is available; the more copies you purchase, the lower the price per copy.
How the Standard Might Impact Federal Legislation
In February 2023, Congressional representatives Haley Stevens (D-MI) and Jenniffer González-Colón (R-PR) introduced the bipartisan, Fix Moldy Housing Act. This bill's wording creates voluntary standards on how to best assess and remediate mold, provides funds to establish licensure programs to train proper mold assessment and remediation, and allocates funds for states and tribal governments to safely assess and remove mold from homes and public buildings.
IICRC has officially endorsed the Fix Moldy Housing Act. Mili Washington, standards director for the IICRC, stated the following: "We often see federal regulators adopting various standards and educational documents, and we believe this is an ideal opportunity for the EPA to incorporate the ANSI/IICRC S520 by reference when issuing the nonbinding standards discussed in this legislation."
Be Aware That an Updated Version is in Development
Early in 2023, IICRC had a revised draft of the S520 mold remediation procedures standard accessible online for public review. That review period closed on February 6, 2023, to allow the S520 Consensus Body a few months to consider and address public comments.
As of early October 2023 (when this article was published), the Consensus Body had not yet announced when the updated draft will be made available for purchase. We advise visiting the purchase page to watch for an announcement.
Benefits of Adhering to S520 Mold Remediation Guidelines
The S520 Standard offers several benefits to restoration professionals:
Provides a framework for consistent and effective mold remediation processes

Ensures compliance with industry best practices

Reduces liability by promoting safe and effective remediation

Protects the health of occupants and workers at mold-remediation jobsites
How a Floor Plan App Can Help You Stick to the Standard's Guidelines
Using a high-quality floor plan app, such as magicplan, can greatly assist you in adhering to the S520 Standard, so you can ensure comprehensive and compliant remediation. Here are three reasons why you should consider using this type of digital tool:
1. A floor plan app enables you to accurately document the mold-affected areas of a property. By creating a digital floor plan, you can precisely identify the locations and extent of mold intrusion and potential structural damage. This detailed documentation not only helps in planning and executing remediation efforts, but also serves as a valuable reference for insurance claims and compliance with the S520 standard.
2. A floor plan app can enhance communication and collaboration among your remediation team. You can easily share each digital floor plan with team members, allowing everyone to have a clear understanding of the project scopeand progress. This supports coordinated efforts and also prevents miscommunication.
3. A floor plan app allows you to efficiently track the progress of your remediation activities in real time. It gives you the ability to update your floor plan with notes, photos, and measurements, so you can record essential information. This aids in ensuring that all recommended steps outlined in the S520 Standard are followed correctly and consistently throughout the remediatoin process. By having a digital record of each step taken, you can demonstrate your adherence to the standard, in order to provide accountability and transparency to your customers and their insurers.
Consider Becoming a Certified Mold Remediation Specialist
What is IICRC Certification
The IICRC has been on the frontlines in educating mold remediation professionals by providing a certification process. This process validates competency to do the following:
Perform mold remediation for structures and contents

Design and maintain containments

Control pressure differentials

Safely work in mold contaminated environments

Understand common remediation work practices

Review protocols

Design and implement remediation processes

Understand and follow industry standards and legal requirements

Recognize conditions conducive for causing mold growth

Prevent amplification and containment for a variety of building types

Implement proper use of Personal Protective Equipment

Maintain appropriate documentation of removal/remediation processes
Why Get Certified
Mold-remediation certification offers valuable advantages. It increases your knowledge about mold remediation to give you more confidence in your capabilities. Plus, it also enhances your credibility among customers and their insurers by demonstrating that you have been trained properly.
How to Get IICRC Certification
The process requires four steps:
1. Confirm you meet a minimum of one year of verifiable mold remediation experience.
2. Submit your Mold Remediation Specialist application.
3. Prepare for an examination.
4. Take the examination.
You can find more details here.
Wrap-Up
The ANSI/IICRC S520 Standard for professional mold remediation is an essential resource for restoration professionals. Staying informed about and compliant with this standard is paramount for meeting the highest principles and best practices in mold remediation.

Explore the nuances of moisture intrusion. From expert techniques to essential tools, this guide is a must-watch for restorers eager to enhance their detection skills. WATCH NOW⤵️


READ THIS RELATED ARTICLE: