So, you have an appointment to meet with a homeowner about a new remodeling or restoration job. Congrats! Here are seven ways you can make the most of that first on site visit by using a mobile project-visualization app.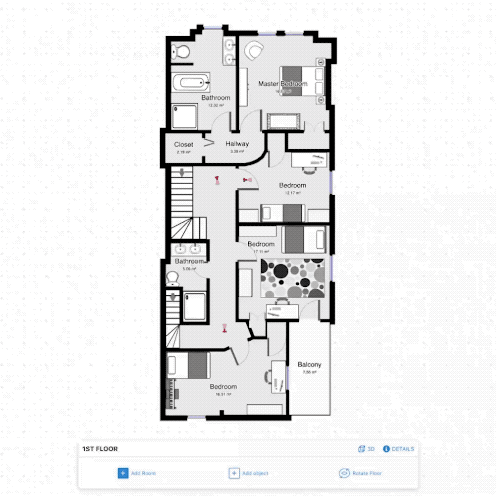 1. Save Time When Gathering Room Measurements
Ditch your tape measure - it's old-school and takes up too much time. Instead, simply grab your phone and use a mobile project-visualization software to capture and document the dimensions of any room. With the right app, you can even avoid the hassle of having to move furniture out of the way. That's because the app's smart technology will automatically sense a room's full dimensions through your mobile phone's camera. All you have to do is walk around the space with your phone and let the app capture the width, length and height of the space. This makes measuring go much smoother and faster so you can increase your productivity.
2. Impress the Homeowner with a Digital Drawing
Telling a homeowner what you can do is one thing. Showing what you can do is far better. That's because many homeowners may need help picturing a project's end result. But hand-drawn sketches with rushed handwriting are not very effective. A good project-visualization will create a much better impression. It will allow you to sketch a 2D or 3D drawing with detailed dimensions in just a few minutes, right onsite during your initial meeting with the customer. Then it will let you add windows, doors, text, objects and images to your drawing for contextual documentation.
This process will make the potential look of the space come to life, to show how you will make it more beautiful, functional and comfortable for everyday living.
Wowing the homeowner with this advanced technology also will enhance your image as a professional, capable, cutting-edge contractor. That can set you apart from your competition. And it can help make the homeowner more enthusiastic about hiring you.
Read more: 10 Reasons Why You Should Be Creating Digital Sketches On-site
3. Inspire and Define a Clear Vision
A remodeling project is a big investment. Therefore, anything you can do to put the homeowner's mind at ease will help reduce any anxiety about the overall cost. Visualization is ideal for this purpose. You can use it to address any concerns, instill confidence, and present your own ideas and recommendations for instant inspiration. This will be easy with a good project-visualization app, because it will allow you flexibility to make changes to your drawing during the consultation.
With the right app, you can alter your drawing by adding and editing objects in real time as you get input from the homeowner. You also can combine drawings of two or more rooms to form a complete floorplan. And you can fine-tune and fix any design issues until the homeowner is satisfied. This allows both of you to lock in on a clear vision before moving forward. Additionally you can handle expectations better to make sure you're getting paid on time as a contractor.
4. Ensure Easy, Accurate Estimating
Usually, you work on estimating after you leave a potential job site. However, a good project-visualization app will allow you to create a rough estimate before you leave. This gives you an opportunity to talk about pricing right away. Then you can justify your costs or tweak the estimate if the homeowner has any objections. Having an upfront discussion like this can help you close the deal sooner rather than later.
The accuracy of app-recorded room measurements also helps you calculate the exact materials and supplies you will need to purchase. This way, you can avoid having a surplus of items left over when the project is completed.
Read our free whitepaper: Slashing the Cost of Free Estimates during first customer meetings.
5. Improve Communication with Team Members
After you leave the client's home, you will need to communicate the project's details to your office staff. An effective project-visualization app will help you do that promptly, from the field, by allowing you to share files of all the documentation you created on site. This helps your staff get up to speed on the project quickly and easily, while minimizing questions, confusion and the need for a follow-up meeting. Everybody will be in sync before starting development of the client's formal contract.
6. Minimize Mistakes and Costly Rework
Miscommunication in advance of a remodeling or restoration job can lead to errors, cause delays and increase project costs. Therefore, it makes sense to do anything you can to prevent that from happening. Good job visualization boosts communication before a project begins by making the project less conceptual and more tangible. This helps you interact better with your client, office employees, work crew and subcontractors prior to starting the actual work. Visualization also helps minimize risk if a dispute or insurance claim arises later, after the project is finished, because it serves as another form of documentation.
7. Limit the Need for Multiple In-Person Meetings for Safety Reasons
In order to prevent COVID-19 contagion, you will want to continue social distancing as much as possible. One way you can do that is by minimizing your quantity of meetings per week. Again, a good mobile visualization app can help here. By sharing drawings and a rough estimate during the initial visit with a homeowner, you may be able to limit the number of times you have to return. That's good for you and your client.
Now that you know the key advantages of visualizing remodeling or restoration projects, the next step is to discover exactly how you can do that. The faster you download and become familiar with a project-visualization app, the quicker you can put it to use to benefit your business!