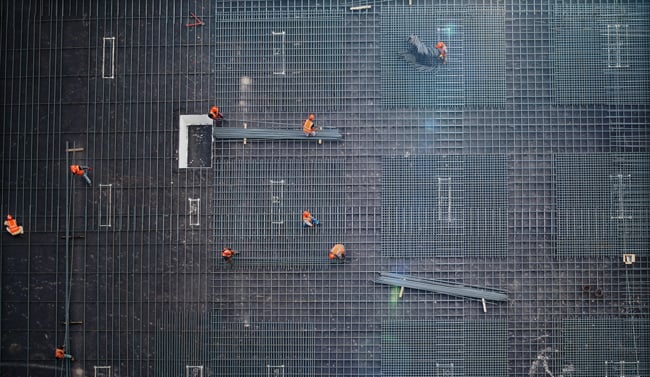 The use of Building Information Modeling (BIM) among architects, designers and engineers has by now become commonplace. Among contractors, it is not as prevalent yet, which might have to do with the associated cost and necessary investment in software. On the other hand, it could also be related to the fact that the advantages of BIM for contractors and their clients are less known. We take a look at the benefits of BIM for contractors not just in construction but also in renovation and restoration projects, irrespective of their size.
The rise of BIM for contractors
BIM as a process of creating and managing information in construction projects has completely changed how the architectural, engineering and construction (AEC) industry works. The 3D building model as a result of this process provides a digital representation of all aspects of the space in question, be it a structure that is to be built and doesn't exist yet or an existing building that undergoes renovation. The benefits BIM provides for working more efficiently and more collaboratively have, at least in the past, resulted in a focus on primarily large-scale, non-residential projects, such as office spaces, stadiums, or complex commercial buildings, as the most prominent use cases. This has probably also led to the misconception that BIM is only suitable for this type of project. However, this perception has changed in recent years and BIM is increasingly deployed for smaller, respectively residential projects – and contractors realize how BIM allows them to gain more control over projects, resulting in fewer mistakes and ultimately better return on investment.
The benefits of BIM for contractors in every construction phase
To set the general scene, let's first look at a more general construction project to highlight the benefits of using BIM in different project phases. Prior to starting construction work, BIM has huge value for contractors to optimize coordination. The better the coordination between design professionals and contractors, the fewer mistakes happen and less unnecessary additional cost is generated which often eats into a contractor's margin. A 3D BIM model enables contractors to clearly understand the expectations of project owners and architects. Not only can they assess cost and manage risks, crucially they can also point out flaws in the design to avoid additional work and expenses later on. Particularly in relation to error detection and related cost savings, the power of BIM cannot be underestimated. While a conventional 2D drawing might leave you with the impression that, essentially, everything with the structure in question is alright and work can go ahead, a detailed 3D BIM model will detect structural mistakes that could generate considerable additional cost in the end, not to mention the knock-on effects on keeping the schedule and making the client happy.
During construction, BIM is a great tool for organizing and tracking work. Contractors can, for example, assign tasks and monitor progress, updating the model as the work progresses. Schedules can also be linked which is a great help in an environment where time is always of the essence and clients will appreciate up-to-date information on progress. The data-richness of BIM models also supports contractors in the post-construction phase when providing maintenance services. Detailed information on components installed makes it easier to address issues when they occur after construction has finished. Clearly, to fully benefit from these BIM capabilities, actually investing in a corresponding software is advisable and, ultimately, worthwhile.
Advantages of BIM for renovation projects
Most contractors would probably agree that, if anything, renovation, and restoration projects are often even more risky than building projects from scratch. Or rather, they come with their very own set of particular challenges that can very cleverly be addressed with BIM to make renovations more efficient, intelligent and – quite important nowadays –sustainable. Crucially, before starting on any retrofit project, the existing structure including precise measurements needs to be captured, which thanks to advanced, mobile technology can be done by scanning the given environment and collecting the information in 3D – so-called point clouds – to get a quick and accurate 3D digital representation.
Creating a smart 3D BIM model from such point cloud data in one of the many BIM software options on the market, has considerable benefits for contractors working on renovation projects. A BIM model is not just a true representation of the building to be remodeled. It also serves as a valuable database to be used throughout the whole work cycle and after for any kind of maintenance. BIM-backed contractors will also be in a much better position when communicating with clients, ultimately providing a better service, and delivering added value. Improving energy efficiency, for example, is now often a key consideration when building owners undertake renovation projects. BIM models allow for the testing and proposing of specific modifications and environmentally friendly methods, such as how to use natural daylight, which result in a better energy performance of buildings.
BIM as the ultimate risk mitigator for contractors
In summary, using BIM, both in a construction and renovation context, comes with many benefits for contractors. Ultimately, these advantages are all interlinked and contribute to a better outcome for clients. Better cooperation and improved exchange of information (communication) among all stakeholders allow for better planning, more efficient work and processes, hence, fewer mistakes, and enhanced quality of service. The ability of highly sophisticated 3D BIM models to store data, continuously update it and turn it into actionable insights is a major boon particularly for renovation projects which can come – even more than construction work from scratch – with many unexpected surprises and aspects related to a structure's past. Therefore, BIM is also a great risk mitigator for contractors particularly in the renovation and restoration space to avoid costly mistakes and ensure better work for their clients.