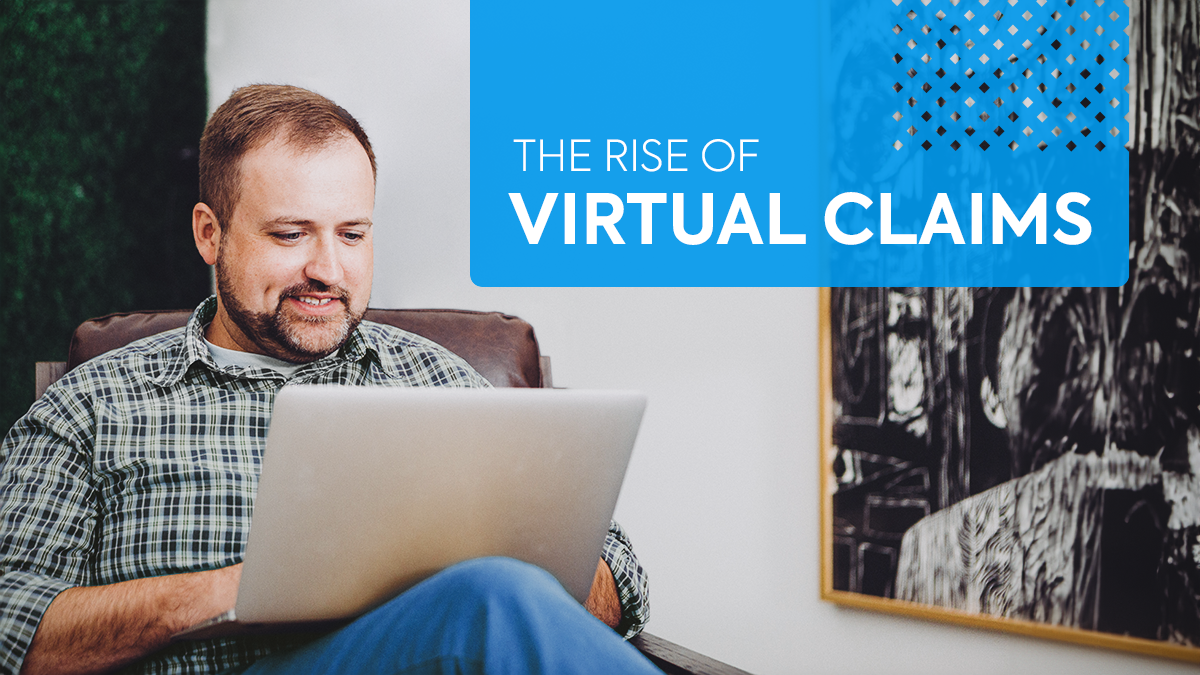 In the realm of home insurance, technology is revolutionizing the way claims are handled. The concept of virtual claims, a groundbreaking development in the industry, is changing the landscape for insurers, adjusters and homeowners. In this blog post, we will delve into the topic of virtual claims, and explore how floor plan apps have paved the way for their implementation. We will also highlight the significant advantages that virtual claims offer.
What Are Virtual Claims?
Virtual claims, as the name suggests, refer to the process of conducting home insurance claims remotely using advanced digital technologies. This approach enables claims adjusters to assess damages from a desktop computer, determine coverages and process claims, all without visiting claimants' properties in person. Ultimately, policyholders still get the claim assistance they need – only that assistance is conducted in a somewhat different manner compared to traditional claims processes.
Why Are Virtual Claims More Commonplace Now?
The practice of performing virtual claims really took hold during the COVID-19 pandemic, when face-to-face interactions were discouraged for safety reasons.
A Floor Plan App Is What Makes Virtual Claims Possible
The wide use of smartphones and tablets, and advances in the photographic quality of those digital devices, are two of the factors driving the migration towards virtual claims handling.
However, the key enabler of any virtual claim is the use of a floor plan app, such as magicplan. This type of innovative app allows any homeowner with a digital device to create a detailed, accurate sketch of their property's interior. When the sketch is complete, they can add notes and attach photos to document damages. Then they can submit the detailed sketch and photos to their assigned virtual claims adjuster.
Bottom line: A good floor plan app is vital for making virtual claims both possible and successful!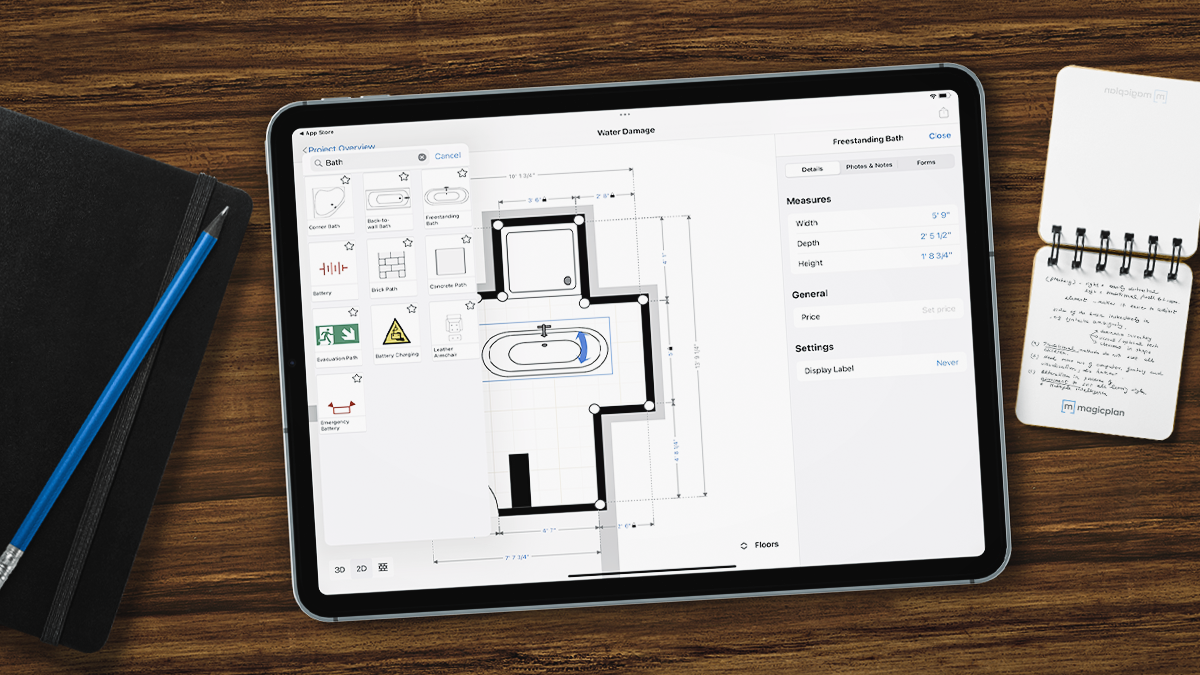 What happens after the adjuster receives documentation from the homeowner?
At that point, the adjuster is able to conduct the property assessment remotely – assuming other necessary steps have been completed, such as conducting interviews with the homeowner and eyewitnesses, and gathering documentation from external sources, which may include law-enforcement officials or manufacturers. Then, once the property assessment is completed, the adjuster can finalize and submit a report to initiate claim resolution.
Read more: The fastest way to export floor plan sketches directly to Xactimate®
Advantages of Virtual Claims
Virtual claims bring benefits to insurance companies, adjusters and homeowners:
Cost Savings

– Insurers deal with ever-increasing pressure to lower the cost of handling claims. By eliminating travel expenses and streamlining processing, virtual claims significantly reduce the operational expenses associated with traditional claims processes. Insurers can then pass on these savings to policyholders by making premiums more competitive.
Enhanced Efficiency

– The process of virtual claims adjusting eliminates the need for time-consuming on-site visits, thereby reducing claims adjustment cycle times. A remote claims adjuster can evaluate the damage to provide timely assistance to homeowners, resulting in faster claim settlements. Often times, virtual claims can reduce cycle times to two or three days, compared to one or two weeks.
Ease of Customer Coordination

– With virtual claims, adjusters and homeowners do not have to sync their schedules to accommodate in-person, on-site inspections.
Reliable Accuracy

– Virtual claims leverage cutting-edge, floor-plan-app technology, enabling adjusters to gather precise data and make accurate assessments.
Customer Convenience

– Homeowners benefit from the convenience of virtual claims, since they can initiate the claims process and collaborate with adjusters remotely. This minimizes disruption to their daily lives, gives them a sense of control, and provides a faster, friction-free claims experience.
Guidelines for Choosing a Floor Plan App
The best type of app is one that has already been proven effective for use as virtual claims adjuster software. Ideally, the app should have all of the following features:
Works with any modern mobile device (phone or tablet)

Is available in both Android and iOS versions

Has an easy-to-use interface that makes virtual claims simple for homeowners

Features augmented reality and artificial intelligence technology for automatic detection and calculation of room measurements

Will scan a room, using input from the mobile device's camera and gyroscope sensors, to form a floor plan within minutes

Allows the homeowner to make that basic plan more detailed by easily adding notes and photos

Enables easy saving and sharing of completed floor plans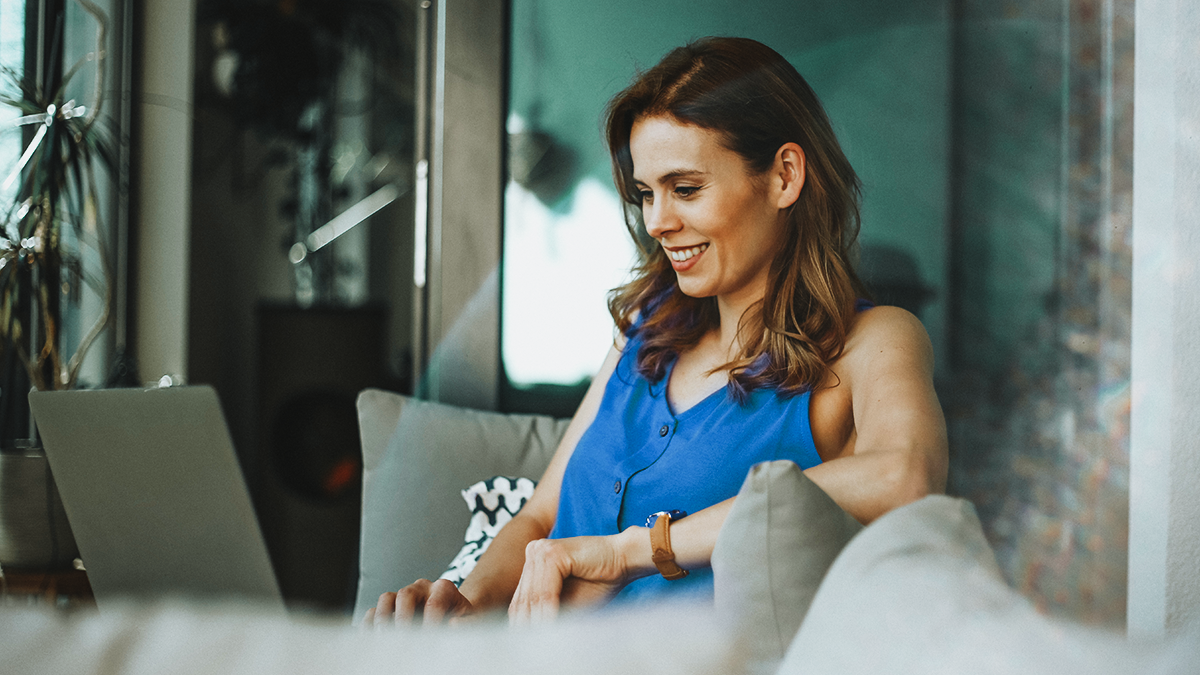 Key Considerations
Data Security
Ensuring data privacy is crucial when utilizing digital tools. Insurance companies must prioritize robust security measures to protect sensitive customer information and maintain regulatory compliance.
Remote Processing Limitations
While virtual claims offer significant advantages, certain limitations do exist:
Not all claims can be evaluated accurately with a remote process, especially those requiring extensive physical inspection or specialized expertise. In such cases, hybrid approaches, combining virtual assessments with selective on-site visits, may be necessary.

Some states have stipulations that require adjusters to physically inspect damages for claims that exceed a certain amount.
Conclusion
Virtual claims were employed as a temporary emergency measure during the COVID-19 pandemic. But now it appears that these types of claims are becoming more popular. In fact, the home-insurance industry is undergoing a transformative shift by leaning into greater adoption of virtual claims – and advanced floor plan app technology is what makes that shift possible.
As a result, insurers, adjusters and homeowners, together, can gain multiple advantages. So, virtual claims definitely are worth exploring and embracing!
READ MORE:
7 Characteristics of Top-Performing Independent Adjusters
6 Types of Residential Property Claims Handled by Independent Adjusters