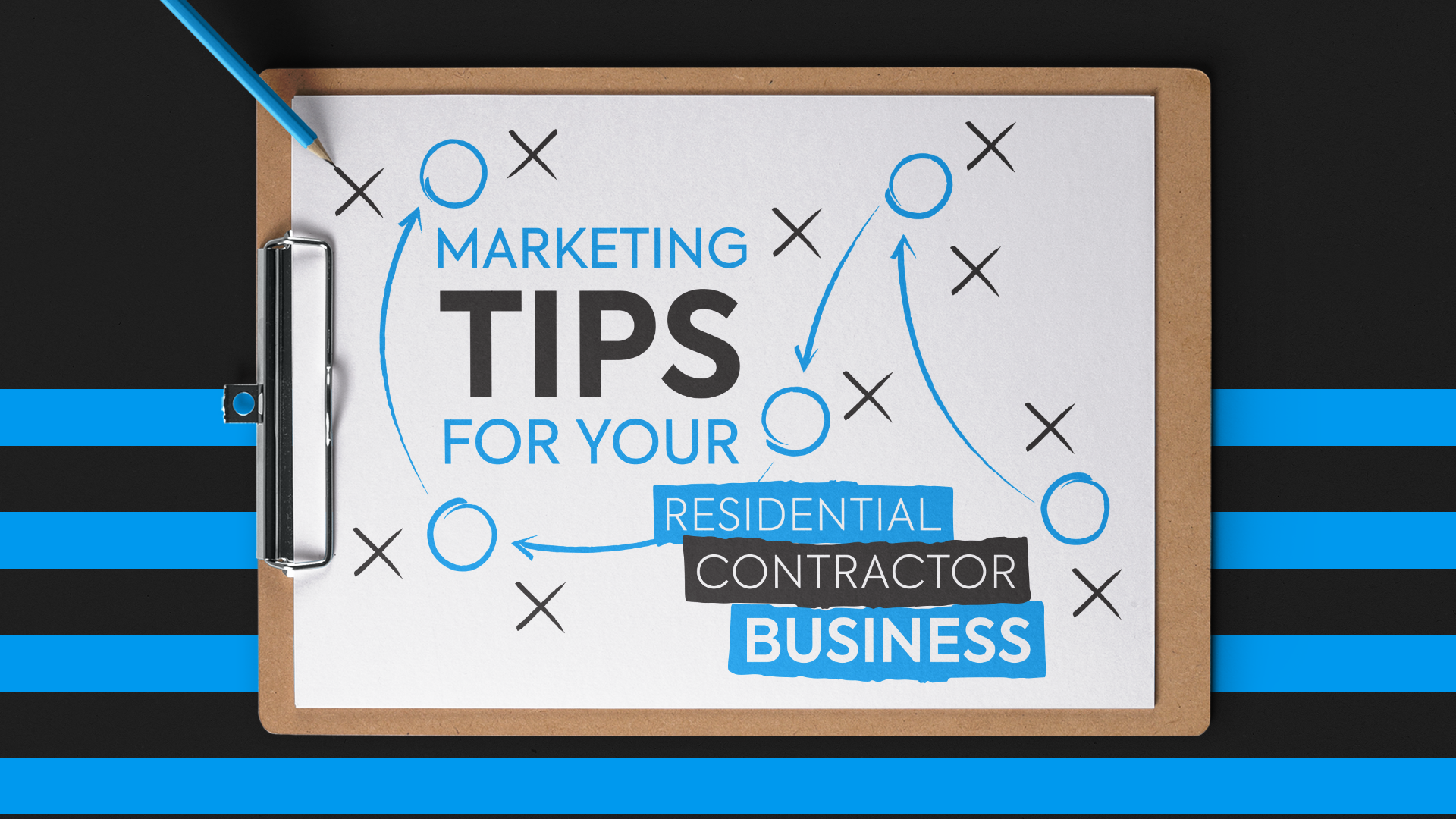 Are you looking to promote your business more effectively, but don't know where to begin? Here are a dozen contractor marketing tips to help you get started.
1. Define Your Target Audience
Paint a picture of your ideal residential clients by answering a series of questions. For example, if you are targeting homeowners, you'll want to consider the following:
Demographics – How old are they? What is their marital status? What is their household income? Where do they live? How many people are in their household? What type of lifestyle do they have?

Goals – What types of home-related goals do they have, and how do those align with your offerings? How much are they usually willing to spend for the services you provide?

Challenges – What types of objections might you hear when you're trying to close a sale? What are the reasons why they may be hesitant to work with you? (Lack of understanding? Limited budget? Too busy or overburdened right now? Worried about getting desired results?)
You can use this information to create a brief description of your target audience. This will help you have a clear understanding of who you need to reach.
2. Craft Appropriate Messages
Once your target audience is defined, then you can work on crafting your marketing messages. These are the key bits of information you need to communicate to your target audience. For example: Which details do you need to explain in order to educate prospects? How can you describe your services to make those sound appealing? What's the best way to state your unique selling proposition (the one thing that makes your business better than competing businesses)? What can you say to overcome any skepticism that prospects may have?
3. Refine Your Website
Having an impressive online presence is critically important for building credibility. So, make sure your website looks attractive, is mobile friendly, features simple navigation, and communicates key messages.
Read more: Kitchen & Bath Remodelers: How to Create a Website That Wows
4. Utilize Search Engine Optimization
Search engines are the online mechanisms that determine the answers people get when searching for information. Search engine optimization (SEO) means tweaking your website wording so your target audience can find you when searching for information about the type of work you do. The goal is to populate your website with words and phrases that prospective customers use for searches (e.g., "home remodeler near me" or "mold inspector" or "water damage restoration"). This will help push your website to the top of search-engine results. (You can learn more about SEO by reading online articles and tutorials and exploring SEO research tools. Ubersuggest.com is one such tool, with a free version that's terrific for anyone who is new to SEO.)
GOOD TO KNOW: Start by focusing on this basic search phrase: "your contracting service + service area" (for example: "home appraisal Chicago Illinois"). Optimize your home page for this term by using it in your title tag, meta description, and home-page content. (But make the wording sound natural, not forced. And don't repeat a keyword multiple times in the content; search engines dislike this "keyword-stuffing" technique.)
5. Gather Testimonials
Every time you complete a project, email the customer to ask for a positive review. Also, ask for that person's permission to use the review in your marketing materials. This is a great way to build a collection of testimonials. You can even contact previous clients and ask for reviews from them as well. When you have three or more good testimonials, place these on your website and in other marketing materials.
6. Capture Photos
This extra step is simple to do, yet often overlooked by residential contractors. If you're a remodeler or restoration specialist, get in the habit of taking before-and-after photos of each new project. If you are a home appraiser or inspector, perhaps take photos showing the pros and cons you look for when examining a home. Whatever type of work you do, know that photos are an effective tool for communicating your capabilities – both online and in printed materials.
7. Take Advantage of Free Listings
Visit Google, Manta and Yelp to set up free listings for your business. Then enter your location, hours and contact information.
8. Engage Through Social Media
If you aren't engaging with people on social media, you're missing a big opportunity to market your business. In fact, posting regularly on social media is one of the best marketing strategies for contractors. Here's how to do it: Create accounts on the two sites that will reach your audience the best (choose from Facebook, Instagram, Twitter and LinkedIn). Then share updates, photos, links to pages on your website, video links, trade tips, testimonials – anything that is relevant, interesting and informative. Avoid salesy wording. Don't be afraid to show a more personal side of your business. Post regularly, at least once per week. And stay organized by planning posts ahead of time.
9. Manage Reviews
Active review management is important for protecting your business reputation. The best thing you can do is regularly search for reviews about your business (on review sites and social media), and then comment promptly on any review you find, whether it is positive or negative. Start each comment by thanking the person for posting feedback. Then make sure the rest of your wording is professional, respectful and kind – especially if you are addressing a specific problem the reviewer mentioned. This will make the reviewer feel heard and valued, and can leave a positive impression on others who read your response.
10. Invest in Paid Ads
If you have the budget for paid advertising, it may be worth investigating. Google Local Services Ads and Facebook ads can be highly targeted to the audience you are trying to reach. Plus, ad creation is not difficult. An effective ad usually consists of an eye-catching picture or graphic with a brief but engaging caption. (Check out Canva.com for creating your own graphics.)
11. Use Traditional, Offline Marketing Methods
In addition to doing online marketing, you may want to invest in in traditional tactics as well. These include newspaper ads, TV/radio commercials, billboards, and direct mail. Just be sure to choose tactics that are likely to provide a solid return on your investment.
12. Do Video Marketing
Posting short videos is a powerful form of contractor marketing. So, start thinking of all the ways you can create compelling video content that is informative and helpful to your target audience. Then shoot some videos with your mobile device, and post those on your website or your own business YouTube page.

COOL IDEA: Do you use a mobile app to create floor plans and reports? Show how you do this in a brief video, and explain all the ways this advanced technique benefits your customers.
Final Thoughts
Marketing your business is mega-important. Yet don't feel you have to follow all of these tips at once. Pick two or three to focus on first, and monitor the results. Then gradually fine-tune and expand your marketing efforts to sustain and grow your business.
SEE HOW TO CREATE A DETAILED FLOOR PLAN DIGITALLY WITH MAGICPLAN!


---


Learn how to boost your IAQ business by Marketing Inspections to Multiple Audiences.


Or read our guide on why you should be adding Indoor Air Quality Inspections to your menu of services.