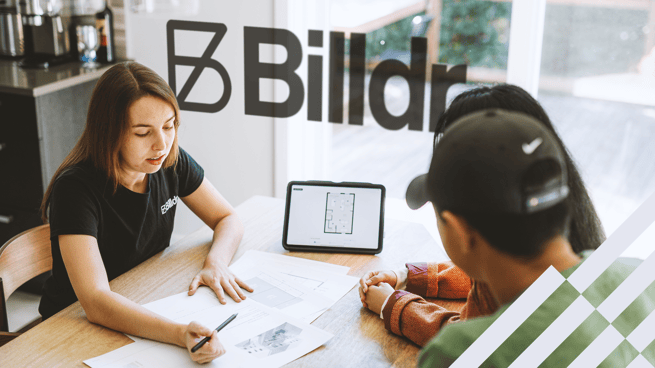 Billdr operates a central, online platform that reinvents the renovation experience from start to finish. The company's mission is to make home renovations simple, transparent and efficient for everyone. I recently spoke with Raphael Sammut, General Manager, Toronto at Billdr Renovation, to learn why and how his company uses magicplan.
Will you tell me a little bit about your company?
Sure. At Billdr, we are building the modern renovation platform for homeowners for the residential sector. Our goal is to streamline the entire renovation process from start to finish. So, we engage with customers quite early on in their project, usually in the design and conceptualization stage. We help them build a scope, we help them build a budget, we help them by sketching out some floorplan ideas. Also, if they need design and permitting assistance, we'll help connect them with the appropriate professionals.
Basically, we do everything with customers to get their projects construction ready. And then, once the projects are ready for construction, we have a network of vetted contractors in each of the cities where we operate. Those contractors are able to access the projects and provide quotes to our customers Then, during construction, we continue to support customers as an independent project manager.
So, Billdr is a platform that connects homeowners with contractors, and kind of takes away the risk factor. Is that right?
At its core, yes. We are a marketplace that connects homeowners with contractors. But we're also much more than that. Renovations are complex, they are very big projects, and they're also very important for homeowners. Typically they only embark on one or two major renovations potentially in their lifetime. And traditionally it's been a very stressful experience for them. We've heard too many stories of homeowners having to learn how to renovate their home the hard way, by paying out of pocket for expensive mistakes.
Our mission is to help them avoid making those mistakes in the first place, and to streamline the whole process. We help make the process more transparent and efficient. And homeowners also have a real human being who is supporting them the whole way. So, there is a big human element to what we do.
What does the process look like for the homeowner from the beginning to the end?
Let's say that somebody wants to renovate their entire house. Typically, they would reach out to us and we would do an initial home visit. That's often completed within a week of them calling us because we have availability all the time. So within a week, a project manager will go out to meet them, and walk through the house with them to get an idea of the scope. And then the project manager will use magicplan to capture the floor plan along with photos. A week later, we will deliver an estimate to the customer, so they can have a first look at the market pricing for this kind of renovation. And we will build a full scope as part of that, and we'll even create a proposed floor plan with magicplan if there are any layout changes.
Then let's say the customer responds, 'Okay, this looks good. What's next?' At that point, we will refer them to an architect or a designer that we work with, to get the permit drawings done. We also will provide our proposed plan (created with magicplan) to the architect or designer, so they don't have to start from scratch.
Once the permit drawings are done, submitted and approved, we start the tendering process. We get two or three contractors in our network to go visit the homeowner and develop quotes. Within two to three weeks, the homeowner will be able to view the quotes in a personalized dashboard available through our web portal. So, it's very easy for them to compare and contrast. After the homeowner selects a contractor and signs a contract, then we kick off construction – typically within a month. Then we help the homeowner by doing weekly reports, site visits and project management throughout construction. The homeowner can view all project-related information on their personalized dashboard.
What exactly can a homeowner see on that dashboard?
Basically, they can see their estimate with category breakdowns and subtotals of what they are going to pay.
And then, down at the bottom of the dashboard, we integrate the magicplan floor plan, which allows them to visualize the project in 2D or 3D. This is what we love about the magicplan tool – it's so flexible, and we're able to provide a very dynamic customer report that includes our estimate and
a floor plan.
When did you join Billdr?
In 2021. And I was able to see Billdr grow from a team of seven to what is now a team of 30.
How many Billdr employees use magicplan?
We have 11 project managers who use magicplan every day to capture floor plans on site, and then also use those floor plans to sketch out proposed layout changes.
What's it like to use magicplan the first time?
I think pretty much anybody can start using the magicplan app right away. And the YouTube videos are also really helpful as well. Our team found one YouTube video, in particular, where somebody in Germany is mapping out their whole house using magicplan with LIDAR. And you can see what he's doing and what's happening in the app. That video was actually what sold magicplan for us. And now it's what I use to train people, because once you watch that video, you understand exactly how it works and what to do.
Would Billdr map out an entire house if only one room is being remodeled?
We would just map out whatever is relevant to the project. If it's a couple of rooms, we would maybe map out the part of the floor where those rooms are. But if we know that a project involves an entire floor being remodeled or an entire house being remodeled, then we would spend a bit of extra time to capture everything.
I've done that personally for houses that are anywhere from 2,000 to 4,000 square feet. And with magicplan, we can get an accurate capture. I'd say it takes anywhere from an hour and a half to two hours to capture a full house – but with a high level of accuracy and with 360-degree photos.
And you started out two years ago?
Yes, we were founded in 2020, in Montreal, right before the pandemic. Then we launched offices in Toronto and Chicago during the summer of 2021. So, now we're building in three markets. And we have already done over one million USD worth of projects in both Chicago and Toronto.
When you compare Canada to the U.S., do you see differences in terms of market needs?
The needs are pretty common at the core. I think anybody in any city will struggle to renovate their home, because there really isn't a streamlined solution that exists apart from what we do. So, the core pain points that we're trying to solve, as far as we've seen, exist in all markets.
I think the only thing that changes from market to market is the local regulations – like contractor licensing requirements or prescriptive building codes, or maybe city-specific zoning requirements that need to be navigated. So, it's just a matter of adapting to those kinds of local conditions. But the core pain points – like having to find a qualified contractor, needing support through construction, knowing how much things should cost before you start receiving quotes -- those are problems that we see pretty much everywhere.
What can you tell me about your network of contractors?
We have a highly curated contractor network. So, we have a pretty extensive vetting process. We want to meet every single contractor face to face. We want to see their work firsthand. We want to hear how they communicate. We want to make sure they have the necessary insurance and licenses, depending on the market that they're in. Essentially, we want to make sure that anyone who would potentially give a quote to a Billdr customer is a qualified, responsive and communicative general contractor.
What kind of feedback do you get from the contractors?
Well, we did a survey and the results were shocking: I think around 80% of contractors on our network said that they would be disappointed or very disappointed if Billdr wasn't around anymore. That means that many of our contractors have really come to love working with us and our people. And we have become a significant part of their business. Also, in many cases, we've helped them grow. That's because contractors that meet all our requirements and are invited to join the Billdr network are going to benefit from exclusive access to high-quality projects that they can reliably use to build their business.
They also have all the other benefits that come along with working with us – like having a real human being help them with day-to-day operations and communicating with the customer. They know we take a bit of a burden off their shoulders.
Okay, one final question: If you had just one word to describe magicplan, which word would you use?
Hmm, that's a good question. I would probably say 'magic,' because for customers, honestly, sometimes it is like magic for them to see their plans come together so quickly. It also makes us look really good. When we go into a person's home with a laser, with magicplan, with a 360-degree camera, we appear very tech-enabled. And I think using the magicplan tool does seem like magic for a lot of our customers.
Thank you so much, Raphael at Billdr!




---
Are you interested in learning more about magicplan?
Request a free demo and learn how magicplan can support your business.
---